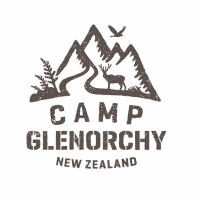 Camp Glenorchy Eco Retreat
Camp Glenorchy
Breathtaking Glenorchy, just 40 minutes from Queenstown, has captured the imaginations and hearts of travellers for 150 years. Set snugly between two soaring mountain ranges, a glacier-topped peak and the river-fed headwaters of Lake Wakatipu, Glenorchy is a unique destination with an endless variety of things to do, from the peaceful to the exhilarating to the sublime.
Camp Glenorchy, part of the Headwaters Group and sister to Mrs Woolly's General Store and Campground, is an innovative eco lodge committed to delivering environmental, financial and community sustainability. Designed and built according to the specifications laid out in the Living Building Challenge, Camp Glenorchy not only feels right but it does right too - with all profits going back into the Glenorchy community
AWARD-WINNING
Picture yourself in one of Time Magazine's 2019 World's 100 Greatest Places: Camp Glenorchy Eco Retreat has been created from the ground up to delight and inspire our guests. Whether you're an active adventurer or looking to relax, herein you'll find stunning natural beauty, hand-crafted artistry and warm, welcoming Kiwi hospitality.
TIME Magazine has named Camp Glenorchy Eco Retreat in the World's 100 Greatest Places of 2019. Featured in its September issue, Camp Glenorchy is the only New Zealand accommodation chosen to make this list, and one of only 44 of TIME Magazine's "must go" accommodation destinations in the world.
In May 2019, Camp Glenorchy was also honoured by Qualmark in their 100% Pure New Zealand Experience Awards. This award recognises excellence in providing visitor experiences that embody sustainable tourism practices and guest hosting. 
World's First-Ever Visitor Accommodation Acknowledged with ILFI Certification of Sustainability
In May 2020, the International Living Future Institute (ILFI), a global sustainability standards-setting organization, has awarded Camp Glenorchy Eco Retreat certification authenticating the efficacy of its ground-breaking sustainable design. Camp Glenorchy received Living Building Challenge Petal certification, honouring it as the world's first visitor accommodations project to achieve the ILFI's ambitious performance requirements for Net-Positive Energy, Net-Positive Water, Place and for the project's integrated approach to Beauty that inspires the human spirit.
Join us for an arts and sustainability tour at Camp Glenorchy to find out more about what we do.
ACCOMMODATION AND FACILITIES
Camp Glenorchy offers a broad range of accommodation options to suit all tastes and budgets, from cabins to bunk huts to RV sites - all sharing incredible views, premium facilities and supporting a sustainable future.  Head over to the Homestead building to make use of our fabulous kitchen facilities, relax in our Greenstone Lounge, or take in the stunning views and artworks found everywhere. Venture outside to discover not only our Scheelite Campfire Shelter, but also our gardens and vistas. 
OPTIONS
Camp Glenorchy offers unique accommodation packages for 
Travellers broad range of flexible accommodation options
Small boutique weddings beautiful & flexible location with an event manager to assist you in making your day special
Special interest groups bunk rooms and cabins set in a stunning location with lots to do locally - fishing/tramping/kayaking/mountain biking
Families eco cabins with flexible room configurations, plus on-site kitchen to make life easier
Corporate Hospitality an ideal destination for conference groups, incentive programs, leadership meetings or celebrations, with premium facilities and on-site catering.
Contact Us
Company: Camp Glenorchy Eco Retreat
Physical Address
34 Oban Street
Glenorchy, 9372
Coffee/Tea Facilities
Ensuite
King Bed
King Single Bed
Kitchen Facilities
Laundry
Non-Smoking Hotel
On-site Parking
Outdoor seating
Pets Allowed
Queen Bed
Single Bed
Ski Storage
Spa
Super King Bed
Wheelchair Accessible
Wifi Internet
MinPrice: $75
MaxPrice: $490
Open For Business : Yes


Monday : 8:00 AM - 6:00 PM
Tuesday : 8:00 AM - 6:00 PM
Wednesday : 8:00 AM - 6:00 PM
Thursday : 8:00 AM - 6:00 PM
Friday : 8:00 AM - 6:00 PM
Saturday : 8:00 AM - 6:00 PM
Sunday : 8:00 AM - 6:00 PM


Months of Operation : Jan - Dec
Hours : 24 hours, 7 days a week
Group Reservation Email: Events@theheadwaters.co.nz


Number Of Rooms: 23


Num Of Function Rooms: 3


Theatre Capacity: 120


Banquet Capacity: 120


Cocktail Capacity: 120


Board Room Capacity: 40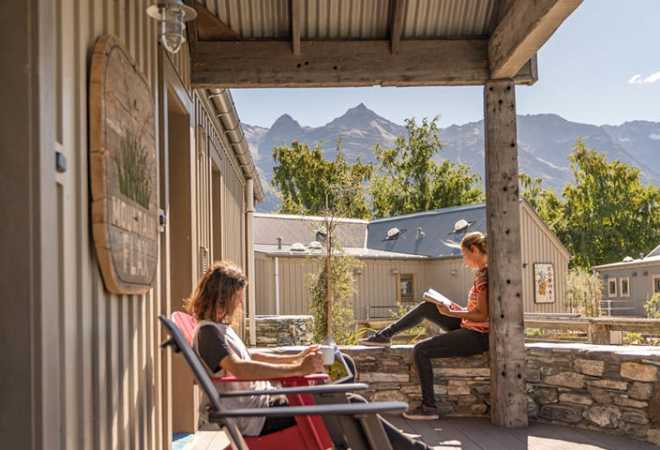 Glenorchy Escape – Save 18% The Couples Escape package has been designed for two people to unwind and experience the scenic alpine landscape in Glenorchy for 2 nights, staying at an award-winning, eco-friendly, warm and cozy Eco Cabin. This package covers everything you need, yet leaving you the flexibility to choose your itinerary. It includes breakfast, dinner, and a cheese platter. Just a 40-minute lakeshore drive from Queenstown, come and find out why we have been selected as one of TIME Magazine's greatest places in the world.
Valid until 31 March, 2021
Experience the best of Glenorchy and Te Anau over four nights in two award-winning accommodation lodges. Camp Glenorchy is set snugly between two soaring mountain ranges, a glacier-topped peak, and at the headwaters of Lake Wakatipu, you will find yourself letting go and relaxing in Glenorchy, at the gateway to Paradise. Fiordland Lodge is set in one of the most dramatic and beautiful parts of New Zealand. Fiordland has achieved World Heritage status and is renowned as home to the famous Fiords of Milford and Doubtful Sounds. The Wilderness Escape Package includes: 2 nights' accommodation in a Premium Eco Cabin at Camp Glenorchy 2 night's accommodation in a Lakeview Lodge Room at Fiordland Lodge Cheeseboard on arrival at Camp Glenorchy Pre-dinner canapés each evening at Fiordland Lodge Continental breakfast at Camp Glenorchy Fully cooked breakfast at Fiordland Lodge A bottle of Central Otago Pinot Noir at Camp Glenorchy Full raiding rights of an open pantry at Fiordland Lodge $100 Mrs Woolly's General Store voucher in Glenorchy Hot tub experience at Fiordland Lodge Now only $1,960 for two people
Valid until 30 April, 2021