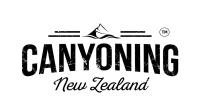 Canyoning New Zealand
Guided Canyoning Tours
Do something new New Zealand!
Get off the beaten track and see some raw and amazing New Zealand scenery that would otherwise be in-accessible terrain.
You get to abseil down waterfalls, slide natural water slides, jump into pools and rope-zip down the canyon, offering a range of activities all rolled into one amazing adventure!  We provide all the equipment and no canyoning experience is required, your professional and qualified guides will show you everything you need to know on the day.
Weather your a first time canyoner looking for a new and unique activity, or an experienced adventure seeker looking for the ultimate thrill we have 2 different canyoning sites to suit almost everyone!
Gibbston Valley Half Day Canyon
Open October through April - Departing 9am and 2pm daily - 4 hours return - NZD$219 per person (minimum age 10 years)
This is our "easy" canyon and suitable for almost anyone.  A low level of fitness is required and non swimmers are welcome.  We take a 30 minute drive from Queenstown out into the Gibbston Valley and then you will get to enjoy abseiling down waterfalls and sliding natural water slides as the main features of this site.  Lunch included on our 9am departure from some awesome selected Queenstown restaurants.
Mt Aspiring Full Day Canyon
Open November through April - Departing 9am daily - 8 hours return - NZD$450 per person (minimum age 16 years)
This is our "hard" canyon and our hardest plus most exciting option.  All participants must have good fitness and swimming ability and no irrational fear of heights!  We take a 2 hour drive from Queenstown to this canyon and then you will get to do some very large abseils beside some pumping waterfalls and big jumps into some white water pools, all the while enjoying the most amazing scenery of the Mt Aspiring National Park a UNESCO World Heritage Site!  A picnic lunch is provided to re-fuel after the days adventure before your return transport to Queenstown.
Contact Us
Company:
Canyoning New Zealand
Physical Address
Pick up location: 2 Marine Parade Queenstown (outside Eichardts Hotel)
Bob's Cove
Queenstown, 9300
MinPrice:

$219

MaxPrice:

$450
Our pricing is per person, with age restrictions on each canyoning location.


Pick up is 2 Marine Parade Queenstown (waiting on the street outside the Eichardts Hotel)


Monday:

8:00 AM - 9:00 PM

Tuesday:

8:00 AM - 9:00 PM

Wednesday:

8:00 AM - 9:00 PM

Thursday:

8:00 AM - 9:00 PM

Friday:

8:00 AM - 9:00 PM

Saturday:

8:00 AM - 9:00 PM

Sunday:

8:00 AM - 9:00 PM



Holiday hours:

8:00 AM - 9PM



Months of Operation:

January, February, March, April, October, November, December


Group Info:

This is your opportunity to take control and get involved, and at the same time you can watch others in the group to motivate and encourage each other throughout the trip. Show your group a special and unique adventure at the same time as creating a new and improved relationship within the team.



Group Reservation Email:

info@canyoningnewzealand.co.nz



Group Capacity:

70