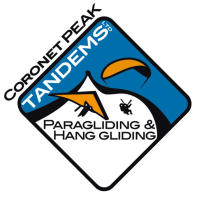 Coronet Peak Tandem Paragliding and Hang Gliding
Are you searching for some Queenstown adventure? How about soaring majestically through the skies, surrounded by breathtaking mountain scenery? Experience Queenstown's fantastic views with one of the most exhilarating activities! Coronet Peak Tandems is the most experienced dual tandem paragliding and hang gliding company within NZ. Our take off is the highest commercial take off point for Queenstown gliding activities. Our winter take off is twice the height of the QT Gondola, at 5400ft! 
Coronet Peak Tandems offers you Paragliding and Hang Gliding in Queenstown. If you are feeling very adventurous try our Paragliding and Hang Gliding Combo! Our highly qualified pilot team is run by Angus Tapper, 4 times NZ Champion, Runner-up NZ Hang Gliding Champs 2010. 
Contact Us
Company: Coronet Peak Tandem Paragliding and Hang Gliding
Physical Address
39 Camp Street, Queenstown
Queenstown, 9300
MinPrice: $205
MaxPrice: $409
for all options please visit our website


Free shuttle service from outside the Ivan Clarke Gallery, 39 Camp Street


Monday : 8:00 AM - 9:00 PM
Tuesday : 8:00 AM - 9:00 PM
Wednesday : 8:00 AM - 9:00 PM
Thursday : 8:00 AM - 9:00 PM
Friday : 8:00 AM - 9:00 PM
Saturday : 8:00 AM - 9:00 PM
Sunday : 8:00 AM - 9:00 PM


Holiday hours : open all year round
Group Info: group sizes vary throughout the year, please check with reservations


Group Reservation Email: info@tandemparagliding.com


Group Capacity: 20