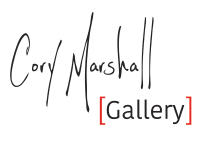 Cory Marshall Gallery
Cory Marshall is a landscape photographer originally from California. Over the past 10 years Cory has built up a fantastic library of stunning images from around the world.
His work focuses on natural landscapes and since moving to New Zealand in 2017 he has captured stunning images from the alpine vistas of Aoraki/Mt. Cook National Park to the beech forests of Fiordland. Cory prints all of his work himself onto ChromaLuxe aluminium panels, with sizes ranging up to 1x1.5 metres. The Cory Marshall Gallery is located on Earl Street in downtown Queenstown.
Come and visit and have a chat with the artist to hear some background stories of how he captures unique New Zealand landscape images. 
Contact Us
Company:
Cory Marshall Gallery
Physical Address
1-7 Earl Street Unit 3
Queenstown, 9305
Monday:

10:30 am - 4:30 pm

Wednesday:

10:30 am - 4:30 pm

Thursday:

10:30 am - 4:30 pm

Friday:

10:30 am - 4:30 pm

Saturday:

10:30 am - 4:30 pm

Sunday:

10:30 am - 4:30 pm