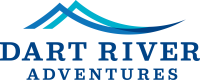 Dart River Adventures
Path of Pounamu
Your journey begins with an exhilarating jet boat ride from Glenorchy up the Dart River deep into the heart of the world-renowned Mount Aspiring National Park, a UNESCO World Heritage Site.  
Experience the ever-changing landscape of the Dart Valley, marvel at the braided river structure, water clarity, birds and wildlife. Our team will ensure you always experience the beauty of this untouched paradise!
With unrivalled National Park access, we cover up to 90km of river on a trip making Wilderness Jet Experience the longest jet boat ride in the region. 
Returning to Glenorchy, you will have a 1-hour break to grab a bite at one of the local cafes of your choice* and check out the local shops. A shuttle will be provided shortly after the break to take you to the Glenorchy airstrip, where you will then take flight in a modern, well-maintained fleet of helicopters and enjoy a showcase of scenery between Queenstown and the West Coast. 
Enjoy stunning views flying from Glenorchy over the Southern Alps to your first landing in Milford Sound for a scenic walk and photo opportunity. Then fly the full 16km length of New Zealand's most famous fiord taking in the sheer cliffs, gushing waterfalls and imposing mountains of Milford Sound all the way to the coastline. Land on an isolated West Coast beach to experience the truly rugged nature of this untamed region before heading back across the mountains for one last alpine landing on the way home to Queenstown.
*Please note lunch is not included in the experience.
Contact Us
Company:
Dart River Adventures
Physical Address
Dart River Adventures Base
Mull Street
Glenorchy, 9372
MinPrice:

$1,060

MaxPrice:

$1,519
Adult - $1,519 each Child - $1,060 each (5 - 15yrs)


Transport by coach from central Queenstown to Glenorchy, return to Queenstown by helicoptor.


Monday:

8:30 am - 4:30 pm

Tuesday:

8:30 am - 4:30 pm

Wednesday:

8:30 am - 4:30 pm

Thursday:

8:30 am - 4:30 pm

Friday:

8:30 am - 4:30 pm

Saturday:

8:30 am - 4:30 pm

Sunday:

8:30 am - 4:30 pm



Holiday hours:

Not open Christmas Day


Group Reservation Email:

reservations@dartriver.co.nz