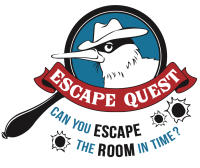 Escape Quest
Escape Quest Escape Rooms
Can you escape the room in time? Step into Queenstown's 1860s gold rush, crack the codes, solve the puzzles and try to escape in 60 minutes!
For a bonding, challenging Corporate team building event, Escape Quest is the ultimate experience. The perfect way to kick-off a strategy day or workshop, Escape Quest enhances problem solving skills, expands mindsets and brings colleagues together. Most importantly, it's awesome fun! Need to break down those division silos? Escape Quest is an excellent icebreaker and bonding tool for colleagues who haven't worked closely together before. Escape Quest will demonstrate the value of team diversity and the challenges of "group think" to inspire and bond your Corporate team across divisions and levels. 
Escape Quest can accommodate up to 38 people per session across our Escape Rooms and VR Escape Games. Our Escape Rooms can accommodate 5 teams per session with each team consisting of up to 6 people (up to 30 people per session). Our VR Escape Games can accommodate up to 8 people per session playing in teams of 2 OR 4. For groups larger than 38, multiple sessions can be booked and groups of up to 38 can be rotated with other activities in Queenstown. Escape Quest can provide up to 10 sessions per day (up to 380 people per day).
Victorian 1860's team photos are included FREE with every game! 
Over 15% discount for teams of 5+ players per room!
Duration: 1.5 hours
Price: $38-$44 per person
Book online now!
Contact Us
Company: Escape Quest
Physical Address
Level 1
Mountaineer Building
32 Rees St
Queenstown, 9300
Air Conditioning
Wheelchair Accessible
Wifi Internet
MinPrice: $38
MaxPrice: $44
Pricing is based on per person per room. Max team of 6 per room and we have 5 rooms in total!




Holiday hours: Closed Christmas Day


Months of Operation: Jan - Dec


Group Info: Book Escape Quest for groups of up to 38 people per session with exclusive use of Escape Quest (across Escape Rooms and VR Escape Games). For larger groups, rotate Escape Quest with other activities in Queenstown to accommodate up to 380 people per day (up to 10 sessions per day).


Group Reservation Email: queenstown@escapequest.co.nz


Group Capacity: 38