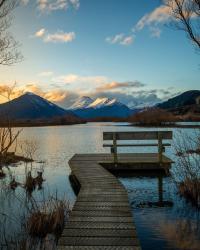 Glenorchy Walkway
A loop track on boardwalks around wetlands and the Glenorchy Lagoon. A great walk for keen birdwatchers.
Distance: 3.4 km
Duration: 1-2 hours 
Difficulty: Easy
Best time of year to go: Avoid after heavy rain, as parts of the trail can flood, but otherwise good all year.
Location: Glenorchy
Start / finish point: Northern end of Glenorchy. The trail is easy to find, turn right at the Glenorchy Boat Shed and keep on. There are signs near Lake Wakatipu on Mull St.
Insider's tip: Go on a calm day to enjoy dramatic reflections of the mountains in the lagoon.
The Glenorchy Walkway experience
An easy stroll with beautiful vistas over the wetlands towards Mount Earnslaw and its surrounding ranges. In spring and late autumn, the snowclad peaks are reflected in the lagoon, making for some glorious photo opportunities.
DOC list the Glenorchy Walkway as a great place to see New Zealand wading birds. You may catch sight of pied stilt, black swans, South Island pied oystercatcher, Australasian bittern, New Zealand shoveller, grey teal (in spring), grey duck, and scaup. You might also see New Zealand falcons.  
After your walk, explore Glenorchy, or continue along the gravel road to Paradise for more hiking and Lord of the Rings locations.
Contact Us
Company: Glenorchy Walkway
Physical Address
Queenstown