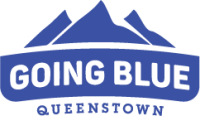 Going Blue Limited
Valley of the Vines Bike Tour - Arrowtown to Gibbston
Hassle-free wine-drinking experience over the breathtaking Twin Rivers Trail.
🌟A must-do for Wine Lovers, Families, Friends or Romantic Couples. 🍷💕
Add some excitement with a Bungy jump 🫢
🌟Beginner Friendly
Minimal hills, Wide Bike Trail, Easy Navigating
What to Expect?
"The scenery is out of this world, 10/10 would do this again.!"
Alex L Trip Advisor
"Couldn't have expected any more the guys delivered us a perfect day."
Stuart, UK, Trip Advisor
"This is one of the best things to do in Queenstown, I have done it twice now."
Dave Bain, Trip Advisor
"A must-do experience - with eBikes for sure. Jaw-dropping scenery, incredible host, delicious wineries and cheese." ⭐
Kat & Chris, Trip Advisor
Starting with a 20 min scenic shuttle into Arrowtown. Let our guide give you a brief lesson into the history of Gold Mining 💰 and some intriguing facts about our exquisite town. Here, feel free to ask us anything about Queenstown or Arrowtown.
Upon arrival next to the trail, it will take us 10-15 mins to show you how to ride the bikes and how to get back in one piece. We promise! 🙏
Set off in your own time over 7 bridges and two spectacular rivers and into the Valley of the Vines!
Try any one of the dining options below for breakfast, lunch or brunch. 🤤
Brunch options:
AB Bakeries - Arguably the best bakery in Otago. 🥖👩‍🍳🥧🥓
Fork and Tap - Great little pub with fantastic garden dining 🍔🧀🍕
Provisions - Delicious and healthy breakfast, brunch and lunch. 🥗🌿🥑
Slow Cuts - Hidden gem, casual dining. Try the Chicken burger. 🍔🥩
Lunch options:
Gibbston Tavern - Delicious wood-fired oven 🍔🧀🍕
Gibbston Valley - Grazing platters 🧀🥖🥩🍰
(Book in advance)
Duration
Minimum 7 Hours experience. Returning at approx. 5-5.30pm to Queenstown
Ride Time - 2-3 hours
⬆️144M⬇️202M
Google Maps -Click here to follow bike path!
How to videos
Get ready to make the most of your Ebike experience! Check out our helpful instructional videos before your ride. Learn how to properly use your Ebike and get detailed directions for your journey from Arrowtown to Gibbston. Click on the links below to watch the videos and ensure a smooth and enjoyable ride.
Instructional Video - How to use the Ebike:
Directional Video - Arrowtown to Gibbston:
4:00-4.45 pm pick up from the wineries returning to Queenstown.
Karaoke optional 🎤
What we provide
👉2022 Giant Talon E+ bike or Talon pedal bike
👉Water bottle holder (fits Pump bottle)
👉Helmet(s)
👉Custom map
👉Support text and reminder
👉Word Lock(s) - No key
👉Transport to Arrowtown
👉Transport back from Gibbston
👉Repair kit (optional)
👉A* Customer service
Contact Us
Company:
Going Blue Limited
Physical Address
37 Industrial Place
Queenstown, 9300
MinPrice:

$99

MaxPrice:

$149
$149 Premium eBike Vineyard Explorer package $99 Premium Bike (Standard/Hardtail) Vineyard Explorer package


Transport from The Pig and Whistle - 41 Ballarat St or your accomodation to Arrowtown. Return transport back to Queenstown from any Winery


Tuesday:

9:00AM - 5:00PM

Wednesday:

9:00AM - 5:00PM

Thursday:

9:00AM - 5:00PM

Friday:

9:00AM - 5:00PM

Saturday:

9:00AM - 5:00PM

Sunday:

9:00AM - 5:00PM



Holiday hours:

Open 360 days of the year



Months of Operation:

Open year round


Group Info:

We can do small or large groups (up to 20 pax) Please email for any larger inquires: goingbluequeenstown@gmail.com



Group Reservation Email:

goingbluequeenstown@gmail.com



Group Capacity:

20