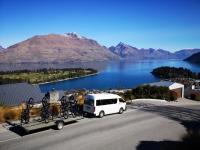 Going Blue Limited
Frankton, Kelvin Heights or Jacks Point Self Guided Bike Explorer Tour
Including shuttle to your chosen destination 
Enjoy being picked up from your accommodation and taken on a stunning scenic 10-20 minute shuttle journey to either Frankton, Kelvin Heights or Jack's Point, depending on where you may like to start your journey. Once you arrive, you will be set up on your bike, receive a safety briefing and then talked through the best routes plus some great spots and hidden local highlights to visit along the way. The custom-designed maps that you will be provided with will help you to make the most of your time exploring your way back to Queenstown.
Suitable for beginner/intermediate/experienced riders. All riders need to be 14 years and above. You can choose to be dropped Frankton (7km), Kelvin Heights (14km) or Jack's Point (23km).
- On your Self Guided Explorer Bike Experience, you can ride in your own time with no time deadlines as you make your way along the stunning scenic tracks back to Queenstown.
- Enjoy 365 days a year pickup. Once back to Queenstown, we can pick your bikes up from your accommodation in Queenstown, Frankton or leave locked in the bike rack at the iconic Speight's Ale House (50 Stanley Street) located in Central Queenstown. We give out word locks so we don't need a key to collect off of you.
- Choose to ride on our Cruiser bikes or our Premium e-bikes. All our bikes are the brand NEW 2020 models.
- If you ride regularly or are looking for some exercise, this option is perfect for you.
- Frankton, Kelvin Heights and Jack's Point and the surrounding trails are home to world-class award-winning golf courses, stunning Lord of the Rings scenery and much more.
- Approx. 7-23 km ride depending on which option you would like to take. 
- We also can be flexible with departure times. Just let us know and we will try and cater to your group's needs.
- You will also have your driver's cell phone number to contact in case your plans change during the day. 
Contact Us
Company: Going Blue Limited
Physical Address
MinPrice: $25
MaxPrice: $130
$25 Bike Trailer for Kids $130 Premium eBike Explorer package $82 Premium Bike (Standard/Hardtail) Frankton or Jacks Point Explorer package


Transport from Queenstown to the start Jacks point, Kelvin Heights or the Frankton Track - you explore your own way back to Queenstown


Monday : 6:00AM - 10:00PM
Tuesday : 6:00AM - 10:00PM
Wednesday : 6:00AM - 10:00PM
Thursday : 6:00AM - 10:00PM
Friday : 6:00AM - 10:00PM
Saturday : 6:00AM - 10:00PM
Sunday : 6:00AM - 10:00PM


Holiday hours : Open 365 days of the year
Group Info: We can do small or large groups (up to 65 pax) Please email for any larger inquires: goingbluequeenstown@gmail.com


Group Reservation Email: goingbluequeenstown@gmail.com


Group Capacity: 60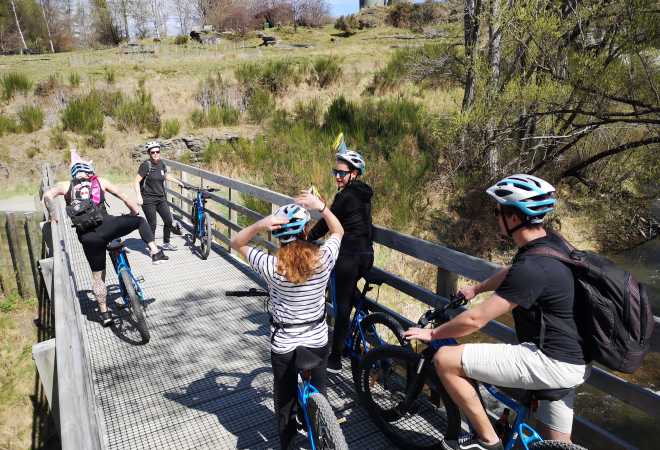 Covid-19 DEALS! 20% off tours this Winter! Included: instant support, shuttles, locks, helmets, and maps.
Valid until 31 August, 2020