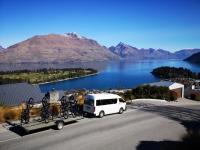 Going Blue
Premium New 2020 Model Standard (Hardtail) Bike Hire
Our fleet of brand NEW bikes have been recognised as one of the most efficient modes of transport to take you into the heart of Queenstown's beauty. You will see all this and more as you set off on your adventure.These bikes are waiting for you to explore at your own pace!
All our hires include all your gear dropped off direct to your door and picked up afterwards (Central Queenstown)
There are a vast amount of stunning trails (over 120km to explore) in one of the most pristine parts of the world to choose from. Our beautifully engineered NEW model bikes are perfect for these adventures.  All package's come with repair kits, maps, helmets, water bottles with holders and instant support from our team. 
Whether it's a full day or half-day, there are plenty of beautiful sights to see in Queenstown from world-renowned wineries to Lord of the Rings scenery and picturesque mountains and crystal clear lakes. 
We cater for small or large groups and can arrange Shuttles, Restaurants or other Activity options or links as required.
Contact Us
Company: Going Blue
Physical Address
37 Industrial Place
Queenstown, 9300
MinPrice: $20
MaxPrice: $59
$20 upwards for extra Shuttle pickups $39 Half Day Electric Bike Hire $59 Full Day Electric Bike Hire $25 Kids attachments


All hires include your gear droped off to your door and picked up afterwards. If you require a pickup from Arrowtown etc a small fee is added on.


Monday : 6:00AM - 10:00PM
Tuesday : 6:00AM - 10:00PM
Wednesday : 6:00AM - 10:00PM
Thursday : 6:00AM - 10:00PM
Friday : 6:00AM - 10:00PM
Saturday : 6:00AM - 10:00PM
Sunday : 6:00AM - 10:00PM


Holiday hours : Open 365 days of the year
Group Info: We can cater for groups of up to 65 people. For all inquires email: goingbluequeenstown@gmail.com


Group Reservation Email: goingbluequeenstown@gmail.com


Group Capacity: 65