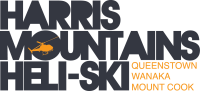 Harris Mountains Heli-Ski
Heli-Ski Experience 4 Runs
For all abilities the Experience 4 is the perfect day out for those wanting to take a relaxed approach to the heliski day to really enjoy the experience of being out in the mountain environment. Explore a variety of amazing terrain for an unforgettable heli-ski experience.
Contact Us
Company:
Harris Mountains Heli-Ski
Physical Address
35 Shotover Street
Queenstown, 9300
Price:

$1,295
Upgrade your heli-ski day by adding extra runs to your trip.


We provide complimentary transport to and from our staging area.


Monday:

8:00 AM - 6:00 PM

Tuesday:

8:00 AM - 6:00 PM

Wednesday:

8:00 AM - 6:00 PM

Thursday:

8:00 AM - 6:00 PM

Friday:

8:00 AM - 6:00 PM

Saturday:

8:00 AM - 6:00 PM

Sunday:

8:00 AM - 6:00 PM



Months of Operation:

June, July, August, September, October


Group Info:

A private charter offers the ultimate experience in convenience and flexibility. Contact us for details and pricing.



Group Reservation Email:

hmh@heliski.co.nz



Group Capacity:

6