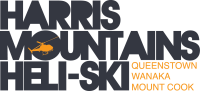 Harris Mountains Heli-Ski
Heli-Ski Experience 10 Runs
For those hardened powder purists who know they'll push the limits! Skiers and boarders who are fit and strong can feast on the "Max Vert" challenge in the powder playground of their dreams!
Contact Us
Company:
Harris Mountains Heli-Ski
Physical Address
35 Shotover Street
Queenstown, 9300
Price:

$1,795
Upgrade your heli-ski day by adding extra runs to your trip.


We provide complimentary transport to and from our staging area.


Monday:

8:00 AM - 6:00 PM

Tuesday:

8:00 AM - 6:00 PM

Wednesday:

8:00 AM - 6:00 PM

Thursday:

8:00 AM - 6:00 PM

Friday:

8:00 AM - 6:00 PM

Saturday:

8:00 AM - 6:00 PM

Sunday:

8:00 AM - 6:00 PM



Holiday hours:

Closed Christmas Day



Months of Operation:

June, July, August, September, October


Group Info:

A private charter offers the ultimate experience in convenience and flexibility. Contact us for details and pricing.



Group Reservation Email:

hmh@heliski.co.nz



Group Capacity:

6