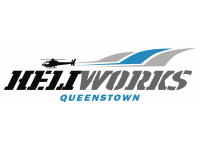 Heliworks Queenstown
Earnslaw Burn Explorer
Highlights:
Experience 2 landing locations
Earnslaw Burn – see an immense wall of waterfalls and the blue ice of the hanging glacier, exclusive to Heliworks
A second alpine landing 
Views of the historic Skippers Canyon
Views of the head of Lake Wakatipu
Blue ice hanging glacier and a wall of waterfalls
Bask in the beauty and serenity this area has to offer with these two incredible landing sites. This will be an unforgettable adventure!
This flight has been exclusively designed by Heliworks' pilots to take you to our exclusive landing site – The Earnslaw Burn and then on to a second pilot's choice alpine landing.
Depart Heliworks base through the Moonlight Saddle and over the Richardson Mountains to Mt Earnslaw and the mighty Earnslaw Burn.
Fly past the blue ice of the hanging glacier before descending to land on the valley floor, over 1,000 metres below! Enjoy the tranquillity of this breath-taking location before getting back in the helicopter to continue your adventure across Lake Wakatipu for a second landing.
Returning along the lake towards Queenstown itself and landing back at our hangar.
**Please take note that during the winter months the Earnslaw Burn does not have as many fast flowing waterfalls compared to the spring/summer/autumn months. This is still a stunning and magical location even in the winter months however we would like you to be aware of this.
Contact Us
Company:
Heliworks Queenstown
Physical Address
Price:

$990
Rates: Adults:$990, Children:$695, Infant $495.


We offer complimentary transfers from downtown Queenstown.


Monday:

8:30AM - 6:00PM

Tuesday:

8:30AM - 5:30PM

Wednesday:

8:30AM - 5:30PM

Thursday:

8:30AM - 5:30PM

Friday:

8:30AM - 5:30PM

Saturday:

8:30AM - 5:30PM

Sunday:

8:30AM - 5:30PM



Holiday hours:

Closed Christmas Day