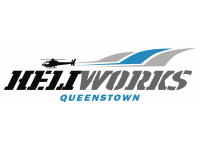 Heliworks Queenstown
Fiordland's Finest
Highlights:
Bird's eye view of Milford Sound
High alpine lake landing and glacier landing –  (weather permitting)
Views of Lake Quill and Sutherland Falls – the second highest waterfall in Fiordland National Park at 580m/1,900 ft 
A landing in the Earnslaw Burn – our exclusive landing site
Our signature experience – an experience of a lifetime 
The famous Fiordland region is a World Heritage Site. Filled with pristine alpine lakes, roaring waterfalls, glaciers, fjords and rugged mountains, this area has it all – and with three stunning landings; and alpine lake, glacier and in the stunning Earnslaw Burn, you will experience it all on this incredible journey.
Our adventure begins out of Queenstown, flying over Ben Lomond and the Richardson Mountains, past rustic Glenorchy village, and continuing high up in the alps to picturesque Lake Erskine.
Next we head to the source of the mighty Sutherland Falls. Lake Quill feeds this monstrous waterfall, with a drop of 580m/1,900 ft and a very loud roar to match.
Milford Sound is calling. Leaving the falls, we skip over to the rugged West Coast, sweeping past iconic Mitre Peak. From here we make a beeline towards Mt Tutoko – the highest peak in Fiordland – before circling back to land at the Earnslaw Burn.
With a hanging glacier overhead, and waterfalls cascading down around you, the Earnslaw Burn is a sight to behold. Even in winter when many of the waterfalls have frozen dry, the glacier swells with fresh, dazzling snowfall. It's a magical place.
This is our final stop before we fly back home, passing over the historic gold mining sites of Skippers Canyon.

Didn't we say this trip has it all?
Contact Us
Company:
Heliworks Queenstown
Physical Address
Price:

$1,690
Rates: Adults:$1,690, Children:$1,185, Infants $845.


We offer complimentary transfers from downtown Queenstown.


Monday:

8:30AM - 5:30PM

Tuesday:

8:30AM - 5:30PM

Wednesday:

8:30AM - 5:30PM

Thursday:

8:30AM - 5:30PM

Friday:

8:30AM - 5:30PM

Saturday:

8:30AM - 5:30PM

Sunday:

8:30AM - 5:30PM



Holiday hours:

Closed Christmas Day