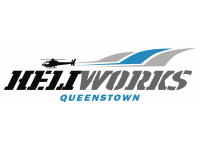 Heliworks Queenstown
Doubtful and Milford Sounds
Highlights:
Fly over remote Doubtful Sound –  the second longest fiord in New Zealand
View iconic Milford Sound
Campbell's Kingdom – an incredible hidden valley
Amazing views of high alpine lakes and tumbling waterfalls
Landing at the exclusive Earnslaw Burn
If you really want to see Fiordland in all its beauty then this is the flight for you –the diversity of this special landscape will astound! Lift off from Heliworks base past the iconic Remarkables mountain range and across Lake Wakatipu to the South.
After crossing the scenic Mavora Lakes, the high peaks of Southern Fiordland come into view across Lake Te Anau – the largest lake in the South Island.
World Heritage Fiordland National Park now unfolds in front of you; with lush rainforest and towering mountains plummeting into the waters of Doubtful Sound itself. Keep an eye out for some of the abundant wildlife below you – dolphins and seals swimming in the ocean, with keas, kakas and hawks soaring above.
Fly over Doubtful Sound before turning into the hidden valley of Campbell's Kingdom, almost prehistoric in its landscape and complete with a lake and waterfall!
Now fly north across the remote peaks and valleys of Fiordland towards Milford Sound.
See scenic Lake Quill and the mighty Sutherland Falls – New Zealand's second highest waterfall and certainly one of the most impressive – and the rugged West Coast before Milford Sound takes us inland.
View Bowen Falls and Stirling Falls which cascade into Milford Sound, before climbing to Fiordland's highest peak Mt Tutoko.
Cross the densely forested Hollyford Valley before we descend into one of our favourite and also exclusive landing sites – the Earnslaw Burn with its blue ice and its towering wall of waterfalls. Finally cross the Richardson Mountains and see the Shotover River below as you return to Heliworks in Queenstown.
*Includes a landing in the Earnslaw Burn that was recently featured on Travel Guides.
Contact Us
Company:
Heliworks Queenstown
Physical Address
Price:

$12,820
Rates: Charter flight (up to 6 passengers) Total: $12,820.00


We offer complimentary transfers from downtown Queenstown


Monday:

8:30am - 5:30pm

Tuesday:

8:30am - 5:30pm

Wednesday:

8:30am - 5:30pm

Thursday:

8:30am - 5:30pm

Friday:

8:30am - 5:30pm

Saturday:

8:30am - 5:30pm

Sunday:

8:30am - 5:30pm



Holiday hours:

Closed Christmas Day



Months of Operation:

Open year round