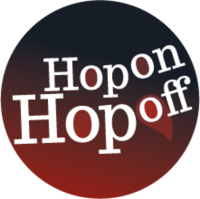 Hop on Hop off Wine Tours Ltd
Hop on Hop off Wine Tours - Full Day
See the sights of Queenstown & Gibbston Valley in an epic tour with the first and original Hop on Hop off bus in Queenstown. With the freedom to jump on and off this tour at your leisure, you get to experience all there is to see and do in Queenstown. Enjoy the divine wines, sensational cuisine, cheeses, craft beers, and the many other wonderful activities Queenstown has to offer.
Approximately 45 minute loops in the most picturesque region of New Zealand.
Why drive yourself, when you can have all the freedom and receive all the information on the destinations while you taste wines, sample beers, eat and just wander around.
Hop off for lunch at any of the wonderful winery restaurants or a country-side tavern.
Go for a Bungy Jump at the famous Kawarau Bridge with AJ Hackett, then go to a winery for lunch and unwind after all your excitement.
There are so many fantastic wineries to choose from, vineyards with fantastic wines or even as a scenic tour you couldn't get better.
Take a leisurely walk around the historical Arrowtown with gold mining history and an ancient Chinese Village, then jump right back on and go for lunch or taste some wines.
Many fantastic photo opportunities around pristine Lake Hayes, Arrowtown and views of Gibbston Valley.
A Free map supplied which gives you all the information required, including simple timetable to follow. Knowledgeable drivers who will give you all the information you need for a fantastic day out, it's a great way to travel and do it all.
Contact Us
Company: Hop on Hop off Wine Tours Ltd
Physical Address
Queenstown
Price: $79.50
Full Day Tour: Adult $79.50 Children under 14 years old $29.50


Transport leaves from One Mile Car Park 10.30am The Station 10.33am / 11.25am / 12pm


Open For Business : Yes


Monday : 9 AM - 06:00 PM
Tuesday : 9 AM - 06:00 PM
Wednesday : 9 AM - 06:00 PM
Thursday : 9 AM - 06:00 PM
Friday : 9 AM - 06:00 PM
Saturday : 9 AM - 06:00 PM
Sunday : 9 AM - 06:00 PM


Holiday hours : Closed - Christmas Day, Boxing Day, New Year's Day, 2nd January, Good Friday, Easter Sunday and ANZAC Day
Months of Operation : Open year round
Group Info: We do not take individual bookings of more than 8 customers at a time. It is because only 8 or less people are guaranteed the best possible experience at the cellar doors. (It also prevents customer from jumping on & off due to the buses only having 20 seats).


Group Reservation Email: enquiries@hoponhopoffwinetours.com


Group Capacity: 8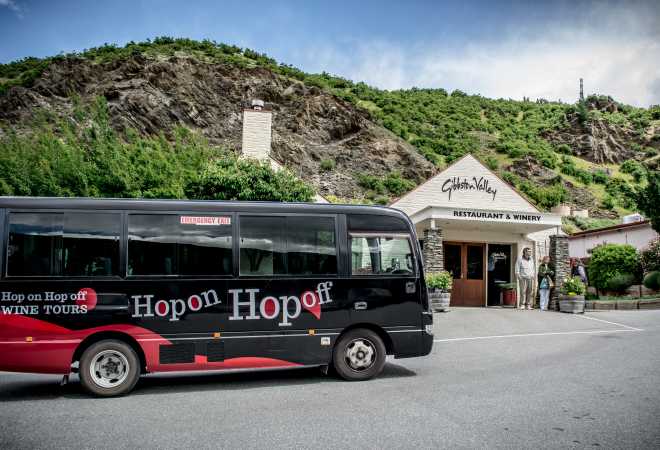 Hop on Hop off Wine Tours are an excellent way to move groups around the Queenstown vineyards, breweries and other attractions. With up to seven circuits a day and to choose from To make it even easier, we're offering groups of 10 or more, $10 OFF per person when they book a Queenstown Hop on Hop off Wine Tour, Monday-Friday, 21 August-15 December 2020. Simply email or give us a call and we'll find something that will work for your group. Subject to all Hop on Hop off booking conditions.
Valid until 15 December, 2020