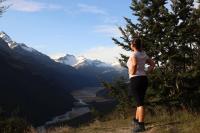 Invincible Gold Mine Track
Explore the rich mining heritage of the Otago Goldfields Park on this beautiful, secluded walk combining beech and mānuka forest with panoramic mountain views.
Distance: 5.5 km 
Duration: 3 hours return
Difficulty: Moderate, with a steady climb.
Best time of year to go: October – April. 
Start / finish point: Take Rees Valley Road from Glenorchy. This is a gravel road, and you'll need to cross a couple of fords to get to this track. The track starts immediately after the second (and largest) ford, so we recommend parking before the ford and crossing on foot.
Insider's tip: Please do not attempt to enter the old mine shaft, as there's a deep vertical drop behind the mesh barrier.
The Invincible Gold Mine Track experience
Turn right after the second ford and take the track through the beech forest. The track is steep in parts, but well surfaced. A few minutes into the walk you'll pass the old rotating convex table, built to separate gold ore from pulverised rock dust.
You'll gradually climb through the beech, into mānuka forest and then above the tree line, where you'll enjoy uninterrupted views of the Rees Valley and Mt Earnslaw / Pikirakatahi.
This historic track was built by gold miners in the early 1880s. At the site of the old mine, you can see remains of the water wheel and a set of seven berdans (large, revolving cast iron bowls in which the ore was ground). These are the most complete berdans left in NZ. Marvel at the effort it must have taken the miners and their horses to haul all this gear up the steep track.  
Much of the gold bearing quartz mined here was contaminated with iron pyrite, and the berdans couldn't separate all the gold from the fool's gold. As a result, the rotating convex table was built at the start of the track, and the tailings from the mine were sent down a long flume to be reprocessed on the valley floor.
Contact Us
Company:
Invincible Gold Mine Track
Physical Address
Queenstown