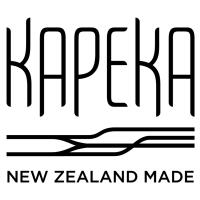 Kapeka
Kapeka | Fashioned by Nature
Kapeka is the shape of interconnected growth & regrowth. It is the Maori word describing the branching shape of rivers and trees. Each a flowing curve evolved when nature is free to find its own form.
Organic forms result when design is trusted to nature. The tree and the river are part of a constant interconnected cycle that draws together the surrounding Land and People. The branches of Kapeka are a symbol of these connections.
New Zealand is a young country, both geologically and historically. It is a place where the actions of nature are often closer and more apparent. Fashioned by Nature is the story of the New Zealand landscape and its people. The shapes of Kapeka can be seen everywhere in the land. It is part of every story and landscape in New Zealand.
Kapeka draws on the fibres of Nature. The branching and braiding of each unique fibre reflect the interconnected organic patterns of New Zealand's Rivers, Trees and Beaches. Since the beginning of time, these cycles of nature have seen growth and regrowth, each time creating the shape & symbol of its own design.
Enjoy Free Shipping within New Zealand for purchases over $100
Contact Us
Physical Address
The Mall, 30 Ballarat Street
Queenstown, 9300