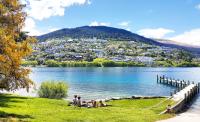 Kelvin Heights Peninsula Trail
A loop walk around the Queenstown Golf Course at Kelvin Heights with spectacular views across to Walter Peak and back towards Queenstown across the Frankton Arm.
Distance: 3.5 km
Duration: 1 hour
Difficulty: Easy
Best time of year to go: Good all year
Location: Kelvin Heights
Start / finish point: Junction of Peninsula Road and Grove Lane.
Insider's tip: Pack a picnic and stop in Terry's Cove to admire the view of the mountains.
The Kelvin Heights trail experience
This track is a continuation of the Frankton Arm Walkway, an easy 10 km stroll from Queenstown. The trail runs in and out of woodland alongside the lake beside the golf course. It's a shared trail with bikers and golfers, who have right of way.
If you head around the peninsula in a clockwise direction, the trail offers you superb views across Lake Wakatipu to the Remarkables. Then when the trail curves north, you'll be gazing back towards Queenstown across the Frankton Arm.
This trail is known for its sculptures by New Zealand artists, donated to the local community by a generous anonymous art lover. Look out for Wakatipu Kuikui by Mark Hill, Thru Link to Peak by Shane Woolridge, The Kelvin Peninsula Goats by Jeff Thompson, and Presence, also by Mark Hill. Stop at the golf clubhouse for a refreshing drink before heading back to Queenstown.
Contact Us
Company:
Kelvin Heights Peninsula Trail
Physical Address
Queenstown