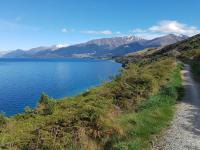 Lakeside Trail (Jack's Point Track)
The popular Lakeside Trail starts in the heart of Kelvin Heights Peninsula tracing along the edge of Lake Wakatipu surrounded by historic farmlands and some of the most scenic residential areas New Zealand has to offer - a short day walk sure to reward even the most avid walkers.
Duration: 2 hours one-way to Jack's Point Clubhouse (4 hours return)
Best time to go: All year
Location: Jardine Park, Kelvin Heights
Start/finish point: Jardine Park, Poplar Drive, Kelvin Heights – 20 minutes from central Queenstown. Accessible by car, water taxi or bike along the Queenstown Trail.
Difficulty: Easy-intermediate
Biking? Yes, intermediate grade 3
Insiders tip: Make sure to enjoy a break at Jack's Point clubhouse for lunch or a light refreshment before making your way back along the trail to Queenstown.
The central location and ease of this trail make it increasingly popular with bikers, runners as well as avid walkers. 
Be sure to look up on still days to enjoy the array of adventurers floating back down to earth after an action packed skydive over The Remarkables mountain range or out to the water where jet boats, cruises and even semi-submersible sharks entertain locals and visitors alike.
Find out more about 'Safely Walking and Hiking in Queenstown' before you depart.
Contact Us
Company:
Lakeside Trail (Jack's Point Track)
Physical Address
Queenstown