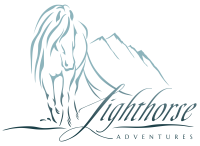 Lighthorse Adventures
The River Wild
Ride alongside braided, glacial fed rivers. This adventure offers river crossings and spectacular scenery, including the Misty Mountains, The Wizard's Cale and The Mighty Methedras. An unforgettable experience for all levels of rider and a great option for disability groups. This ride includes an introduction session on the Art of Horsemanship which will help you enjoy your ride all the more. 
Contact Us
Company: Lighthorse Adventures
Physical Address
Glenorchy, 9372
Coffee/Tea Facilities
Outdoor seating
Wheelchair Accessible
Wifi Internet
MinPrice: $189
MaxPrice: $209
Transport packages available with return transfers from Queenstown.


Open For Business : Yes


Monday : 8am - 7pm
Tuesday : 8am - 7pm
Thursday : 8am - 7pm
Friday : 8am - 7pm
Saturday : 8am - 7pm
Sunday : 8am - 7pm


Group Info: Group rates available.


Group Reservation Email: bookings@lighthorseadventures.com


Group Capacity: 9