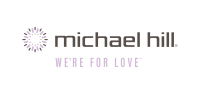 Michael Hill Jeweller
We exist to craft distinct and appealing jewellery, and it has been that way since our founding in 1979 when Michael and his wife Christine opened their first store in the New Zealand town of Whangarei, some 100 miles north of Auckland.
We've grown dramatically since then. We now have over 300 jewellery stores in Australia, New Zealand, Canada and the United States. But one thing hasn't changed and never will: we think about you and the reasons behind your purchase – designing timeless pieces that bring out your best. That's why we remain one of the few jewellery retailers that have an in-house team of master craftsmen – dedicated to creating your future heirlooms and keepsakes while continuously perfecting their craft.

For over 35 years we've shared our vision locally and globally and we've earned the reputation for quality jewellery along the way.
Learn more at www.michaelhill.co.nz 
Contact Us
Company:
Michael Hill Jeweller
Physical Address
23 Rees Street
Queenstown, 9300
Monday:

9:30 AM - 6:00 PM

Tuesday:

9:30 AM - 6:00 PM

Wednesday:

9:30 AM - 6:00 PM

Thursday:

9:30 AM - 7:00 PM

Friday:

9:30 AM - 7:00 PM

Saturday:

9:30 AM - 7:00 PM

Sunday:

9:30 AM - 6:00 PM



Months of Operation:

Jan - Dec