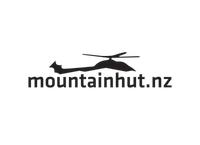 Mountainhut.nz
Mountainhut
Mountainhut.nz is unique accommodation accessed by helicopter and operated by your hosts all year around.
Combine the excitement of a helicopter flight with the serenity of the back country mountains. We can fly and host up to ten persons in your group. The emphasis is on glamping (glamour camping) and simplicity so you can better experience the exhilaration of sleeping high on Mt Larkins with your friends or family.
The toilet is a separate little hut and the journey there is a chance to see the stars and remember where you are. A wood burner fire keeps the hut warm and cosy.
Mountainhut sleeps up to six. We can accommodate up to ten with the addition of tenting or snow caving around the hut.
Our trips are suitable for all ages. The host takes care of your groups safety and satisfaction. You can personalize a hosted mountain celebration. Plan your menu or arrange a chef with us. Whether it is just two of you or ten the power of the mountains will leave there mark on your memory.
Contact Us
Physical Address
Small Planet, 15-17 Shotover Street
Queenstown, 9300
MinPrice:

$250

MaxPrice:

$1,495
Price is subject to conditions. Trips are suited to your group or individual needs. Pricing details are provided in full on application.


Monday:

07:00 AM - 05:30 PM

Tuesday:

07:00 AM - 05:30 PM

Wednesday:

07:00 AM - 05:30 PM

Thursday:

07:00 AM - 05:30 PM

Friday:

07:00 AM - 05:30 PM

Saturday:

07:30 AM - 05:30 PM

Sunday:

07:30 AM - 05:30 PM



Holiday hours:

On demand



Months of Operation:

Open year round



Hours:

24 hours, 7 days a week


Group Info:

Available for groups of up to ten persons. Bespoke celebrations and special events created for your every need. We offer catering, hosted and guided activities, with great views in a very special place. If you are looking for a unique experience, we have you covered.



Group Reservation Email:

christinekelly@runbox.com