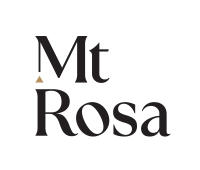 Mt Rosa Wines
Proudly family owned, you'll meet Ann and Guy at the Cellar Door when you pop by for a tasting. They will keep you entertained for the afternoon.  Open daily from 11am - 5pm tastings include all our single vineyard varietals of Pinot Noir, Pinot Blanc, Pinot Gris, Sauvignon Blanc, Late Harvest Riesling and Rose.  
With an ethos of fine hospitality to match the fine wine, there's always a warm welcome and a seat at the table at Mt Rosa. 
Shop online at https://www.mtrosa.co.nz/
Contact Us
Physical Address
47 Gibbston Back Road
Gibbston
Queenstown, 9371
Bar/Lounge

Internet Access

On-site Parking

Outdoor seating

Pets Allowed

Restaurant on Site

Wheelchair Accessible

Wifi Internet
Price:

$15
Tasting fee is $15 for 5+ wines plus a wee surprise! Tasting fee is waived upon the purchase of 2 or more bottles per person.


Monday:

11:00 AM - 5:00 PM

Tuesday:

11:00 AM - 5:00 PM

Wednesday:

11:00 AM - 5:00 PM

Thursday:

11:00 AM - 5:00 PM

Friday:

11:00 AM - 5:00 PM

Saturday:

11:00 AM - 5:00 PM

Sunday:

11:00 AM - 5:00 PM



Holiday hours:

Closed Christmas Day, Boxing Day, Good Friday



Months of Operation:

Jan - Dec


Group Info:

We can take large groups on booking. Please call us or email office@mtrosa.co.nz 03 441 2493



Group Reservation Email:

office@mtrosa.co.nz