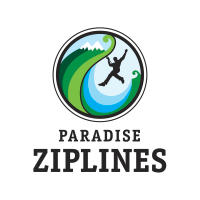 Paradise Ziplines
Zipline ex Glenorchy
Paradise Ziplines provides a wilderness adventure like no other. Our 8-line zipline course takes you on a very diverse journey by wire and walking track through the pristine native forest of the Oxburn valley over the crystal clear alpine stream. The lines and views vary; from up high with stunning views out to Mt Aspiring National Park and Paradise, through the beautiful native forest canopy, to just meters above water as you wind your way down the gorge. The drive from Queenstown to Glenorchy is rated one of the best in the world! 
Ziplining, called a flying fox by some, is a fun and adventurous activity - not as extreme as bungy jumping or a canyon swing but more exhilarating than a stroll in the Queenstown gardens! This is a perfect activity for those wanting to see some of the regions stunning scenery, experience the native forest and see an amazing slot canyon otherwise inaccessible to the public. The thrill and scenery compete for your attention during the regions best ziplining experience.
Safety First
Full safety gear and training on our low practice line will be provided by our fabulous guides before you begin so no experience is required; just an adventurous spirit. One guide attaches you onto each zipline, while the other guide at the other end of the zipline works the brakes for you and takes you off the zipline and attaches you to the safety line, leaving you to enjoy the exhilaration while soaking up the scenery.
Let the adventure begin
The tour starts with an uphill walk over uneven ground through beautiful native red beech forest. This walk includes plenty of stops to catch your breath and usually takes around 15 minutes, good mobility is required.
Our first line launches off a cliff and travels high above the Oxburn Stream giving a panoramic view of the course and the surrounding mountains made famous by Lord of the Rings, which are the backdrop to an area officially named Paradise.
Our next two lines are a canopy tour through the pristine native red beech forest over the canyon, weaving up stream.
At halfway on our fourth line and one of the favourites also known as  - The 'Orc Chasm' - zipping 200 meters through a tree tunneled slot canyon and only metres above the alpine stream's chasm. The next three lines also weave us downstream just meters above the rapids, following the curves of the alpine stream deep within the canyon, bringing us to the final line, the stunning 'Blue Lagoon'.
After Blue Lagoon, there is only a 100m flat walk back to base where our lovely guides take off your gear and take you back to where we picked you up from. 
Contact Us
Company:
Paradise Ziplines
Physical Address
25 Mull Street
Glenorchy, 9348
MinPrice:

$189
Adults and kids same price.


Transport provided from Glenorchy. Should you need transport from Queenstown book with Tracknet on www.tracknet.net or www.infotrack.co.nz


Monday:

8:00am - 6:00pm

Tuesday:

8:00am - 6:00pm

Wednesday:

8am - 6pm

Thursday:

8am - 6pm

Friday:

8am - 6pm

Saturday:

8am - 6pm

Sunday:

8am - 6pm



Holiday hours:

Closed Christmas Day



Months of Operation:

Jan - Dec


Group Info:

An excellent option for incentive and team building groups. Suitable for all ages, no experience necessary, good mobility required. We can currently cater for groups of around 40 pax and can arrange transport if required from Queenstown.



Group Reservation Email:

info@paradiseziplines.com



Group Capacity:

11