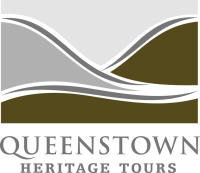 Queenstown Heritage Tours Ltd.
Unforgettable Skippers Canyon Tour
The scenery of Skippers Canyon is without a doubt a subject you will talk about.
An excursion into the backcountry of Queenstown is certainly worth your time: landscapes that are only accessible in Skippers Canyon, historic remains at every corner, a familiar atmosphere in a comfortable 4WD vehicle and of course your interaction with our Driver/Guide who will explain this goldmining area and stop on your demand will create a truly unforgettable experience.
Enjoy all that this breathtaking area has to offer: stunning scenery, peace and quiet and an exciting history. Located in Queenstown's back country, Skippers Canyon is one of New Zealand's best kept secrets.
You will travel on Skippers Road alongside the Shotover River at a leisurely pace. Built between 1883 and 1890 in four sections, the road was considered an engineering feat in its day.
Our mature Driver/Guides stop for photos when ever you want and explain this former goldmining area. It is your choice to experience this living history by walking short distances and get in touch with Queenstown's very heritage. One of the highlights of your tour will be the crossing of Skippers Bridge.
The bridge is 100m long and suspended 90m above the Shotover River by its original 14 wire ropes. You will then safely reach Skippers Point in the Mount Aurum Conservation Area and enjoy a lovely morning tea as home-made cheese on crackers, biscuits and some refreshments will be served.
Here is your time table: Daily Departures at: 8.30am or 1:30pm - 4 hours tour Tour concludes: 12.30pm or 5:30pm Tour includes: Pick up from your Queenstown accommodation, morning tea, on demand photo stops and short walks
Contact Us
Company:
Queenstown Heritage Tours Ltd.
Physical Address
174 Glenda Drive
Frankton
Queenstown
Group Info:

Groups bookings can be tailored to your requests if needed. We use comfortable 9 seater minibuses. We use a loud-speaker system that can cater for all language requirements for as long as a translator accompanies the group.



Group Reservation Email:

active@qht.co.nz



Group Capacity:

53