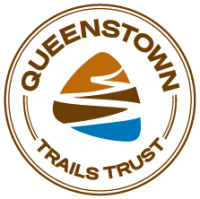 Queenstown Trails Trust
Queenstown Trail
EXPERIENCE A DIFFERENT SIDE OF QUEENSTOWN
On the shores of Lake Wakatipu starts a great journey, over 130kms of off-road trails taking you from Queenstown to Gibbston via historic Arrowtown.
The Queenstown Trail is one of New Zealands's 22 Great Rides, a network of trails that provide a safe and sustainable way to explore New Zealand's special places.  Riding our 'Great Ride', the Queenstown Trail allows you to explore Queenstown by bike (or on foot) via 130kms of spectacular off-road trails. Your journey starts on the shores of Lake Wakatipu and takes you from Queenstown to Gibbston, returning via historic Arrowtown. You'll take in a plethora of lakes and mountains, rivers, bridges and spectacular views.
Start planning your ride here - www.queenstowntrail.org.nz
Contact Us
Company: Queenstown Trails Trust
Physical Address
PO Box 91070, Wakatipu, Queenstown.
Queenstown, 9300
You are free to ride the trails or take a guided tour with one of our approved operators - http://queenstowntrail.co.nz/trail-directory/tour-operators


Arrange bike transport with one of our approved operators - https://queenstowntrail.org.nz/trail-directory/