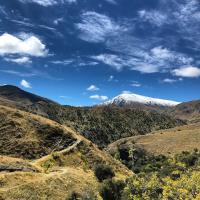 Sawpit Gully Trail
A short but steep loop with panoramic vistas from the saddle out over the Wakatipu basin, and interesting historical remains of the goldmining era along the way.
Distance: 7.9 km loop
Duration: 2-3 hours
Difficulty: Moderate
Best time of year to go: Good all year.
Location: Butler's Green, Arrowtown
Start / finish point: The carpark near the Chinese Settlement in Arrowtown
Insider's tip: walking the trail counter-clockwise makes for an easier ascent. Good hiking shoes recommended for stream crossings and slippery trails. This walk crosses private land, so please remain on the trail at all times. Dogs, mountain bikes and trail bikes are not allowed.
The Sawpit Gully Trail hiking experience
The Sawpit Gully is an enjoyable loop track through mostly open country with a variety of scenery. Start from the carpark near the Chinese Settlement in Arrowtown and follow the Arrow River Trail. This climbs above the Arrow River before you reach the signposted turn off to Sawpit Gully.
Heading uphill, the trail gets much steeper as it climbs into the gully. In wet conditions, numerous crossings of the small creek are necessary. The climb continues into open, grassy country to the saddle between German Hill and Brow Peak. Spectacular views south to Lake Hayes and The Remarkables.
Once in Sawpit Gully, you'll pass parts of a water race and piles of stone gold mining tailings are evident down near the creek. The vegetation changes from beech forest to tussock covered slopes. Look for the remains of an old stone miner's cottage on your right on a grassy terrace just before you begin to climb out of Sawpit Gully.
From the saddle, the track heads downhill past the Big Hill Trail towards Arrowtown providing magnificent views of the Wakatipu basin.
Contact Us
Company:
Sawpit Gully Trail
Physical Address