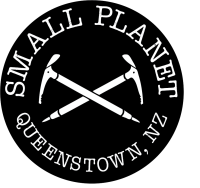 Small Planet Outdoors
Small Planet Sports is the quintessential outdoor sports company offering you mountains of local knowledge, friendly staff and the best prices in town - if you need it we can get it for you!
We provide outdoor gear for a variety of different sports, specialising in back country and touring products during the winter, including rental. Plus we run courses in rock climbing, alpine climbing and avalanche safety!
As of Tuesday 28th of April we will commence shipping, as well as allow contactless pre-ordered pick up.
Contact Us
Company: Small Planet Outdoors
Physical Address
15-17 Shotover Street
Queenstown, 9300
Open For Business : Yes


Monday : 9:00 AM - 7:00 PM
Tuesday : 9:00 AM - 7:00 PM
Wednesday : 9:00 AM - 7:00 PM
Thursday : 9:00 AM - 7:00 PM
Friday : 9:00 AM - 7:00 PM
Saturday : 9:00 AM - 7:00 PM
Sunday : 9:00 AM - 7:00 PM


Months of Operation : Jan - Dec