Southern Discoveries
Milford Sound Nature Cruise
Discover the unique wildlife, towering waterfalls and majesty of Mitre Peak on Southern Discoveries two hour Nature Cruise. Cruise the full length of the fiord in comfort on a modern, spacious vessel with comfortable indoor seating and large, tall windows for panoramic viewing of spectacular Milford Sound. Enjoy a large and wide open outdoor, upper level deck for excellent wildlife viewing including seals, dolphins and penguins when in season. A specialist nature guide shares their local knowledge with lively and informative commentary while roaming the vessel, and the wheelhouse is open to join and speak with the skipper. Get within touching distance of impressive rock walls and close enough to feel the full force from the powerful 15,000-year-old Stirling Falls, raincoats are provided to keep you dry. Lunch options are available for purchase (must be pre-ordered) and complimentary tea and coffee is provided. Flight and coach connections available from Queenstown.
Contact Us
Company: Southern Discoveries
Physical Address
Queenstown Visitor Centre, St Omer Wharf
Queenstown, 9300
Price: $79
Adult from $79 Child $30


Coach and flight connections available from Queenstown


Monday : 9:00 AM - 5.30 PM
Tuesday : 9:00 AM - 5.30 PM
Wednesday : 9:00 AM - 5.30 PM
Thursday : 9:00 AM - 5.30 PM
Friday : 9:00 AM - 5.30 PM
Saturday : 9:00 AM - 5.30 PM
Sunday : 9:00 AM - 5.30 PM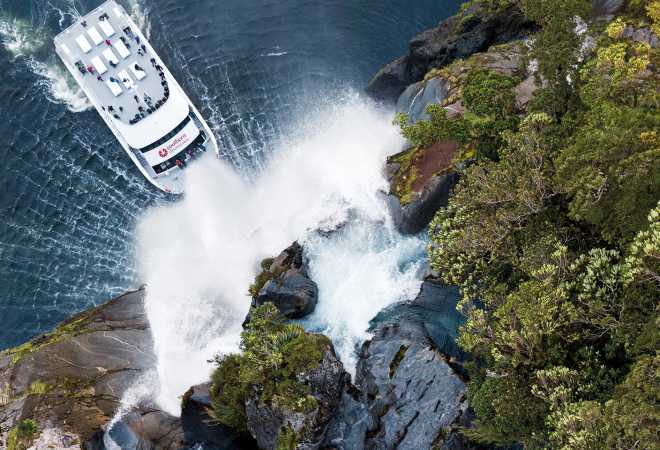 Join us on the original Milford Sound Nature Cruise for an epic voyage of discovery. We'll get you so close to this famous fiord you can reach out and touch the sheer rock walls or stand under Stirling falls for a glacial facial. Our passionate skipper will provide entertaining commentary from the wheelhouse while our boat hosts are on hand for a chat and to answer any questions. Book direct via our website and save 20% off adult fares.
Valid until 31 August, 2020