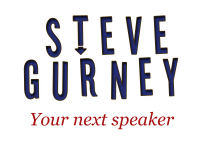 Steve Gurney -Your next speaker
Steve Gurney - Your next speaker
Have your delegates inspired, motivated, entertained, and ready to take on their next challenge. An excellent speaker to open your conference, energising delegates to make the most of their conference. Also perfect as a closing speaker to motivate delegates to implement and actuate the take-home points from the conference.
"Mr Motivation" will share his research and winning secrets from 20 yrs of professional sport, and 15 yrs as a professional speaker.
Steve works with management's desired outcomes, to design a presentation that delivers results.
Best known for winning the Coast to Coast a record 9 times, Steve is also an inventor with a Mechanical Engineering degree, author of 3 best selling books, recipient of an MNZM gong for services to Endurance Sport, and a qualified NLP trainer.
He's had a few close calls with death and it's the lessons of resilience and "come-back" to even greater race wins that audiences revel in learning from, along with gory stories and skilfully spun entertaining yarns.
His style is relaxed, humorous, and a genuine connection with his audience.
Steve is a professional member of NSA. (National Speakers Association)
Here's what they say:
"Extremely passionate & innovative."
"Goes the extra mile."
Book Steve to be the keynote speaker or MC at your next event!
Contact Us
Company:
Steve Gurney -Your next speaker
Physical Address
10 Boyes Crescent
Frankton
Queenstown, 9300
MinPrice:

$2,500

MaxPrice:

$5,000
If you have a particularly small group or time slot, contact me, as we may be able to work something out for smaller budgets if needed.


Monday:

8:00 AM - 10:30 PM

Tuesday:

8:00 AM - 10:30 PM

Wednesday:

8:00 AM - 10:30 PM

Thursday:

8:00 AM - 10:30 PM

Friday:

8:00 AM - 10:30 PM

Saturday:

9:00 AM - 11:00 PM

Sunday:

9:00 AM - 5:00 PM



Months of Operation:

Jan - Dec



Hours:

24 hours, 7 days a week


Group Reservation Email:

steve@stevegurney.co.nz