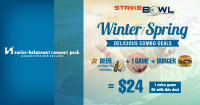 Swiss-Belresort Coronet Peak
Strike Bowl Queenstown
Great for all ages, Strike Bowl brings more than just bowling but also Timezone arcade games, pool tables, air hockey and table soccer. Within the bowling alley, there is a bar and food made to order from the hotels' kitchen. Come and have a blast! What matters is having lots of fun we have Bar and Pool Table. Play from $13 per person. FREE Shuttle Bus from/to City Centre.
Host Your Party with us - We will provide you with great rates to host your staff / Christmas/ Private or Kids parties.
ENQUIRE NOW 03-409-2135
QUEENSTOWN'S FAVORITE BOWLING ALLEY!
Contact Us
Company: Swiss-Belresort Coronet Peak
Physical Address
161 Arthurs Point Road
Arthurs Point
Queenstown, 9371
Air Conditioning
Bar/Lounge
Coffee/Tea Facilities
Internet Access
Kids menu
On-site Parking
Outdoor seating
Restaurant on Site
Price: $13
1 GAME - $13 Adult, $9 Children 2 GAMES - $20 Adult, $14 Children FAMILY PASS -$40 - 1 Game, $60 - 2 Game (2 Adults 3 Children),Indcludes Shoe Hire


We have a 12 Seater Shuttle


Monday : 2pm - 10pm
Tuesday : 2pm - 10pm
Wednesday : 2pm - 10pm
Thursday : 2pm - 10pm
Friday : 2pm - 10pm
Saturday : 12 noon - 10:00pm
Sunday : 12 noon - 10:00pm


Group Info: We can also accommodate for groups / birthdays / staff parties of up to 50 people bowling at any one time so please contact us for group rates so we can customise a package for your needs.


Group Reservation Email: strikebowlsrcp@swiss-belhotel.com