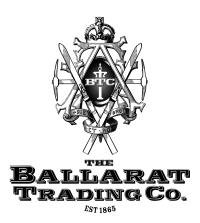 The Ballarat Trading Company
Located in Queenstown's famous mall, The Ballarat Trading Company has been described as 'like stepping into another world'. Inspired by an 1850's trading emporium, The Ballarat is something truly unique embracing the colour of old world Queenstown. Choose a cosy booth, sit in the courtyard or out in the sun drenched mall - The Ballarat has it all. The menu was designed with simplicity in mind, traditional favourites complimented by a selection of Central Otago's and New Zealand's finest wines.
There is something for everyone in this world class gastro pub. You'll be glad you visited the Ballarat Trading Company!
Contact Us
Company: The Ballarat Trading Company
Physical Address
7-9 The Mall
Queenstown, 9300
Kids menu
Outdoor seating
Monday : 9:00 AM - 4:00 AM
Tuesday : 9:00 AM - 4:00 AM
Wednesday : 9:00 AM - 4:00 AM
Thursday : 9:00 AM - 4:00 AM
Friday : 9:00 AM - 4:00 AM
Saturday : 9:00 AM - 4:00 AM
Sunday : 9:00 AM - 4:00 AM