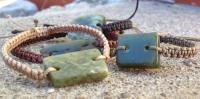 The Bead Shop
COVID Level 3
WE ARE OPEN EVERYDAY 11am - 4pm 
FOR ON LINE SHOPPING / PHONE CALLS AND CHOOSING FROM OUR BEAUTIFUL WINDOW DISPLAYS ONLY.
We have labelled as many things as we can on our windows and you are welcome to question us from the outside should you be interested in buying anything you can see.
Repairs:  easy..drop them off, with you name and address and telephone number and of course as much detail as is necessary for us to repair it and we will txt you as soon as it's ready.
NB  THERE WILL BE NO MAKING OF YOUR OWN JEWELLERY WHILST IN LEVEL 3.
Usually.... and hopefully as soon as possible:
The Bead Shop offers you a huge, exciting range of beads from all over the world as well as New Zealand Jade/ Greenstone and Paua. Simply make your own piece of jewellery, or choose from our own unique designs. Give yourself or someone special a gift of beads. Take the time to make a unique piece with the help of our experienced and friendly staff, so that you finish with exactly what you want. It's easy anyone can do it and its affordable.
Our range suits all budgets and we cater for all occasions, from weddings, to fancy dress or just a feel good piece of jewellery.
Contact Us
Company: The Bead Shop
Physical Address
2b Shotover St Queenstown
Queenstown, 9300
On-site Parking
Outdoor seating
MinPrice: $2
MaxPrice: $200
If you make your own it is simply the cost of the beads used. Otherwise our range of jewellery is extensive and varies according to the beads and time


Monday : 10:00 AM - 6:00 PM
Tuesday : 10:00 AM - 6:00 PM
Wednesday : 10:00 AM - 6:00 PM
Thursday : 10:00 AM - 6:00 PM
Friday : 10:00 AM - 6:00 PM
Saturday : 10:00 AM - 6:00 PM
Sunday : 11:00 AM - 6:00 PM


Holiday hours : Closed Christmas Day and New Years day
Group Info: Birthday parties for young and old alike are welcome. Maximum of 10 is preferable.