The prodigal child of two ski instructors, Blake grew up on the slopes of The Remarkables and Coronet Peak. 
Blake's first freeride competition was on home turf at The Remarkables where he won the 2* Freeride World Qualifier (FWQ) competition: The North Face Frontier. Heartened by this, he went on to qualify for the Freeride World Tour in 2019 and has now completed two successful seasons on the professional tour.
For any of our audience that don't already know, what is freeriding? 
Freeriding takes its inspiration from freestyle skiing. But goes to a whole other level. This sub-genre of skiing competitions is not for the faint hearted – often on the world's most intimidating and exposed mountain faces, such as the Alta Chutes of The Remarkables.
Athletes inspect at a steep mountain face with cliffs, couloirs and other naturally shaped terrain features and jumps. They choose a line (just by sight), memorise it, then ski full throttle. Their run is judged on fluidity, technique, difficulty of line, and air and style.
Anything in particular that helped shape your freestyle skills in Queenstown? 
My ski technique has been shaped by alpine racing with Queenstown Alpine Ski Team as a child; becoming a fully-fledged Level 3 Ski Instructor by 19; and taking part in the TNT freestyle program at The Remarkables.
It's hard to develop as a skier in New Zealand without building some kind of freestyle skills. The perfectly shaped park at Remarks and the TNT program was what lured me out of ski racing. It was more expressive and more fun.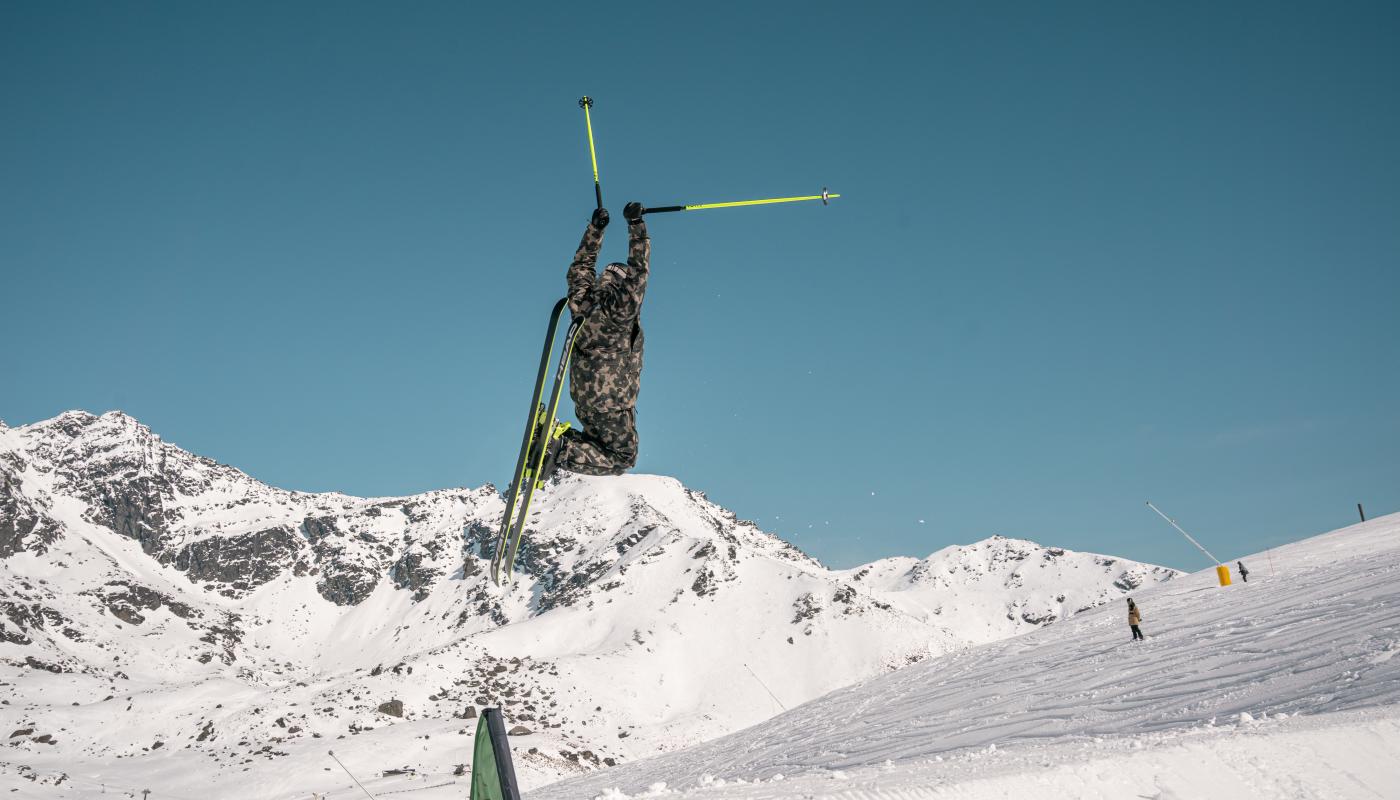 Any tips for people who want to progress their skills?
Pressure. Always keep pressure on the front of your boots no matter what!
Ski to your ability. You risk damaging your confidence if you choose something too difficult. Confidence is everything when you are riding – it helps you progress and have more fun on the mountain.
Take a ski lesson with me. These days I'm more of a ski coach up at Remarks, but if you request me from The Remarkables Ski School, I will try my best to make time for you!
To maximise winter progress, you should prioritise pre-season training:

Gym. I have an annual membership with the Queenstown Events Centre which covers all of my gym work and also provides solid entertainment on down-days.
Trail-running. This is an excellent way to stay fit through summer and fall while also enjoying the scenery. My favourite runs are dotted around Coronet Peak and Arrowtown.
Mountain Biking. It's great to keep the legs strong and work on your agility. Queenstown is the destination of choice so I can't believe it's taken me this long to find out how fun biking is at Queenstown Bike Park! 
Favourite ski field? 
Due to the combination of New Zealand's best freeride terrain and perfectly shaped parks, my favourite ski area is The Remarkables.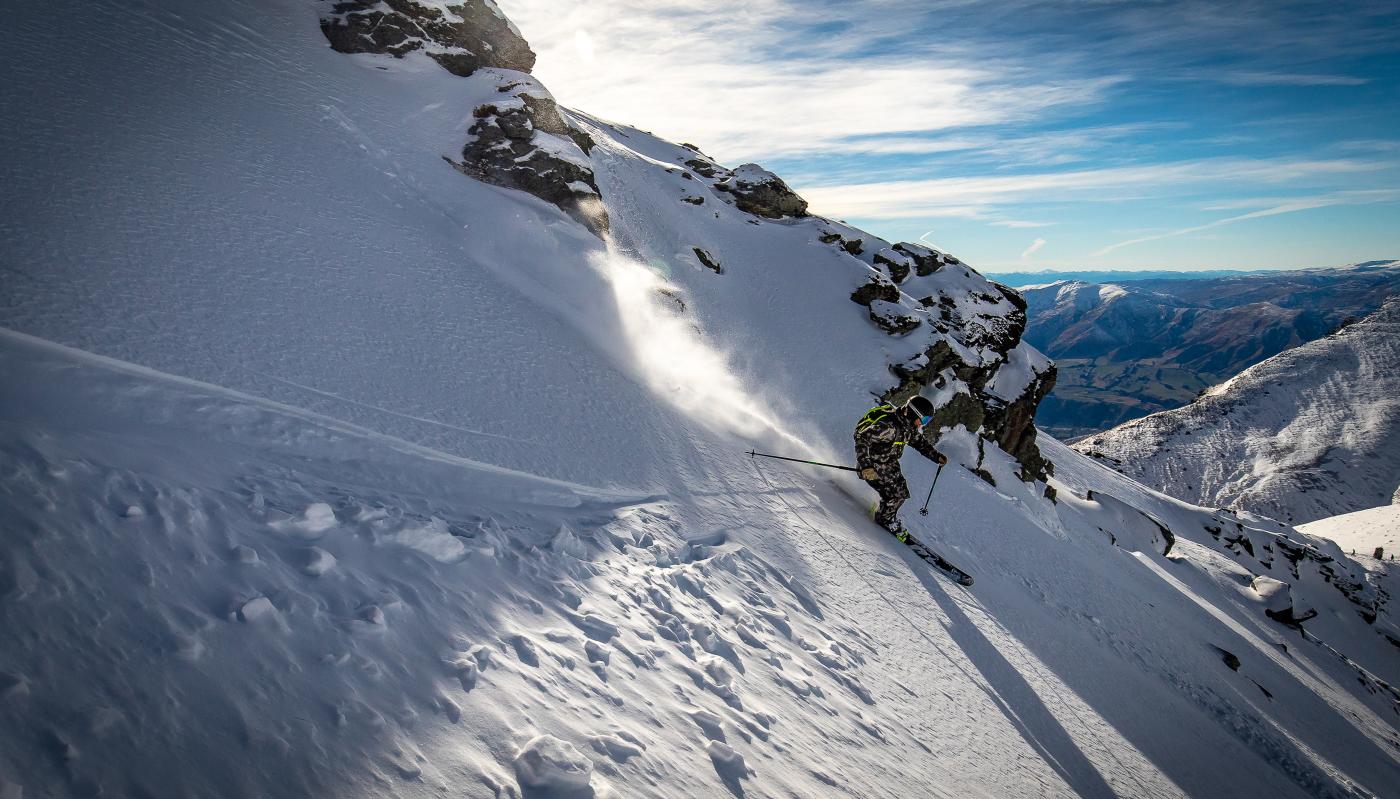 What does your best day up at The Remarkables look like? 
Sip a Flat White from the café at the base building, Rastusburn Coffee Bar
Ride the Shadow Basin chairlift and watch all the freeriders shredding Shadow Basin and jumping the infamous Breakfast Cliff
Lap Shadow Basin and get some air under your skis
Hike up to the top of Alta Chutes then ski Elevator Chute
Grab a Vegan Breakfast Slider to stave off lunch time hung pangs
Loop back to Shadow Basin then hike to the Weather Station and ski out to Homeward Bound (skier's left). This takes you past the ski area boundary, but you can catch the well-placed shuttle on the access road from 10am – 3pm
Take laps of the park in the sunny afternoon
Sip lakeside beers at sunset
Where to from here for you? 
Looking ahead to the next European winter, my goals are to step it up another level and take a stab at the Freeride World Tour 22 Champion title.