Originally from the North Island, Mike discovered his true passion for mountaineering and skiing when he moved to Queenstown at age 20. Since then, Mike's worked and lived in Mount Cook, Canada and Japan, before starting his own mountain guiding business in Queenstown four years ago.
What is ski touring?
Ski touring is when you first climb a slope with your skis by "skinning" and then ski back down. Ski touring skis are just like normal skis but they have special bindings that allow your heels to lift while skinning uphill. For the uphill section climbing skins are applied to the bottom of the ski meaning that the skis slide easily uphill but they won't slide backwards making climbing uphill easy. When you are at the top of the slope the climbing skins are removed and the heel of the ski binding is locked down meaning that you can easily ski downhill just like you would on normal alpine skis.
Ski touring is normally done in the backcountry and away from the ski fields. In New Zealand lots of ski touring happens just behind the ski fields as these provide good access points to high alpine areas minimising the approach time. Queenstown also has some very remote terrain that requires very long approaches by foot or use of a helicopter to get access.  
What's your favourite area for touring in the Southern Lakes Region?
So many cool areas to ski tour in the Southern Lakes... but for easy access, great terrain, and consistently good snow conditions, the Doolans area behind the Remarkables backcountry is my favourite. This area offers a wide range of terrain from low angle and safe in all conditions through to steep and challenging. The Doolans often has good powder skiing mid winter and it has sunny slopes for skiing sun softened snow in the spring. 
Any recommendations for those who want to get into touring?
An avalanche course will teach you how to read the daily avalanche forecast and where you can find other important safety information when planning a ski tour. You will learn how to recognise dangerous conditions, and how to choose safe terrain in the backcountry. You will also learn about how to use the safety equipment properly (an avalanche transceiver, avalanche probe, and a steel shovel). If someone is caught in an avalanche they have a 90% chance of survival if dug out within 15 minutes. You need a good understanding of the most up to date transceiver, probing, and shovelling techniques to give your ski touring partner the best chance of survival. 
After a summer season away from the snow even experienced backcountry skiers need to spend some time practicing their avalanche rescue skills. Find out more about local avalanche courses here. 
Queenstown's backcountry - shot by Mike Madden
Can anyone get into ski touring or is it only for advanced skiers?
I recommend they have a basic level of skiing ability to participate safely. You should be able to confidently ski blue runs on the ski field and ideally you have started to adventure onto ungroomed ski field runs. Skiers need to be comfortable moving through steep and exposed terrain, have very strong downhill skiing skills, and have a high level of training in avalanche avoidance and rescue skills.
If you can meet this criteria then we can take you to a backcountry area that has appropriate sloped angles and snow conditions that you will enjoy. We have guided all ages and abilities, and the backcountry areas around Queenstown offer easy to very advanced terrain.
At the beginner level, ski touring is about learning how to use the equipment properly and how to travel efficiently through the mountains. If you'd like to give it a go, you can get in touch with Queenstown Mountain Guides here. 
Top tips for anyone planning a backcountry experience?
Most importantly check the avalanche forecast and weather forecast to make sure conditions are appropriate before you go. Make sure that everyone in your party has avalanche training and equipment and choose a tour that is appropriate for everyone in the group. If you are skiing in the backcountry near a ski field, always call in and chat with the ski patrol. Ski patrollers are a good source of information about the latest conditions. The Remarkables ski patrol are friendly and knowledgeable and have an open door policy.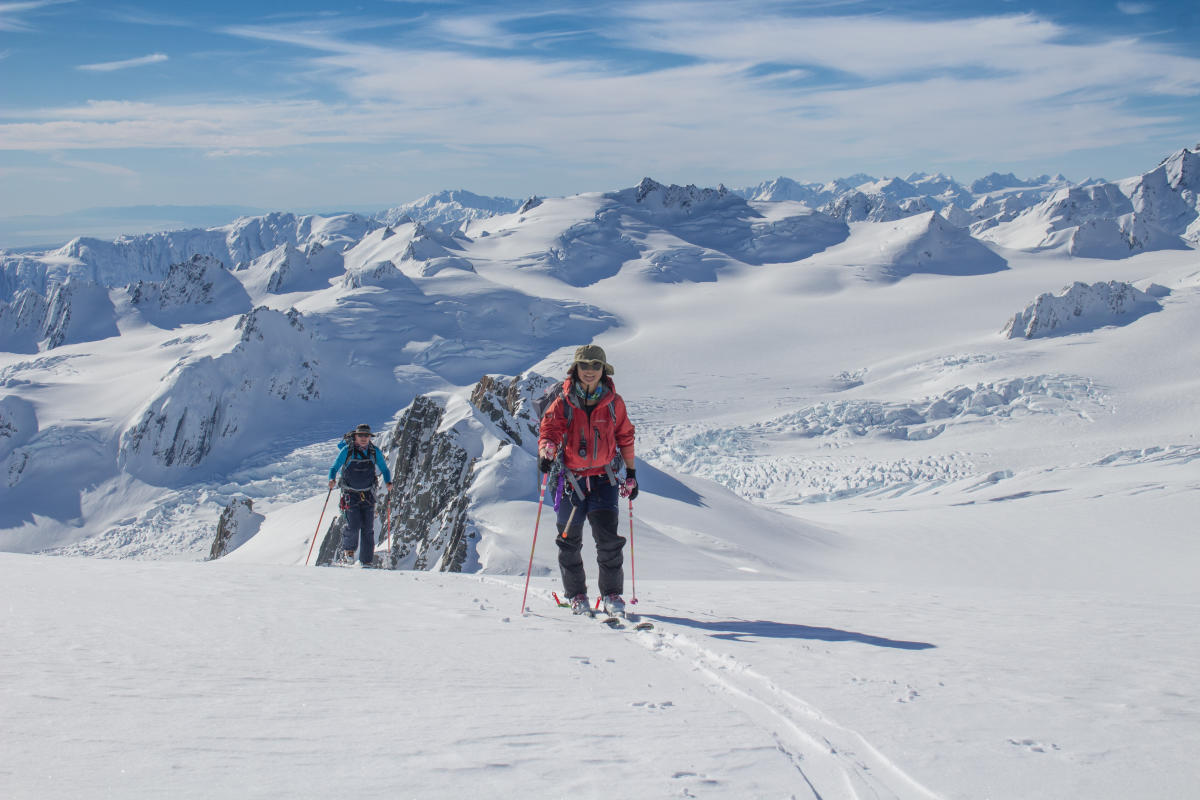 Any particular group size you would recommend to head out with? 
The golden rule is that you should always travel with at least one other person. All members of your group need to have avalanche equipment and training. It's important to know that they will be a positive influence on your decision making when travelling through avalanche terrain, and if something goes wrong they have your back and you have their back.
Other than that there are no rules for the size of the party, however in a large group it is important that you pick an appropriate level of ski tour for all members of the group as it is harder to manage safety with bigger groups. I personally enjoy skiing in a group of 2-4 people. 
Most memorable experience while ski touring?
My favourite trip in New Zealand is the Symphony on Skis. This is the New Zealand "Haute Route" a 5 day ski traverse of the Southern Alps linking together New Zealand's 4 main glaciers and travelling nearly 50km of challenging ski touring terrain.
The trip starts on the Fox Glacier on the West Coast and from here it is possible to see the Tasman Sea from the glacier. The ski tour then travels to the Franz Joseph Glacier before crossing the main divide of the Southern Alps and descending to New Zealand's largest glacier - the Tasman Glacier. After this, the traverse continues through to the Murchison Glacier, and then finally into the Godley Valley.
This trip requires mountaineering, navigation, and glacier travel and rescue skills. The Symphony on Skis is a must do for any New Zealander into ski mountaineering.