With a backdrop of dramatic, jagged mountains and pristine rivers and lakes, the countryside, farms and stations in the region provide the perfect setting for a journey of exploration, adventure or personal challenge on horseback. Horse riding is the ideal way to venture into rural Queenstown and experience the heartland and people of our special place.
An adventure with horses in this dramatic country will reenergise your soul as you connect with nature in the closest way. Your senses will be energised as you see, smell, hear and feel close up, what makes this place so renowned.
Horse trekking options in Queenstown are many and varied, and start with options only 20 minutes from downtown Queenstown through to others that stretch into the high country, taking their riders on an adventure far from the cosmopolitan vibe of town. Knowledgeable and experienced guides and well trained horses make trekking in Queenstown a great option for all levels of rider, meaning you'll get the ride that you want - whether it's a gentle wander for first timers or a more exhilarating canter for experienced horse lovers.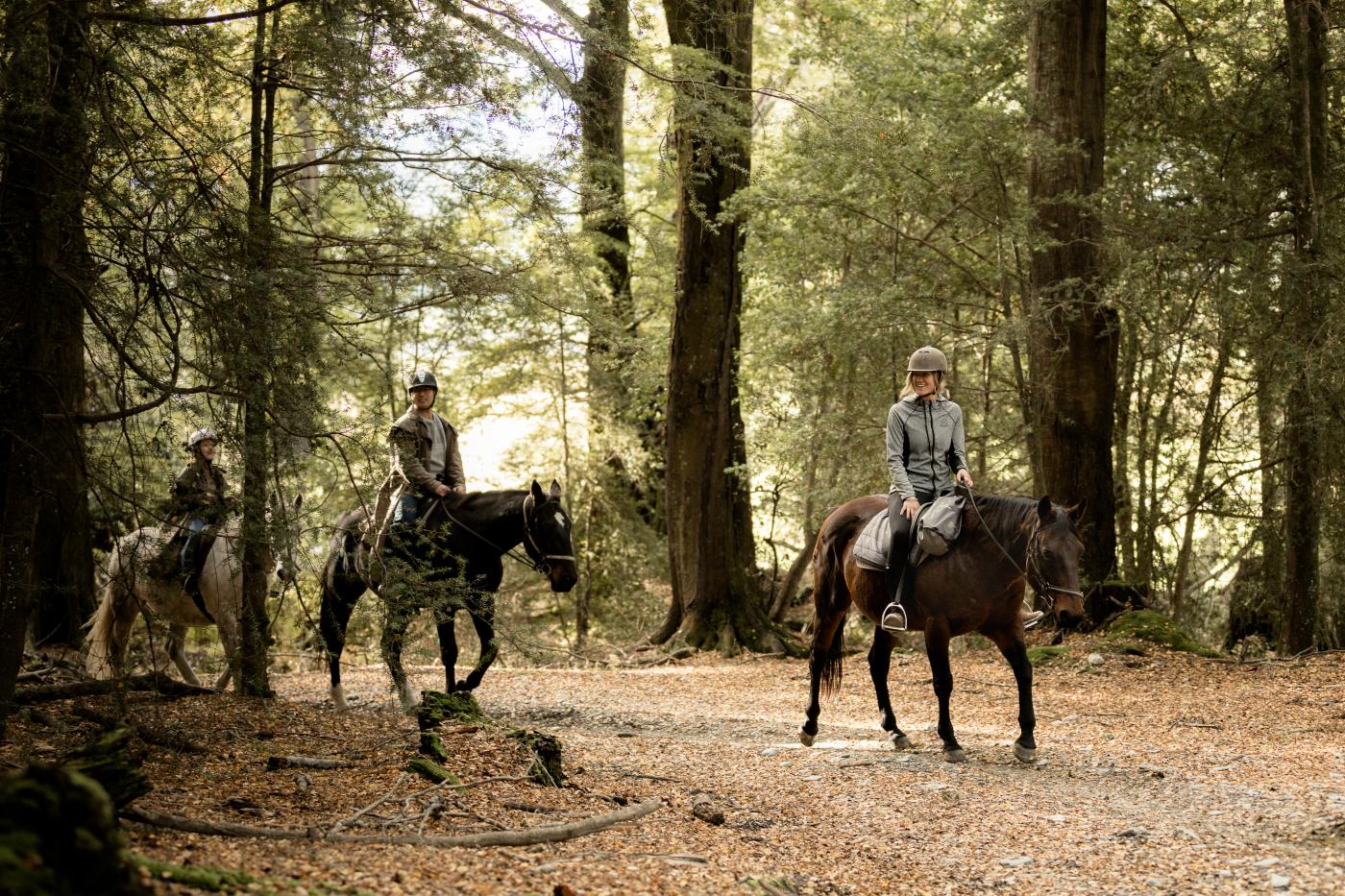 If you're keen to get right away from it all and enjoy a slice of paradise then head up to Glenorchy, a tiny frontier town located a spectacular 45-minute lakeside drive from Queenstown. The drive itself is famed for its spectacular scenery and will whet your appetite for what lies ahead. From Glenorchy there are a number of trekking options and the upper reaches of Lake Wakatipu are considered 'Lord of the Rings' country.  The stunning snow-capped mountains, pristine lakes, rivers and national parks around Glenorchy featured prominently in the blockbuster movies and seeing them close up as you ride your horse through territory chattered by pioneers and movie stars alike, will transport you directly to Middle-earth. 
You can also ride over thousands of acres of stunning landscapes and farms, some venturing across the glacial fed rivers, and get to know the history of the land and the people that have shaped the area. Operators with years of experience coupled with riding in the majestic landscapes have earned Glenorchy a well-deserved reputation as a world famous horse trekking destination.
Closer to Queenstown there are riding options that take in the spectacular rolling foothills of The Remarkables, across rivers and streams or across acres of working farm, giving some of the best views of the Wakatipu basin, lakes and mountains. As close as 15kms to downtown Queenstown, you can explore the hills that gold miners and pioneers chartered over a hundred years ago. Some operators also offer private rides that can be tailored to suit an individuals or group's needs. Experiencing this landscape on horseback will touch your soul and give you a view of the region not possible from roads and trails.
Or to head even further afield, catch a vintage steamship to the far side of Lake Wakatipu and join a trek that traverses rolling terraces offering spectacular views and giving a different perspective on Queenstown. Whatever option you choose, make sure you wear sturdy shoes, be honest about your horse riding experience and saddle up to have the most spectacular ride of your life.