Nothing worth pursuing happens overnight, and riding hardcore mountain biking tracks is no exception. To get yourself hitting jumps, drop offs and double black diamond tracks, you've first got to build up your skills and confidence. The best way to do that? Get your tyres onto some intermediate progression tracks, which Queenstown has in abundance.
The Queenstown trails have something for everyone, and that includes some great flowy, groomed blue trails to help you build the skills you need to move up. They're like gateway drugs to the steeper, faster, more technical stuff. These tracks are great if you just want to challenge your abilities with no real goal in mind, too - the easy climbs, smooth surfaces and wide tracks are a good time..
Mountain biking is booming in popularity, and the Queenstown Mountain Bike Club and Queenstown Trails Trust have dedicated themselves to providing options for those wanting to progress which means there are plenty of purpose-built blue options to help you step it up a notch.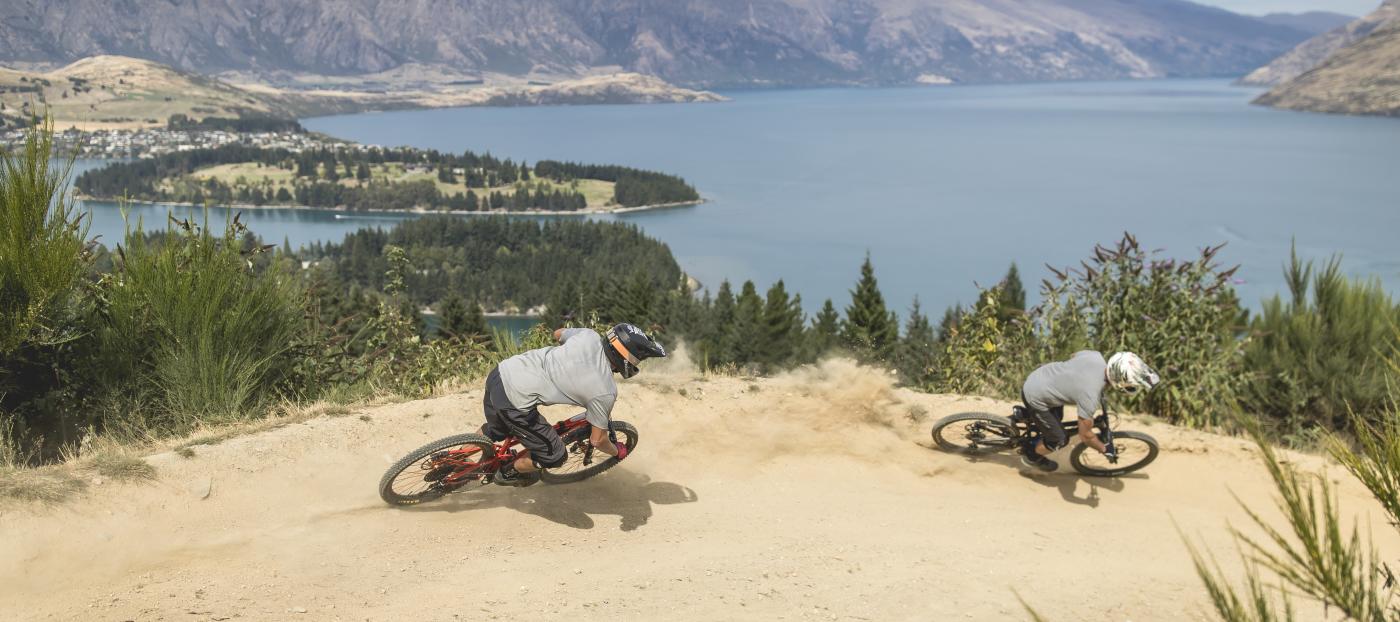 Queenstown Bike Park
What should you be looking for?
Intermediate flow tracks are generally machine-built and groomed, so they're wider than a single-track and don't have roots, rocks or steep drops to navigate. What makes progression trails great, too, is that they're all speed-relevant. If you have basic bike skills, you can drag your brakes down any of these tracks and still have a good time, while a more experienced rider will just do it faster and hit all the features. This means beginners and experts alike can enjoy the trails, and you'll always get down the hill.
Queenstown's intermediate tracks generally are easily accessible with moderate climbs, but part of progressing is learning to earn your turns - it makes the downhill that much sweeter! Some features that make a great progression trail are berms, dippers (where the track steepens but then rises again on the other side), and table-top jumps.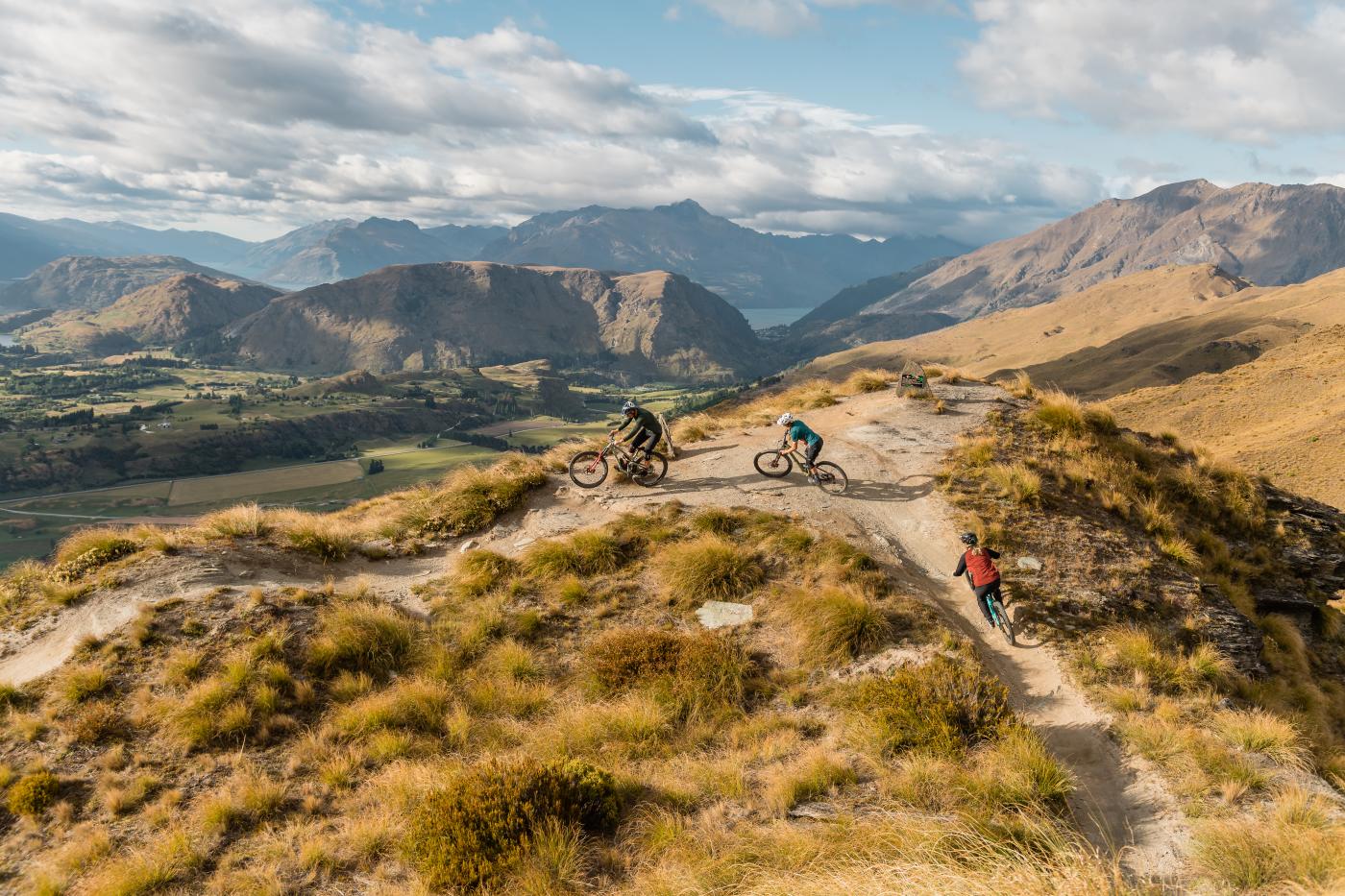 Mountain Biking Rude Rock, Coronet Peak
Queenstown's best intermediate trails
Cool Runnings (7 Mile)
This is a swoopy, mellow trail out at the 7 Mile cross country trail network. While you've got to climb a bit to get yourself up into it, it's a good way to improve your uphill fitness, and once you get up there it's a great place to learn relevant skills. 7 Mile is home to a bunch of other trails to try as you keep improving, too, so after a few laps in Cool Runnings, you'll be set to tackle the harder stuff. To access, drive to or get dropped at the 7 Mile car park (or Wilson's Bay car park) and climb up What's Up. 
Coronet Face Water Race
Developed by the Queenstown Trails Trust, the Coronet Face Water Race is part of the Coronet Loop Trail and goes from the downhill side of the road at the layby on Coronet Peak Rd just after the Skippers Turning, where Rude Rock ends. Starting from Coronet Peak access road, this track is flowy and mellow. It also links up with Hot Rod, a new trail which is a step up when you feel ready to turn it up. Most people will use a vehicle to access the trail via the Coronet Peak access road, but once you're up there, it's an easy climb back up for as many laps as you can handle.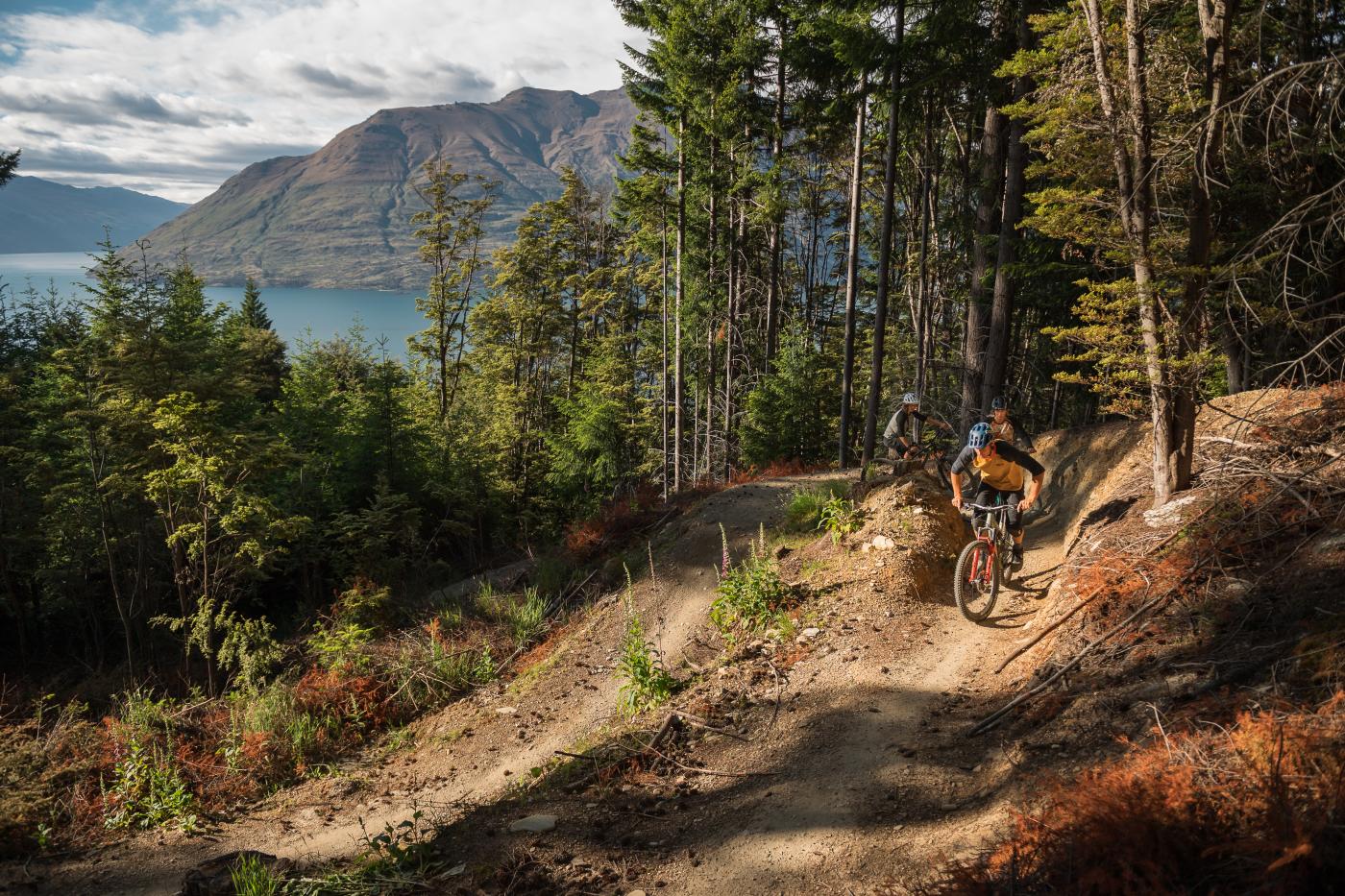 McNearly Gnarly
McNearly Gnarly
While this track has a reputation for being a jump trail, it's actually just as much a flow trail (with the option to practice your jumps, too). It's a groomed piste trail with no roots or rocks, and a nice easy climb up. It's the perfect example of a progression trail - you can roller coaster down the hill without doing any jumps, and sets you up with the skills and confidence to start looking at some single tracks. If you feel like you've nailed McNearly, and have got the appetite for more air under your tyres, you're set up beautifully to get into the Wynyard Bike Park. McNearly Gnarly starts just above the Wynyard Bike Park.
The Wynyard Jump Lines
While these are more intermediate than entry level, the Wynyard Bike Park (particularly the new Mini Dream track) offers smaller options, too. If it's jumping that spins your wheels, this is an awesome place to build confidence.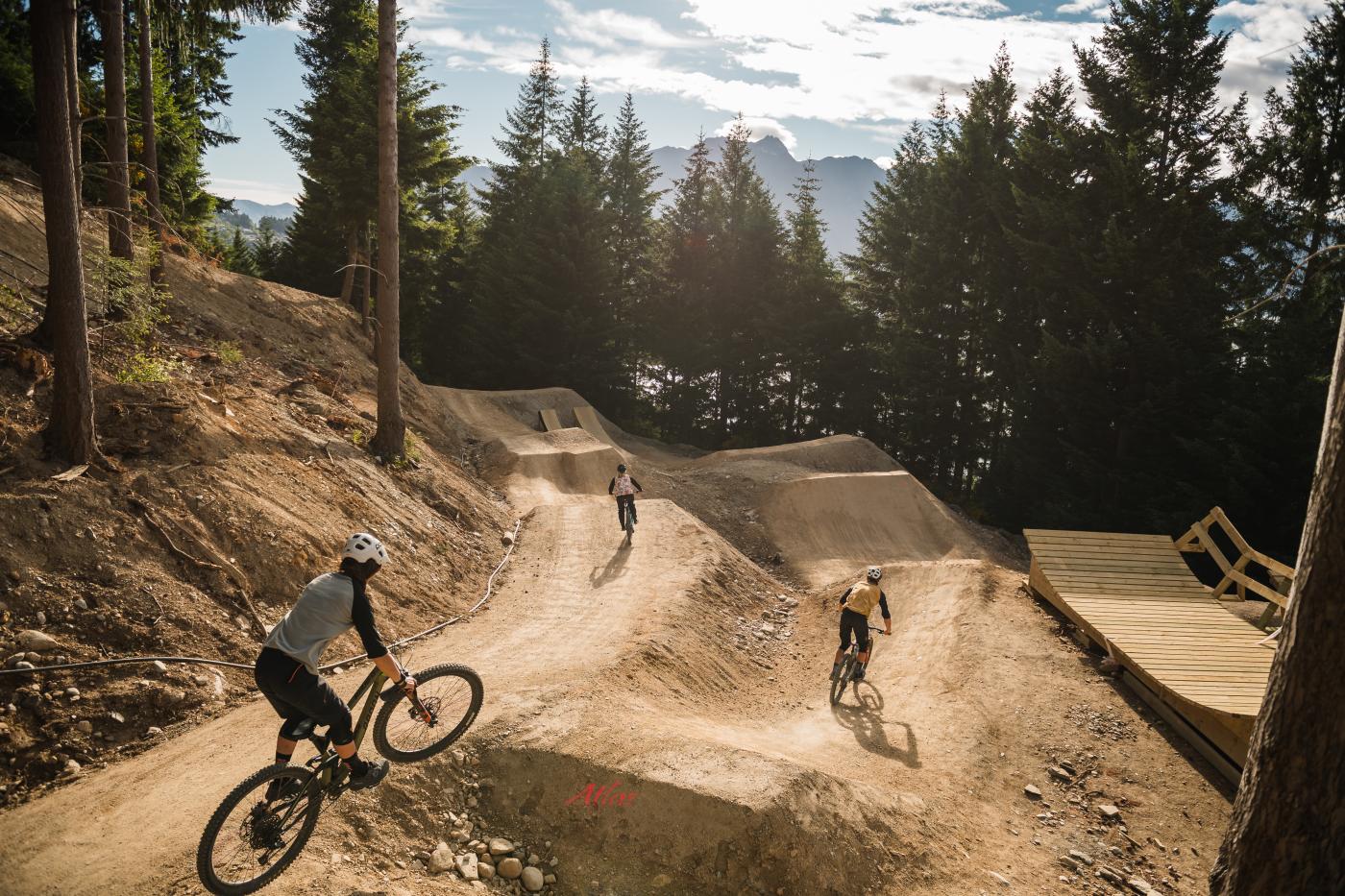 Wynyard Bike Park
Getting the hang of tech trails
You've practiced, you've got the base skills - now your options have blown right open, and it's time to try some more technical single track action. Some lower intermediate 'intro to tech' tracks include Phoenix, Kachoong and Gold Digger at 7 Mile. For something a little more intermediate to advanced, you could also tackle some of the stuff up at Queenstown Bike Park like Thingymajig and Single Track Sandwich - and the Skyline Gondola means you can do four runs instead of one. In fact, the world is your dirt track oyster, and Queenstown is the ultimate playground!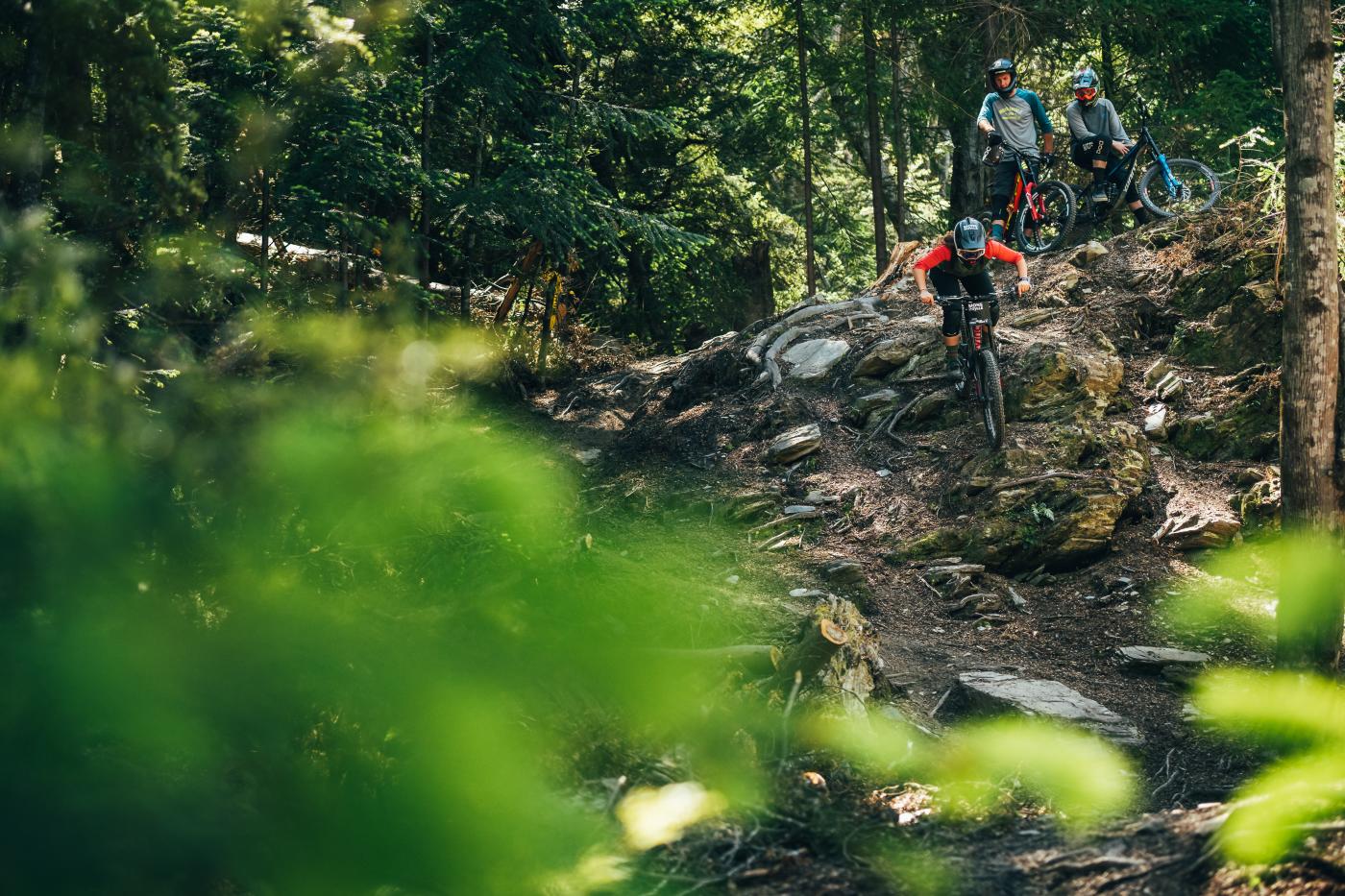 Queenstown Bike Park - Joel Tunbridge, Conor Macfarlane & Shania Rawson
Tips to help you step up your game
Getting better is all about building your mileage up - with that, you're building the fitness, the confidence, the trail vision and the skills to improve every day. Ride a variety and throw plenty of repetition in: coming back the third time to the same track will have you approaching it with more confidence, and ready to try something you may have avoided the first time.
The more variety you ride, the more rounded of a rider you'll be. You'll be trying new things each time, whether that's upping your speed, getting higher on a berm or attempting some jumps.
Progression trails are brilliant teachers, so do plenty of them.
Coaching
Even though biking traditionally has been self-taught or learnt by trying to keep up with your mates, there are more coaching options coming available. As the sport becomes more popular, there are more people coming on board who are after a few pointers to get them going.
In Queenstown, The Inside Line offer coaching, and for women, the Dirt Town Queens do some great Women's Nights and Women's groups. They don't formally do coaching but offer lots of support, where one of the experienced riders will sit with new riders to ease them in.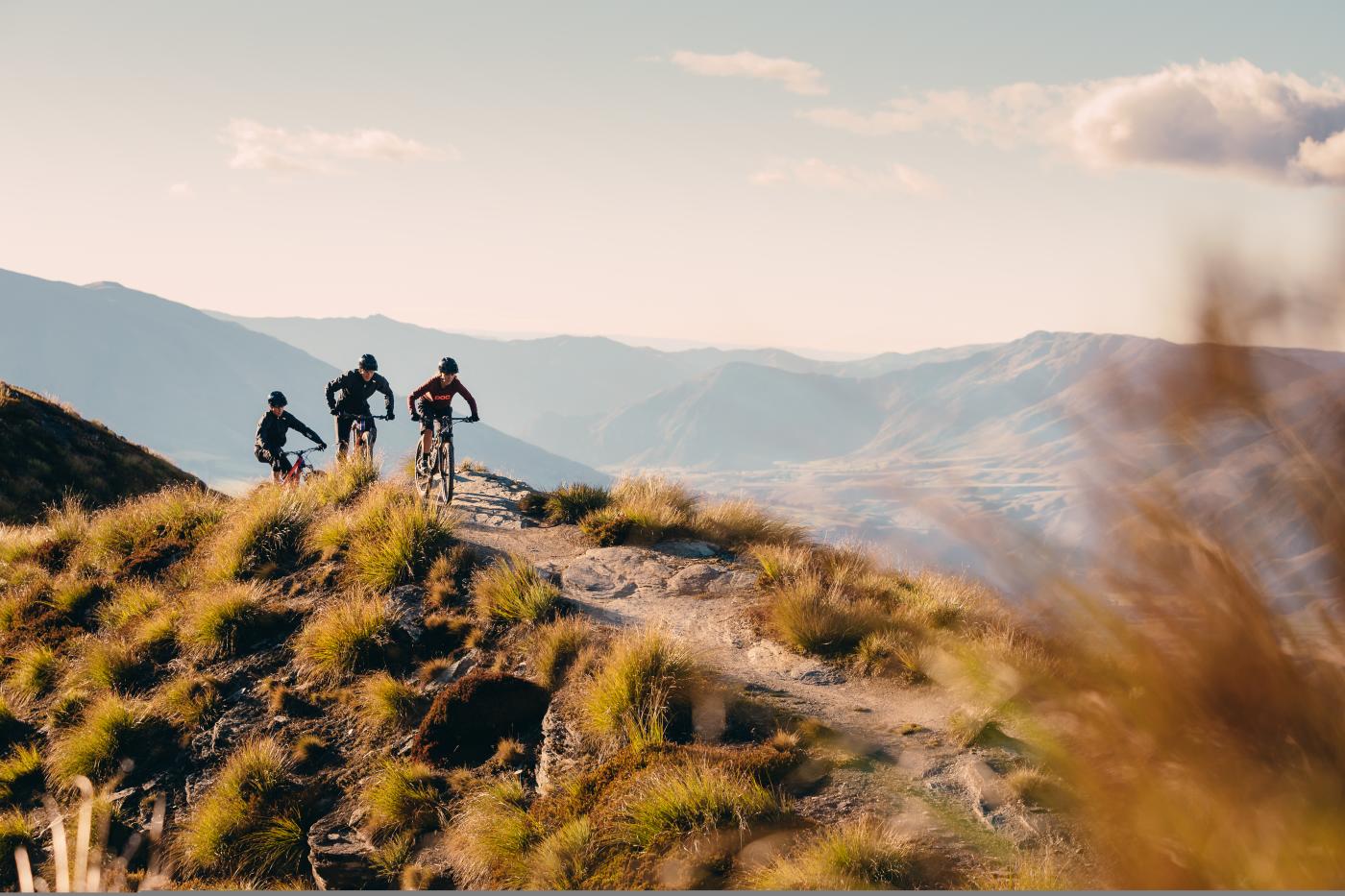 Coronet Peak