There's the huge billboard: 'Too special not to protect'. Then in what's believed to be an airport-first, grabbing a coffee requires careful thought as reusable cups are encouraged (the airport is on a mission to remove single-use cups by the end of the year). Most obvious of all is the special dwell space with installations dedicated to the values of the region, Love Queenstown and all the regenerative tourism initiatives that are being carried out here. 
"A lot of journeys start and end with us, so we want to make sure we set the tone for what we, as a community, want to happen in this incredible region," says Queenstown Airport Chief Executive Officer Glen Sowry.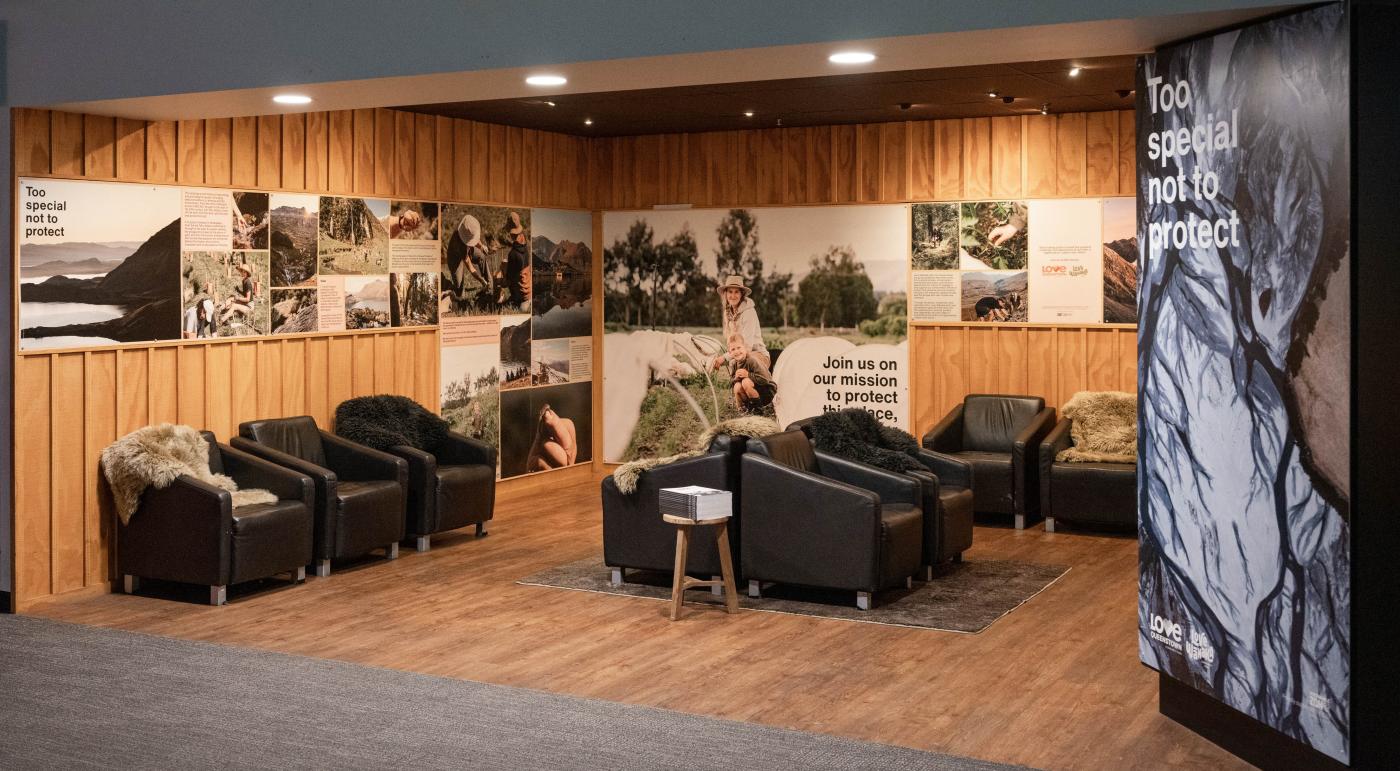 Queenstown Airport's dwell space to support 'Love Queenstown' 
The airport has been an early supporter of the region's goal to become a regenerative tourism destination by 2030. It's already a member of Toitū Envirocare's environmental management programme and is on track to achieve net carbon zero certification for its operations (that doesn't include flights) in this financial year. The next step is the global standard, Airport Carbon Accreditation, and reporting more broadly on emissions.
Greenhouse gas emissions have been reduced by 58% since 2019. The airport has installed an energy-efficient heating and ventilation system and has committed to certified renewable energy supply.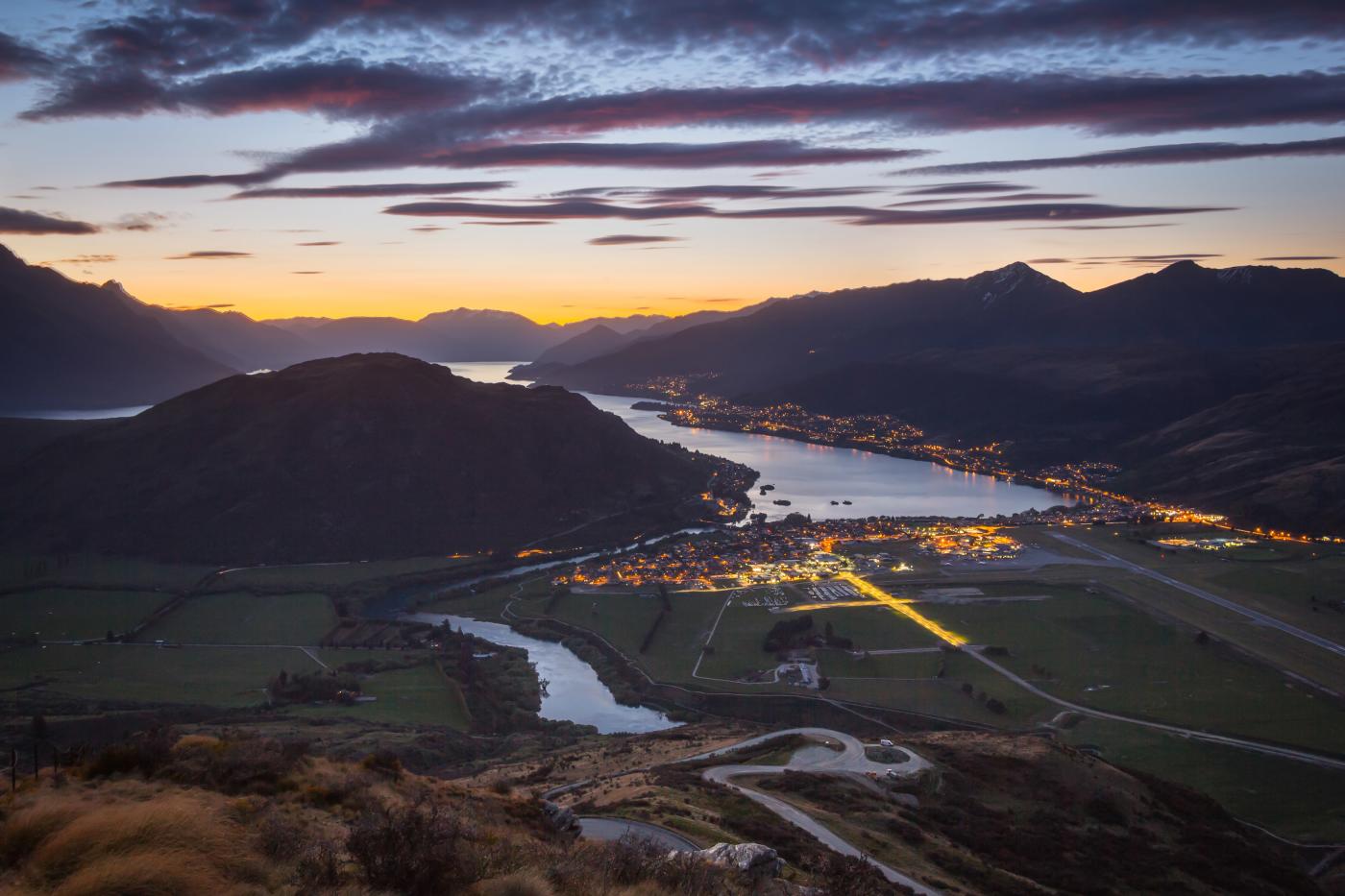 Queenstown Airport from above
Waste is a significant contributor to the airport's emissions and this year's initiative to prevent an average 7000 single-use coffee cups every week from going to landfill will reduce those emissions even further.  A composting facility for all organic waste from the airport terminal has already been established. 
The airport has partnered with the Whakatipu Reforestation Trust since 2016 to support its day-to-day operations and mission to actively restore habitat. This year the airport has also got behind an important local biodiversity project to restore the nationally significant Shotover Wetland. It's not just sponsorship either, the partnership sees the airport team fully immersed in native biodiversity through paid volunteer days at the Shotover Wetland or nursery.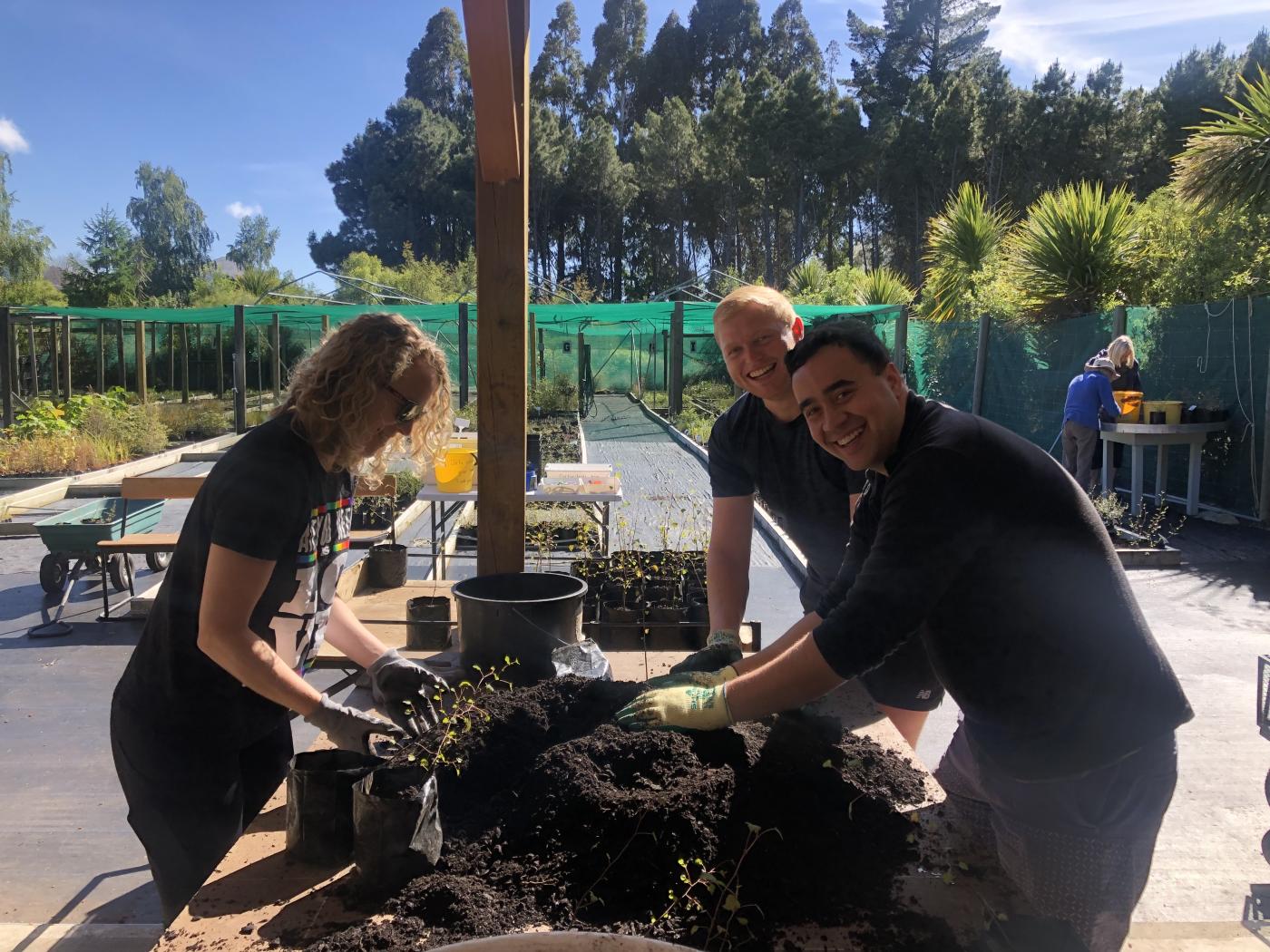 Queenstown Airport teams on a volunteer day
Although the region is one of the fastest-growing populations in the country, the airport is not looking at limitless growth – it has committed to operating within its existing air noise boundaries for at least the next decade. 
"Providing an excellent air transport network helps ensure Queenstown's a vibrant and liveable place. The challenge is balancing our activity with the shifts necessary to address climate change, and to preserve what makes our region so special," says Glen.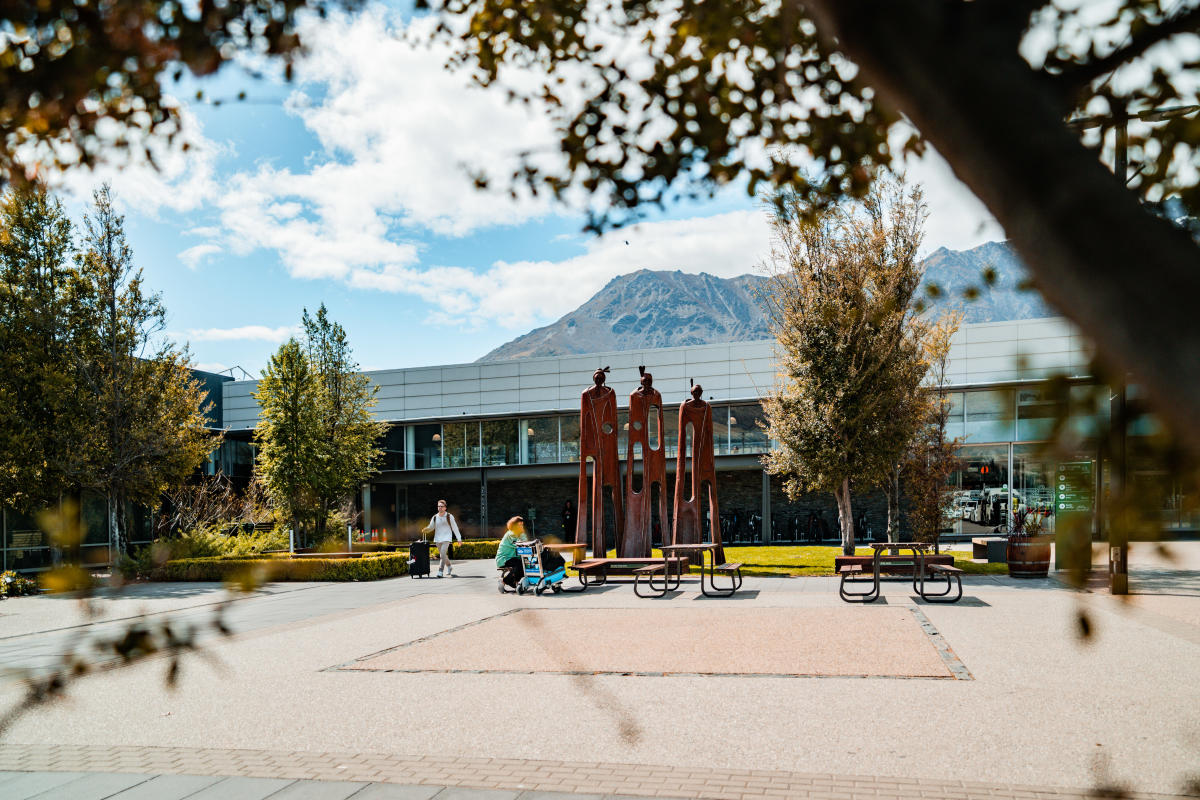 Entrance to Queenstown Airport
The Airport is leading the way to encourage sustainable aviation to the region. It wants to see a space reserved for a precinct to support sustainable aviation that could accommodate alternative fuel and energy sources like hydrogen and make provision for electric aircraft. The initiative will be considered as part of the airport's draft Master Plan, which will shortly be ready for public consultation.
"We are on the verge of global changes to aviation as the focus on decarbonisation and innovative technology escalates. Net carbon-zero air travel is not yet a reality and we will be reliant on advances in aircraft technology and alternative fuels to eliminate aviation emissions."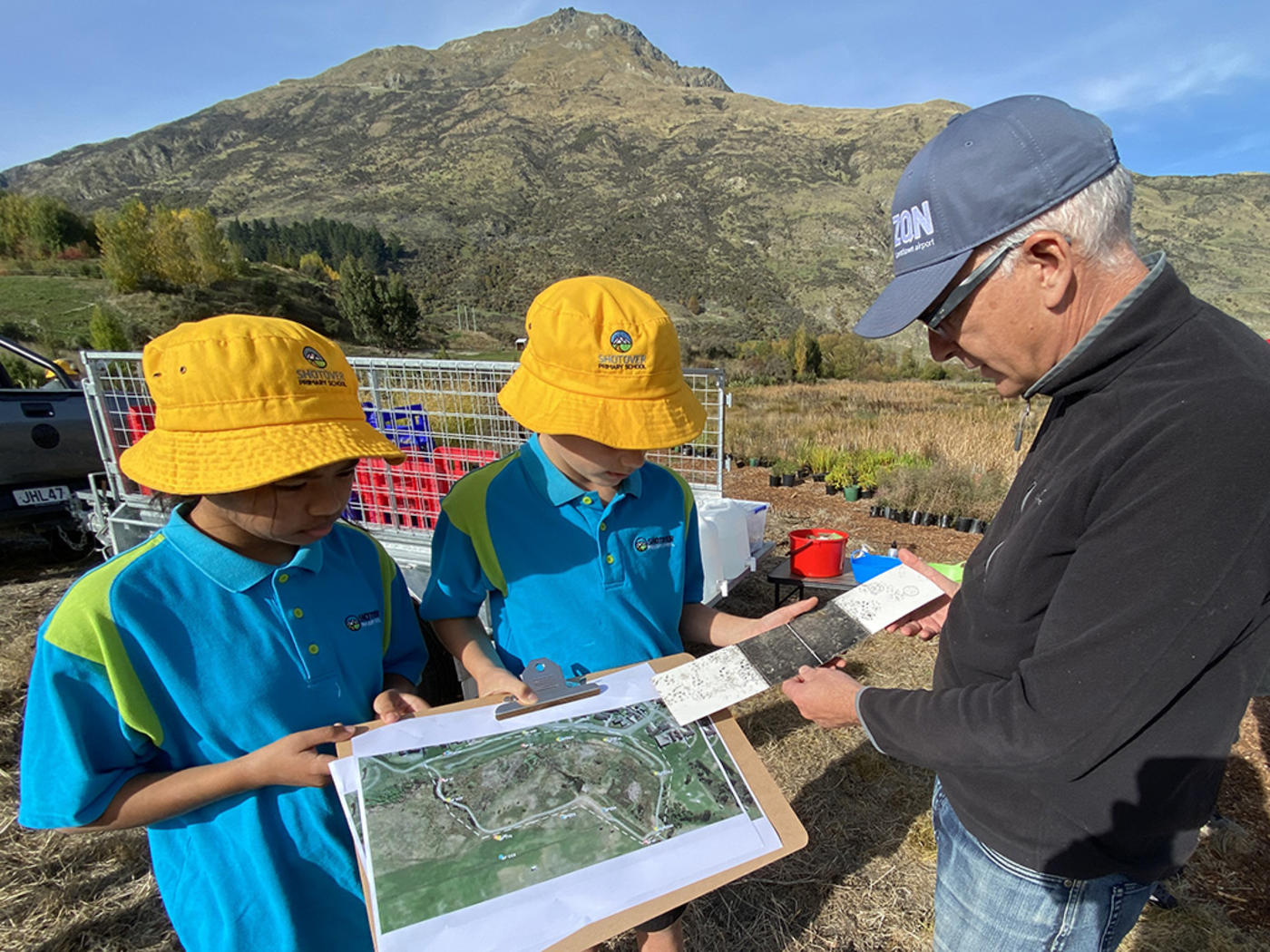 Queenstown Airport Chief Executive Officer Glen Sowry at Shotover Wetlands planting day     
Until that happens, Queenstown Airport continues to make incremental changes - like providing six public electric vehicle chargers in its carpark, along with the colourful flags that say simply 'Love Queenstown', Glen wants the airport to leave a lasting impression.
"Everyone remembers the beginning and the end of the journey. Hopefully, there's a ripple effect that supports the carbon-zero goal by encouraging visitors and residents alike to travel lightly and reduce waste." 
Read more about the Queenstown Airport's Sustainability Strategy here.