Local tips to make the most of your time in Queenstown
From dawn to dusk the ultimate mountain bike adventure awaits. Here are some tips to get 100% out of your trip! 
Be prepared for all weather
Even if the forecast is for blue skies, be prepared to embrace the elements. Bring all your wet weather gear and be prepared to ride in the wet or adjust the trails you plan to ride accordingly.
 
Pre-ride, re-ride and free ride
Self-explanatory! 
 
Go where it flows
Don't put too much pressure on yourself to ride every trail, tackle every feature or hit big jumps. If you are having fun on a lesser trail, stick with it! That being said, keep an open mind to trying new features or lines - you might just surprise yourself. 
 
Point and shoot
This is my number one tip when in doubt - especially at the Queenstown Bike Park. 
 
Get your Mountain Bike sorted, BEFORE arriving
There is nothing worse than wasting half your day organising rentals, or finding out your brake pads have worn thin just as you are about to go shredding?
 
First-night fever
Or in this case - first-day fever. Don't exhaust yourself trying to cram everything in one day. Listen to your body, there's nothing wrong with having a day off in between to soak up the sights!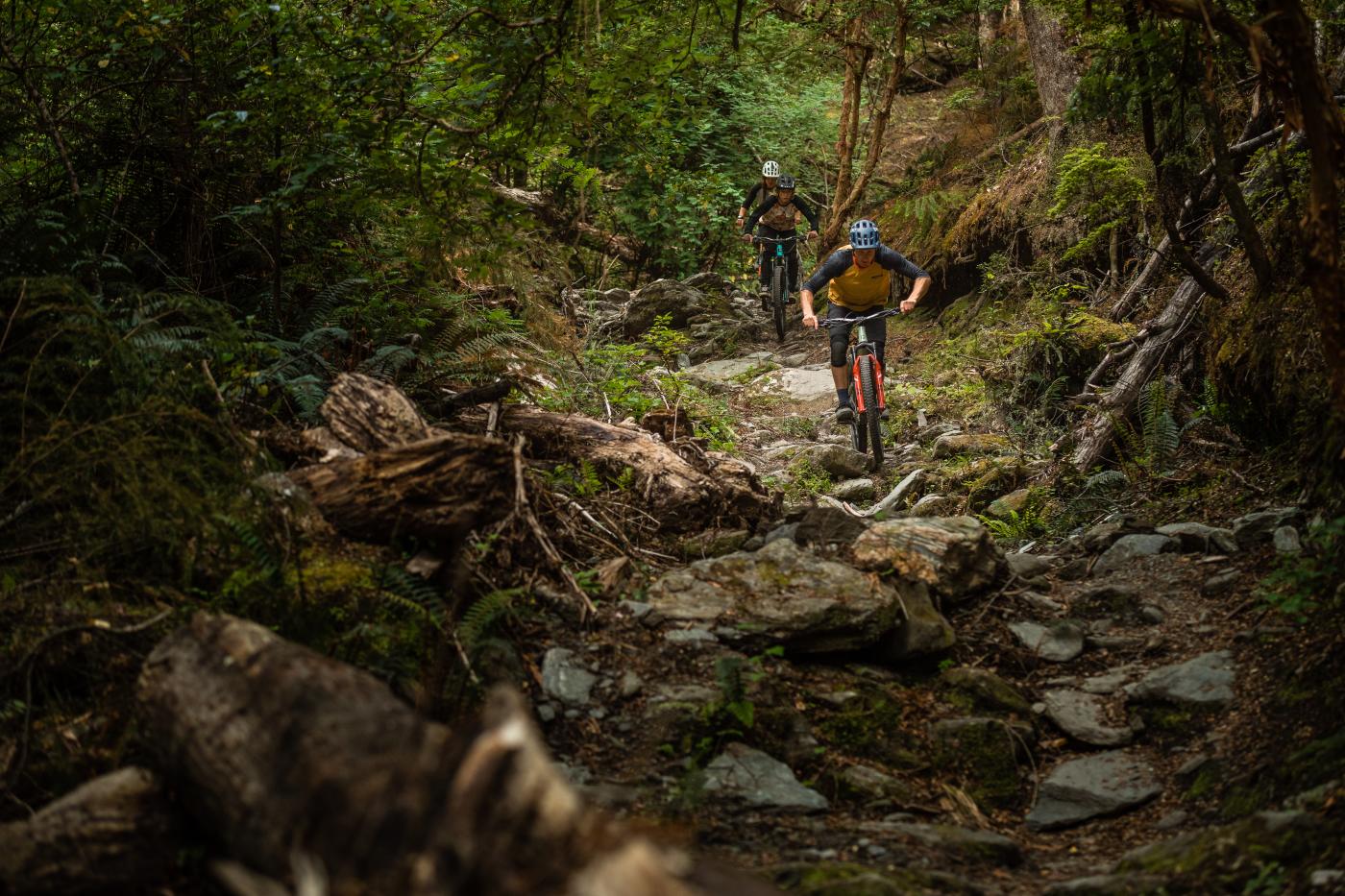 Salmon Run, Fernhill
Best time of year to ride
Early summer and autumn are personally my favourite times to ride in Queenstown. Early summer is not as hot and dusty as late summer and the trails are usually in good condition. 'All-time fall time' is a saying that rings very true in Queenstown during autumn. Hero dirt, perfect riding temperatures and beautiful low light. Need I say more?
Ride Queenstown Bike Park during the weekdays before 3 pm to avoid the lineup of groms from 3 pm and the post-work dash at 5 pm. 
Sunset sessions at Coronet Peak on Thursdays 4-8 pm are a local favourite with all you can eat BBQ and great tunes for an alpine après feel post-ride. The best value for money!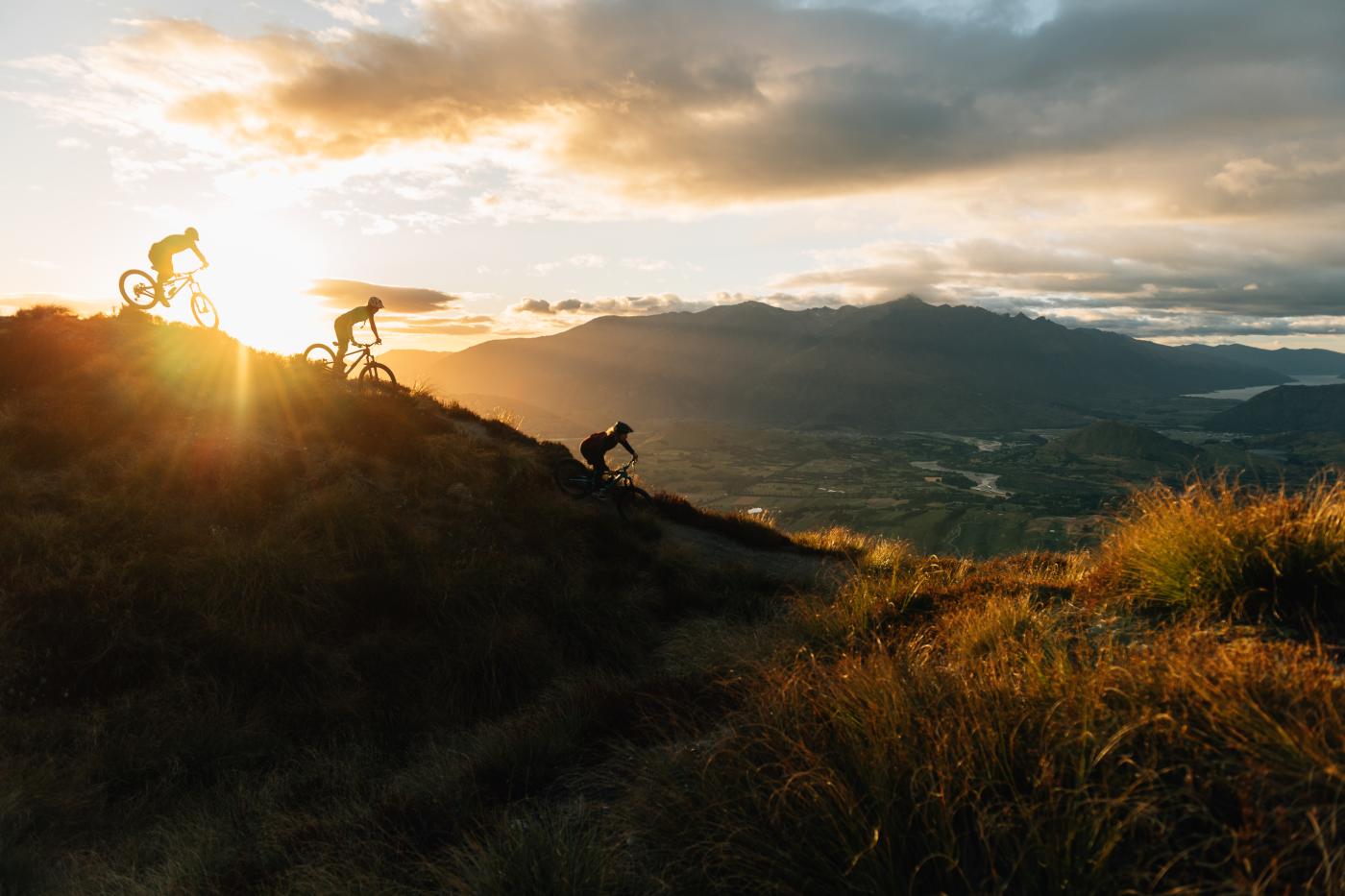 Rude Rock Trail, Coronet Peak
Bike rentals, mechanics and tour guides
Vertigo Bikes have been operating for over 20 years and are the backbone of the Queenstown Mountain Bike community. Conveniently located in the heart of town, the passionate team have the local knowledge and experience to make sure you have a great riding experience. Save money and time with their Bike Park bike and pass options. There are also plenty of other great bike rental options in town too, check out this guide for more info.
Shuttle Companies and Bike Tour Companies
Queenstown Bike Taxi is an easy transport service that maximises your time on your bike. Local knowledge goes a long way and the crew here will optimise your time on the trails. 
Riding Clothing 
Queenstown has a great selection of outdoor sports stores. Any last-minute clothing requirements head to Mons Royale on Shotover Street for quality merino apparel, fit for all riding conditions. Outdoor Sports and Torpedo7 also have a range of great gear to sort you out for your ride.
Car rentals
Thrifty Car Rentals has recently introduced bike racks to their optional extras, available from their Nelson, Christchurch and Queenstown branches, be sure to add this for extra convenience.