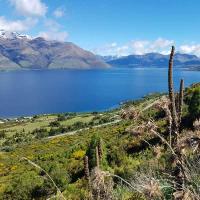 Lower Wye Creek Track
Located on the west face of The Remarkables mountain range, the Lower Wye Creek track is a rewarding hike just 20 minutes' drive from downtown Queenstown. The track follows the pipe line to a hydro dam, climbing through native beech forest and alongside a natural waterfall that cascades down to Lake Wakatipu.
Best time to go: This is a high altitude track which is only accessible in summer.
Location: 20 minutes from Queenstown on SH6 heading towards Kingston by car but also accessible by bike.
Start/finish point: Wye Creek Carpark – this is private farm land accessed via a gate on the left-hand side of SH6 heading south. Please ensure you close the gate behind you.
Difficulty: Intermediate to advanced - walking poles are great for the steep descent.
Insiders tip: If you get to a vertical ladder by the pipeline you have taken a wrong turn. Head back to the toilet and follow the orange triangles which have been placed on the trail by DOC to guide you.
The high vantage point offers panoramic views across Lake Wakatipu to Bayonet Peaks with the town centre in the distance. It is common to see climbers scuttling up the walls on the track as Wye Creek is also a popular spot for rock climbing in the summer or ice climbing in the winter.
For those a bit more adventurous keep walking up to the Alpine region to Lake Alta. This will take you 6-8 hours one way so make sure you have a good friend to pick you up from the Remarkables Ski Area carpark at the other end.
Contact Us
Company:
Lower Wye Creek Track
Physical Address
Queenstown