The raw, untouched beauty of the Southern Alps is something that very few people get to experience. What can be seen from town is essentially just the foothills, and beyond human infrastructure lies the true Alps. Think remote valleys, frozen landscapes, and world-class skiing terrain that can only be accessed by air.
Planning on heli-skiing in New Zealand? Queenstown's heli-ski operations boast decades of experience in crafting the ultimate powder day. Read on to find out what makes Queenstown's heli-skiing second-to-none and glean tips on how to prepare for your first heli-ski day.
Preparing for your heli-ski adventure
Intermediate or greater skiing skills are needed for heli-skiing, as well as physical ability to ski powder for several runs. Experience skiing in powder is not necessarily required for shorter packages, but is recommended for longer days.
Most groupings are determined by ability, and who has booked together. Skiers and snowboarders can be in the same group.
Show up in your regular ski gear. It's recommended that you bring an extra layer or two, a water bottle and anything else you might need on a regular day of riding. A backpack with avalanche gear is provided for you as part of your package. If you need any additional gear or rental, chat to your heli-ski operator ahead of time.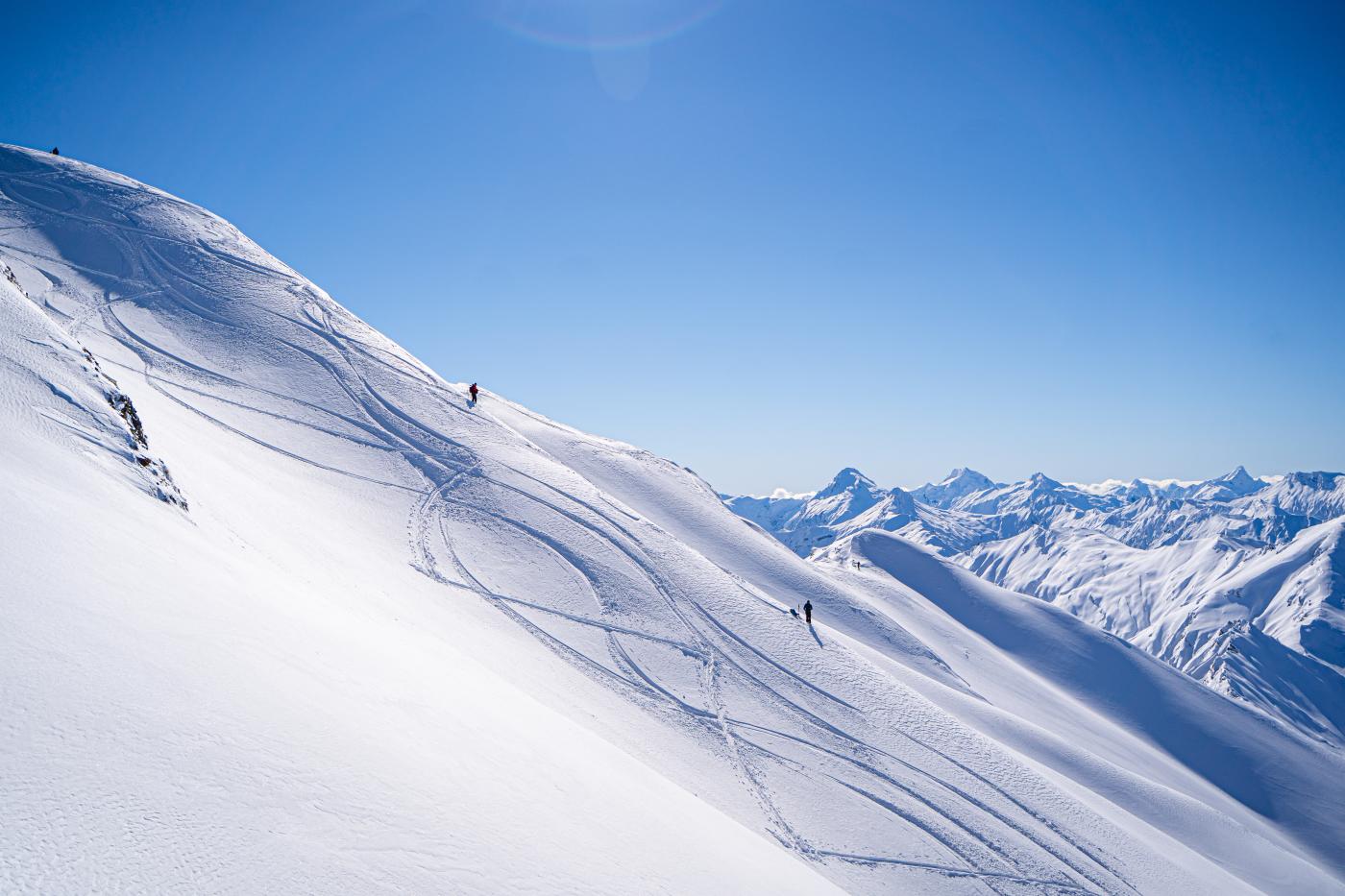 Which heli-skiing package to choose? 
Daily heli-ski packages offered in Queenstown begin with 3 and 4 run days, which focus on either an introductory experience for powder first-timers, or a more laid back approach for experienced skiers. Terrain for these packages includes a variety of sheltered basins, bowls and wide rolling mountain flanks. Runs vary between 1500-2500 vertical feet of skiing. On four run days there are opportunities to sample some more advanced terrain, if the group is of a higher ability.
The more popular heli-ski packages range from 6 to 8 runs in a day. These packages are perfect for fit, keen skiers of intermediate or advanced ability. The intensity of the day out is slightly ramped up compared to the introduction packages, and stoke levels are often much higher because of this. If avalanche conditions permit and the group is of higher ability, there is the opportunity to access steeper terrain, chutes and glaciers.
Both Southern Lakes Heli-ski and Harris Mountains Heli-ski offer 10 run days. These fast-paced days are for the hardened powder hounds - those who are keen to push their limits and be rewarded. More new terrain is covered, and if avalanche conditions permit, there are opportunities to ski steeper bowls, gnarly chutes, and leap off natural features.
If you're looking for the premium personalised experience, private charters allow you to ski or board as much or as little as you please, and at whatever pace you like. With a helicopter exclusively for your group, these options are perfect for a special occasion with friends or family.
Note: Additional runs can be added to any package, on the day, for an additional fee, depending on the weather. This can be a great option when the conditions are particularly good and you can't face having the fun come to an early end!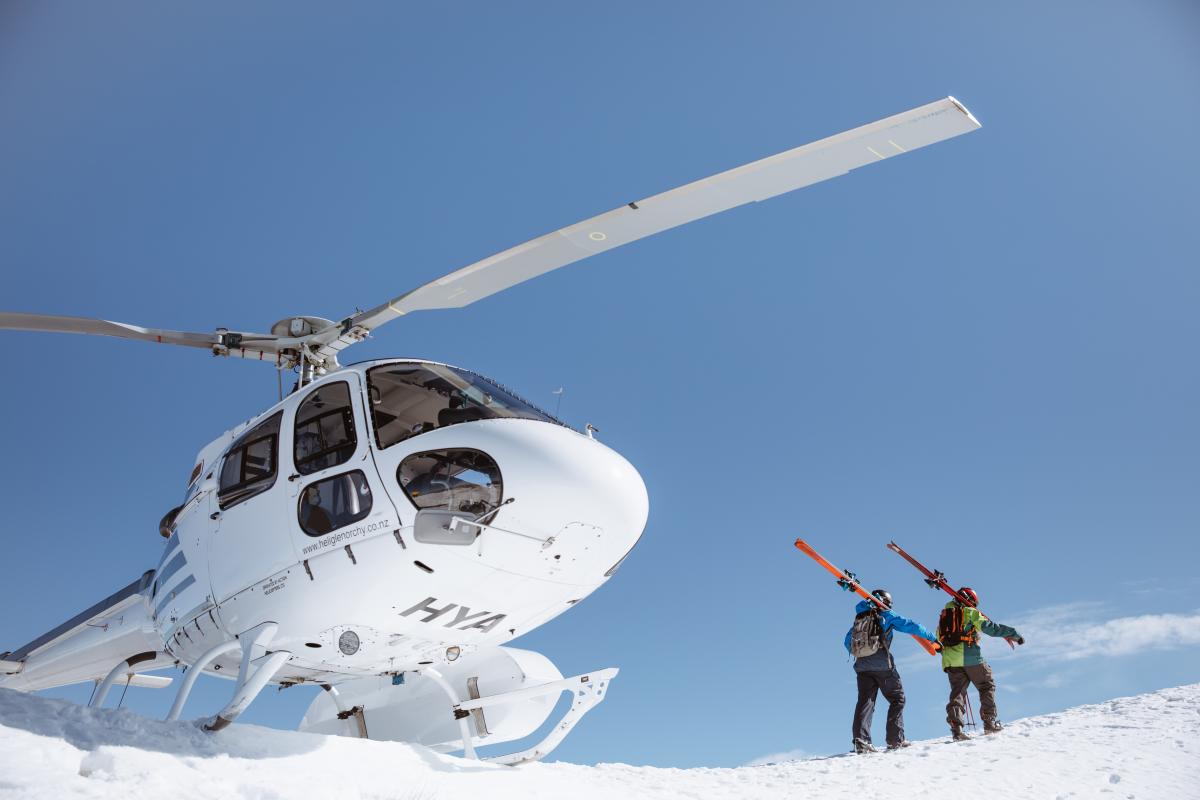 Top tips for the ultimate heli-ski experience
The weather and snow conditions, along with group ability, will determine which runs you'll be riding on the day. Know what you'd like to do but remember that while you're in the mountains, you are at the whim of Mother Nature. Luckily, Queenstown has more stable weather than other domestic locations, so the likelihood of realising your dream lines is generally pretty high. 
 
Powder skis and snowboards make a big difference – they help you float on top of the famous powder snow you're seeking. When you're booking your trip, ask your operator about where to get the best deals in town.
 
Lunch is provided but please refer to your booked package for all details. Bring a reusable water bottle with you and specify any dietary restrictions beforehand.
 
Remember: This is a day you want to maximise, so be well-rested and well-hydrated.
The Southern Alps are unlike any other place in the world, and by booking a heli-skiing adventure you will experience them in a way that will (probably) change your life. The teams that will take care of you are professionals at delivering 'best ever' days to people of all abilities, first-timers and veterans alike.