Returning to her happy place
Sheena was born in Dunedin and her family came to Queenstown to ski on the weekend. She says, "I learned to ski at Coronet Peak. I was very fortunate that my parents put me in lessons early so I learned to ski well. I loved skiing. It was my happy place and my independence."
As a teenager, Sheena decided she wanted to teach skiing. She recalls, "I got my license at 17 and started teaching people to ski part-time. I worked for the New Zealand Herald as a photographer and taught skiing at Mount Ruapehu at the weekend. I love the joy it brings people when you give them the skills they need to enjoy themselves in the mountains."
Sheena's photography career took off and she combined her love of ski with photographing the mountains in winter for many years. Then, five years ago, she was shoulder tapped in the supermarket by an old mate from NZSki who operate Coronet Peak and The Remarkables. They said, "Do you want to come teach again?" So, Sheena did a season at Coronet Peak and remembered how much she loved teaching skiing.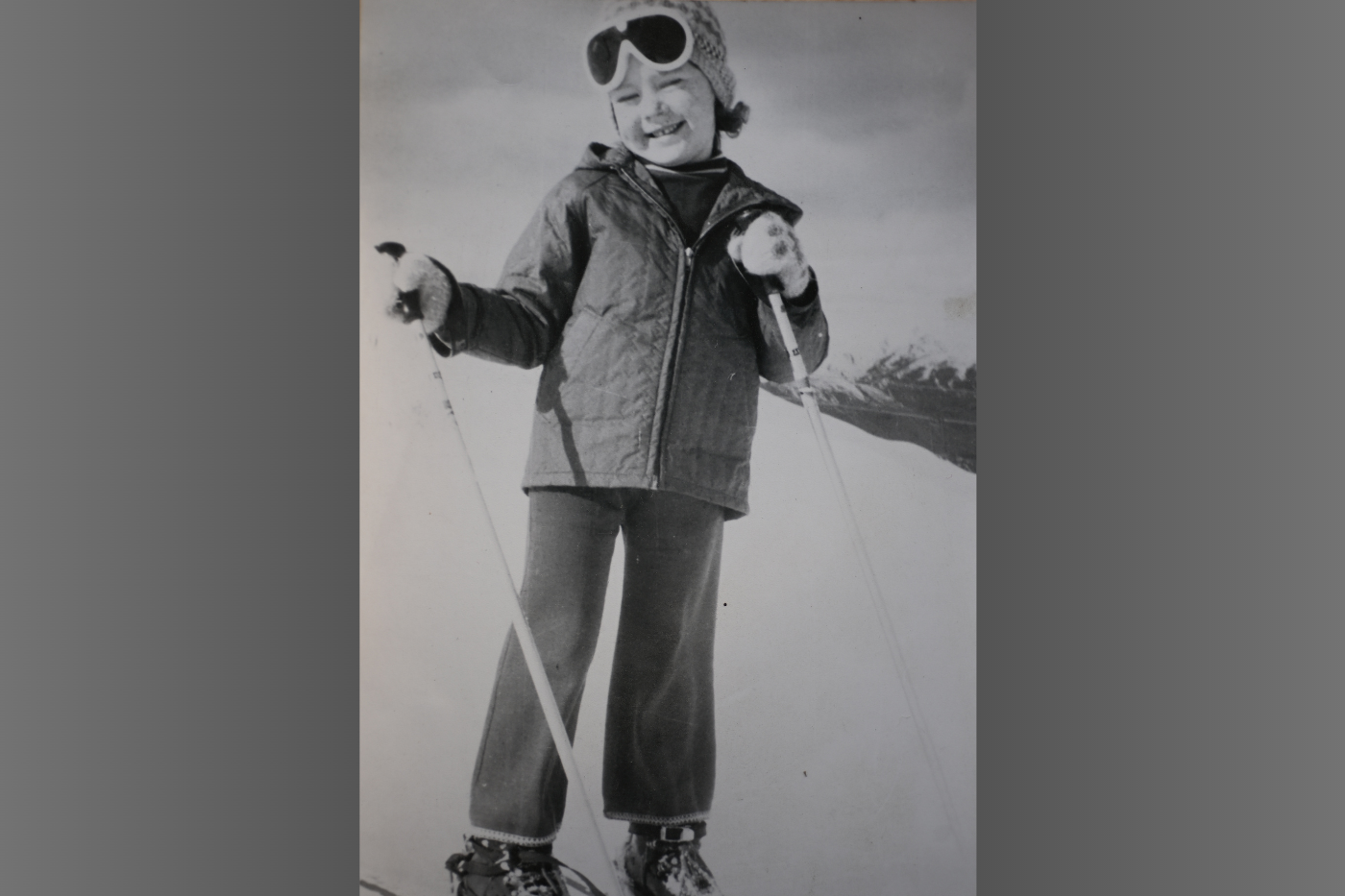 Sheena skiing at Coronet Peak, age 5 
A team devoted to getting you out on the snow
Sheena was always fascinated by adaptive ski. She says, "As a teenager, I had friends who skied who were amputees. So, when I got the opportunity to sit for the level one adaptive ski teaching certificate, I jumped at it. For the last few years, I've done back-to-back winters by travelling to Canada and working as a volunteer ski instructor there. Some of the adaptive ski approaches they have in Canada are the same, but some are different, so I've been honing my adaptive ski skills and at the same time studying here and sitting more exams."
Today, Sheena is NZSki's adaptive ski coordinator for Coronet Peak and The Remarkables. She explains, "My role is to find out from our guests what they want to do and what their needs are. Then I coordinate that with the appropriate adaptive ski instructor. I don't do this alone. I have a team of about 20 adaptive instructors across the two mountains. We're training more this season so that will up our number to nearly 30 adaptive instructors."
NZSki couldn't run their adaptive ski programme without their volunteer snow buddies. Sheena says, "Our snow buddies are really important because our guests need extra support. No adaptive ski lesson is ever the same. Every day is a fascinating new journey. Everybody comes with their own unique goals and challenges and the reason our profession is called adaptive ski is because we're all about adapting what we do to the individual needs of the people we help."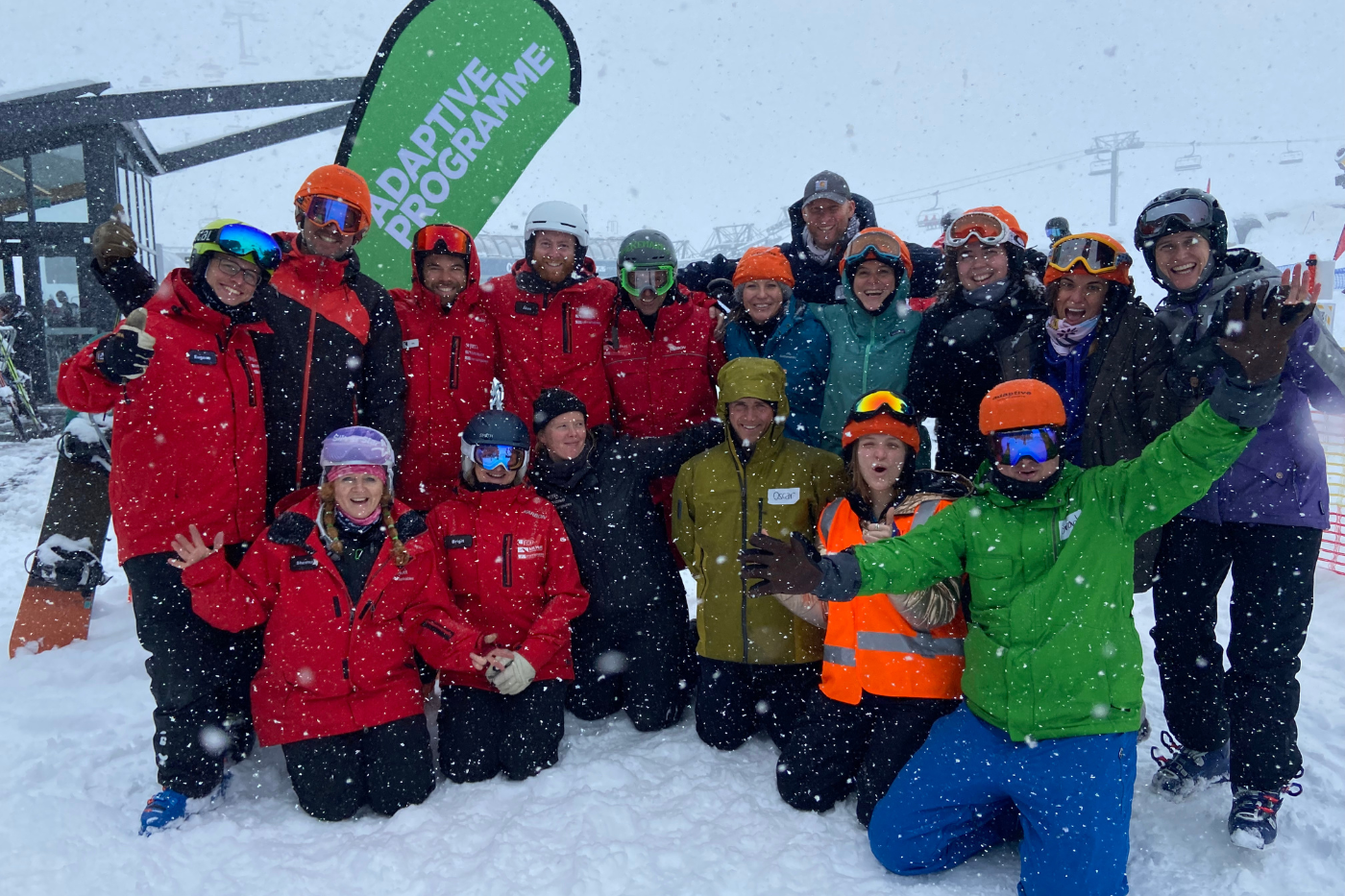 Sheena (bottom left) and her adaptive programme staff at The Remarkables
Finding her calling on the slopes
Sheena shares an example of how adaptive ski can transform people's lives. "Last season a young woman visited us who is paralysed from the neck down because of a virus. She had spent five years working on getting her mobility back and she wanted to get out on the snow."
"She thought she'd be using a sit-ski. But on meeting her, I asked her to show me what she could do. It turns out she can stand and support her body weight, but she can't move her feet. So, I said to her, great, we're going to put you in some skis and take you skiing. And I could see her face light up. We fitted her ski boots, took her to the edge of the snow, gave her some outriggers for support, and got her up on the skis. She's not only standing looking out at the mountain, but she can slide. Then we took her up the magic carpet, and with the support of her instructor, she skied down the hill. She was euphoric. The joy and explosive energy that comes from showing people they can ski adds to their confidence and expands their lives."
Sheena instructing at The Remarkables
Becoming as independent as possible on the snow
Supporting people who are visually impaired is a particular passion of Sheena's. She says, "I wonder if it's my background as a photographer that makes me want to share the experience of being out on the mountains. I want to make it safe and fun for visually impaired people to be as independent as possible on the snow."
She recalls teaching a man in his early seventies to ski. "An accident in his fifties had rendered him visually impaired. His eyes still functioned; however, nerve damage meant everything was very hazy. He described it as looking through a thick net, just light and shade."
"He came to me because his son was expecting a baby. His son was a skier, he knew his grandchild would be brought up as a skier, and he decided there was no way he was going to get left on the sidelines. So, he came to me and said, 'I need you to teach me how to ski.' He'd been exercising to get in shape. He was determined. So, we worked together for about four days until he could ski and he showed such incredible bravery and willingness. When you work with people that closely, you often build a friendship, and sometimes people stay in touch. So, I know his grandchild has arrived. Now he's looking forward to honing his skills so that he can join in the family ski adventures, and I just think that's wonderful."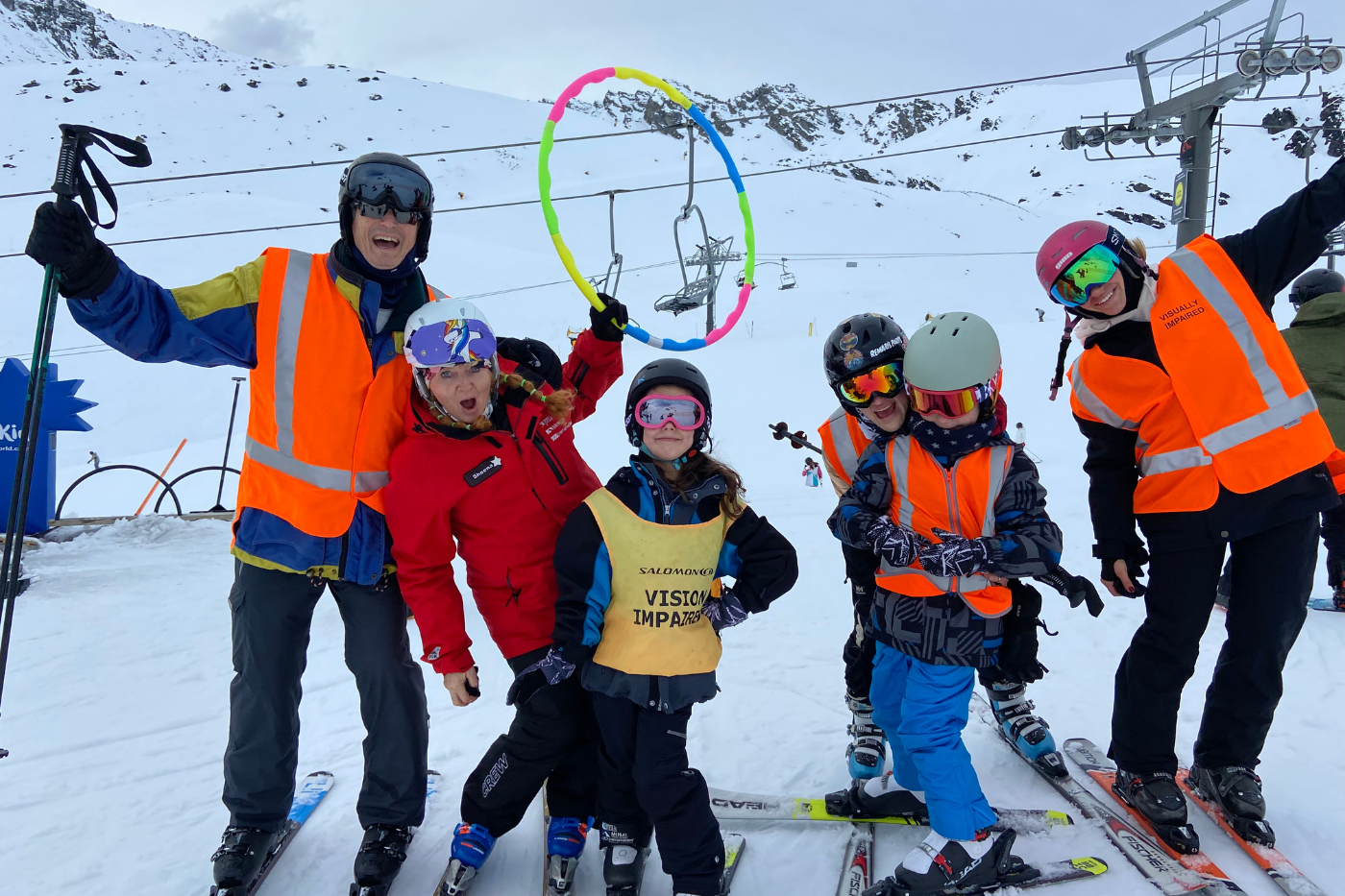 Sheena instructing at The Remarkables
Being brave and willing
When it comes to accessing the slopes, Sheena says, "Where there's a will, there's always a way. We have car parks close to the ski base building and lifts in each to take you up to the snow. We also have wonderful staff, from the car park team to our adaptive ski instructors, who are available to support and help anyone with a disability. You simply need to be brave and willing, and we can get you out on the snow."
Sheena has a few words of advice for people planning a ski trip. "If you're coming to ski or snowboard, it's good to do some preparation. All of us benefit from being as fit as we can be. So whatever parts of your body you can work on to get them stronger, do, because it'll make your experience better. But don't let being a bit unfit stop you from giving skiing a go."
NZSki can also support older people to get out on the snow. Sheena says, "If you've got someone in your family who isn't a skier but wants to see what it's all about, we can get them out there with our snow buddies in a safe, supported way. Recently, we took a grandmother out for a ride in a sit-ski so she could see her grandchildren skiing."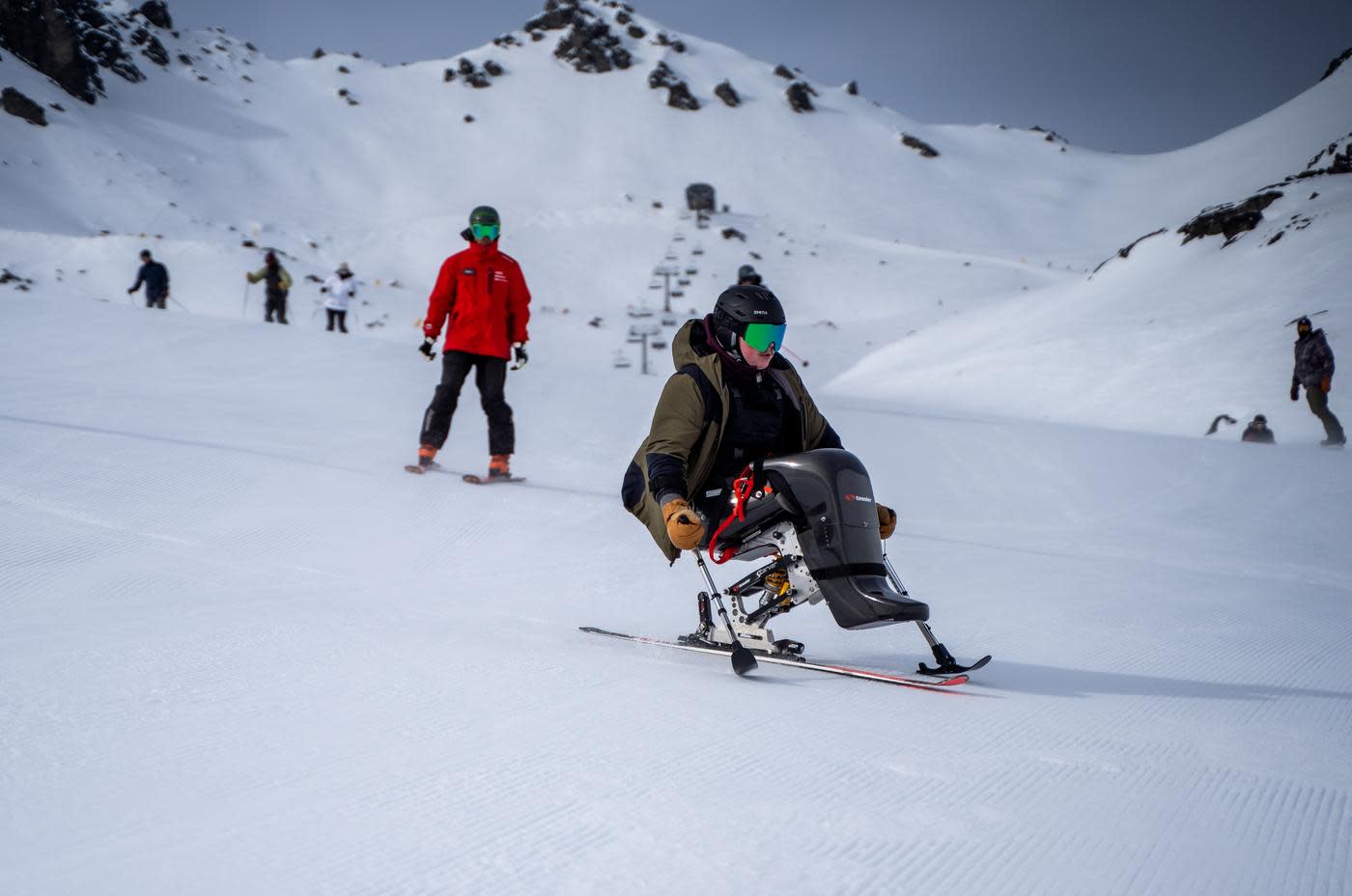 The Remarkables
The magic in the mountains
Sheena has lived in Queenstown for over 20 years. She says, "Queenstown has always been somewhere that brings me joy. All my life, I've visited in winter, no matter where I lived. My parents would bring us down here for the school holidays. My brother and sister were ski racers and my brother represented New Zealand in the Olympics. So, it was no accident that as I got older and figured out where I wanted to be, I chose here."
"I love it here. There is a magic in the valley, the mountains, the lake, and the four seasons. Queenstown draws people that are resourceful. You have to be resourceful when you live in the mountains. I can't see myself ever living anywhere else. Also, Queenstown is becoming more accessible. Because we're a tourist town, the locals are used to supporting people to get around. Not only people who have mobility issues but people with language barriers. People from Queenstown are always happy to help anyone who needs a bit of support."
While skiing is always Sheena's number one winter passion, she has a few other tips for winter visitors to Queenstown. "I love soaking in a hot tub looking at the mountains and getting out in the winter sunshine and going for long walks. There are great tracks everywhere around Queenstown and Arrowtown. Over winter my husband and I also like to bike out to a winery and then wobble home. So, hire an e-bike and go for a bike ride out to Gibbston to try some of our delicious Pinot Noirs and Rieslings. I particularly enjoy Wet Jacket Wines, but all the other wineries down the valley are fantastic as well."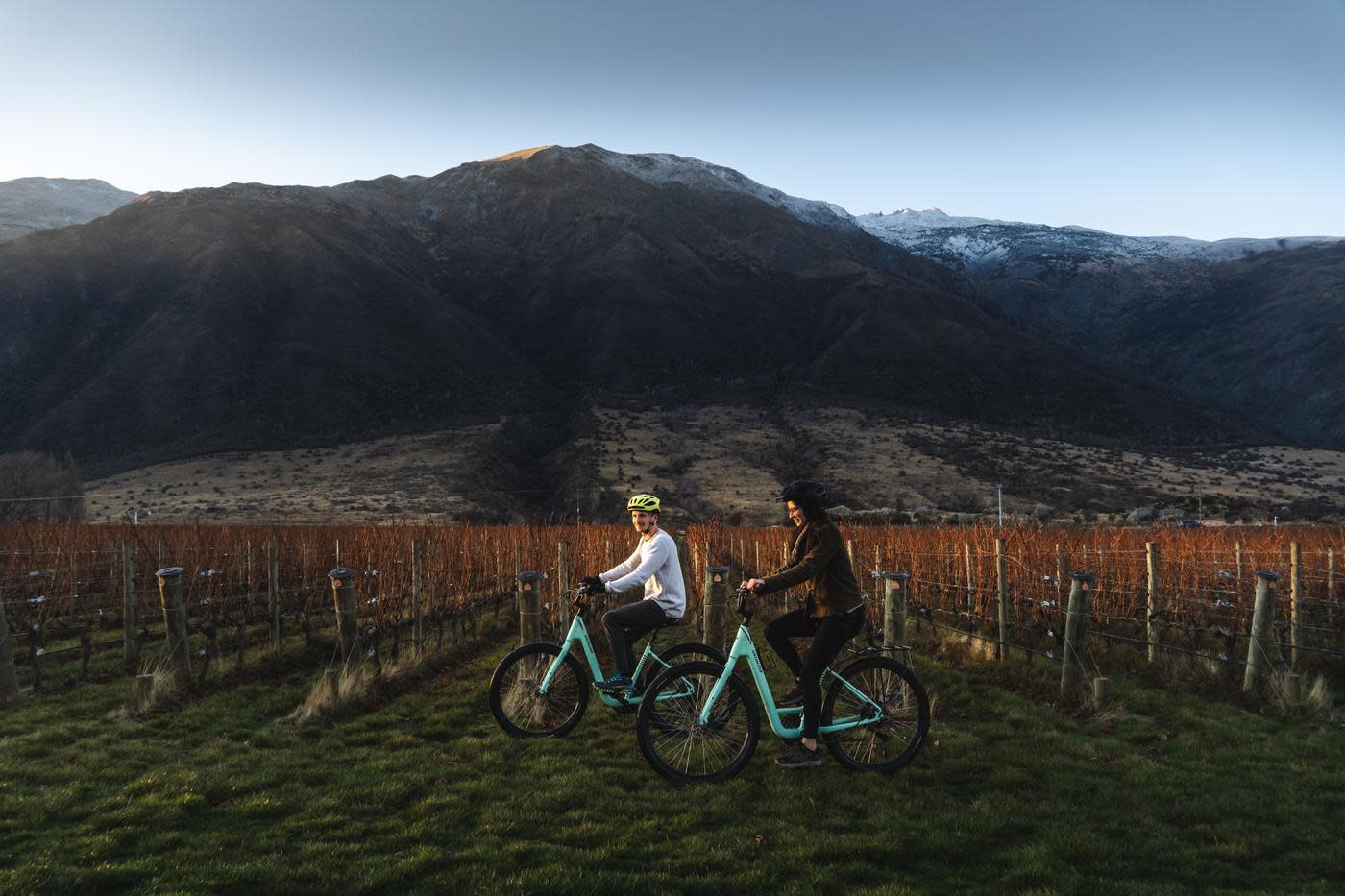 Winter e-biking, Gibbston Valley
Making the mountains accessible to everyone
Queenstown locals can support the adaptive ski program by becoming a snow buddy. Sheena says, "If you're a good intermediate skier or snowboarder with some time up your sleeve, we'd love your help. We train our snow buddies in all aspects of safety. I've got 25 volunteers at the moment, and I can always use more because not everyone's available all the time. A lot of our volunteers juggle work and being a snow buddy. They're very generous souls."
It's important to Sheena that people know the mountains are accessible to everybody. She says, "Sometimes when you've got a disability it can feel quite daunting to try new things. But I want you to know we'll make getting out on the slopes as easy as possible. So, if you want to ski or snowboard, reach out and we'll guide you through the process so you can experience the joy and the freedom of being in the mountains."
Plan your Queenstown winter adventure
Discover Queenstown's accessible activities, accommodation and places to eat and drink in this guide.
For more ideas to inspire you to experience Queenstown and the surrounding region like a local, meet more of our locals – see Queenstown through the eyes of photographer, Krista May, or discover some of mountaineer, Hamish Fleming's favourite winter adventures.
As you explore Queenstown this winter, share your Queenstown winter adventures with us on Instagram and #QueenstownLive.