Queenstown is home to some of the most amazing, world-class backcountry terrain just waiting to be explored. Whether you're after an opportunity to get away from the familiar runs of Queenstown's ski fields, a different on-snow experience or simply a new challenge, Queenstown offers plenty of backcountry skiing opportunities to suit a variety of skiers and snowboarders.
Whatever might be drawing you, if you're considering heading into Queenstown's backcountry this year there are a few important things to consider. Once you head out of the ski field boundary you are in unpatrolled territory and need to take precautions if you're planning on skiing the untracked powder on offer. Here are our top tips on how to prepare and plan for your epic backcountry skiing trip in Queenstown this winter: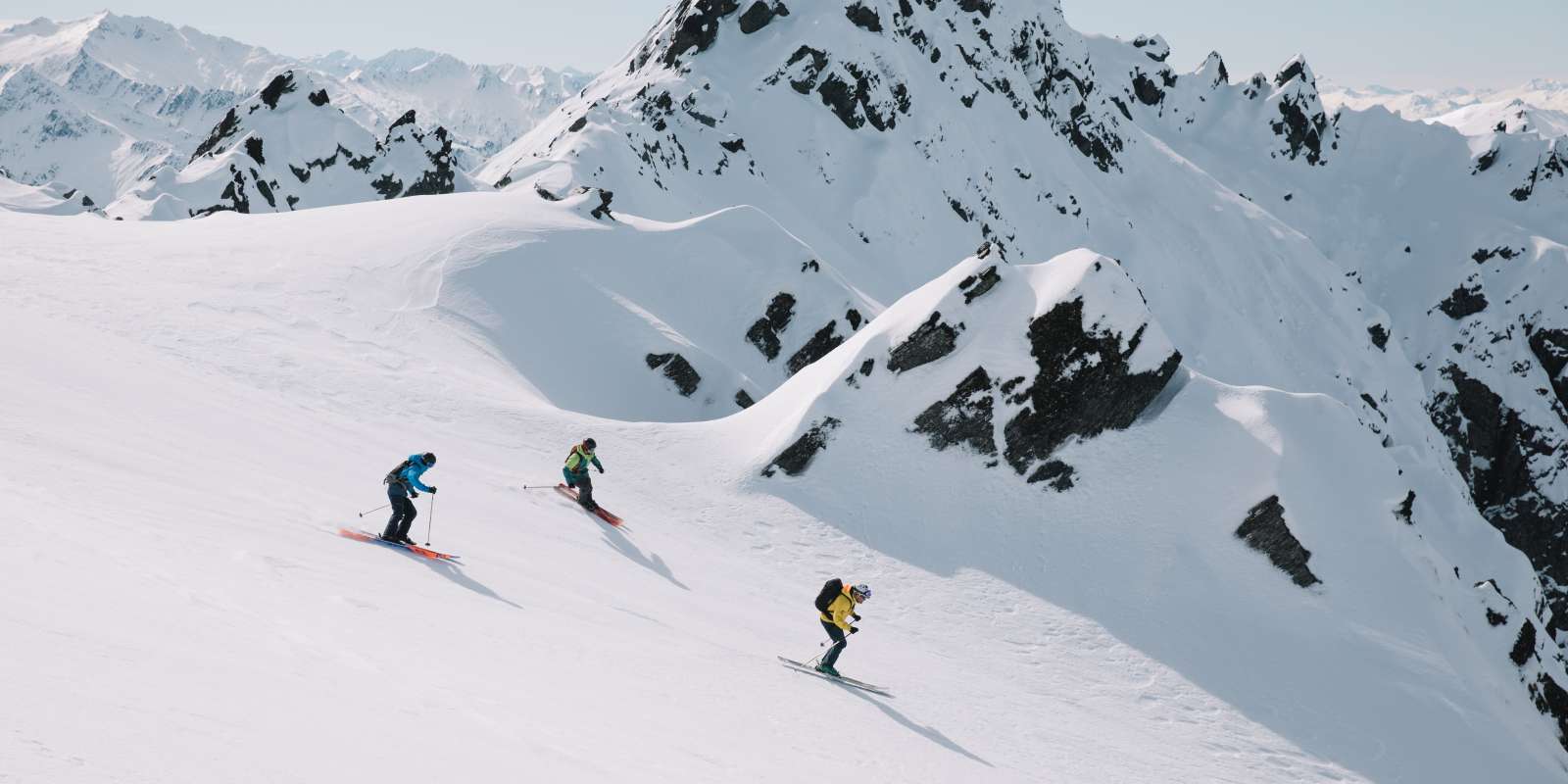 Research the area
Queenstown is home to an array of different backcountry terrain which provide a great day out for skiers. The closest and some of the most easily accessible terrain in the area is located on Coronet Peak and The Remarkables, a brief 20 or 40 minute drive out of Queenstown's CBD respectively.
On Coronet Peak, Sarah Sue, the western most run on the mountain, is the designated touring route due to reduced operational risk on the 24 hour, seven days per week operation. Alta Turquoise to Alta Lake is the designated safe ski touring route on The Remarkables and is the only permitted ski touring route while ski patrol is conducting avalanche control work.
There are high risks for ski tourers on both mountains, including disorientation in poor weather, low visibility or darkness, skiing/riding or falling leading to injury and hypothermia, collision with winch groomer cables which are impossible to see, skidoos and stationary equipment.
Best practice on both mountains is to always ski down what you skin up so you're aware of the conditions and read the avalanche bulletin appropriate to the terrain you intend to access.
To help ensure ski tourers safety, backcountry skiing is not permitted on The Remarkables or Coronet Peak during the hours of 6pm – 6am during the ski season 23 June – 17 October. You can also pop into the Ski Patrol office on the mountain at any time during opening hours to check on local conditions and advise patrol of your intentions.
Plan your trip
When you head into Queenstown's backcountry, you're heading into avalanche territory, therefore understanding the weather and the avalanche dangers present on the day is absolutely essential.
The New Zealand Avalanche Advisory publishes daily avalanche forecasts for the Queenstown region. Ensure you read and take the time to understand the forecast before you head out as this will greatly shape where you ski and how your travel in the backcountry. When the danger is low that's the best time to get out and practice your avalanche skills, however, it's important to remember that low danger does not equal no danger.
The forecasted weather will affect the snow throughout the day, warmer temperatures and sun could mean that you can only ski on specific elevations at certain times. Don't forget that every mountain is different, always have a ski touring route in mind, check the field's website for advice and the latest updates before you leave home and be aware of delegated touring routes.
Bring someone you know and trust along, and make sure you inform a responsible person where you plan to go and when you expect to return.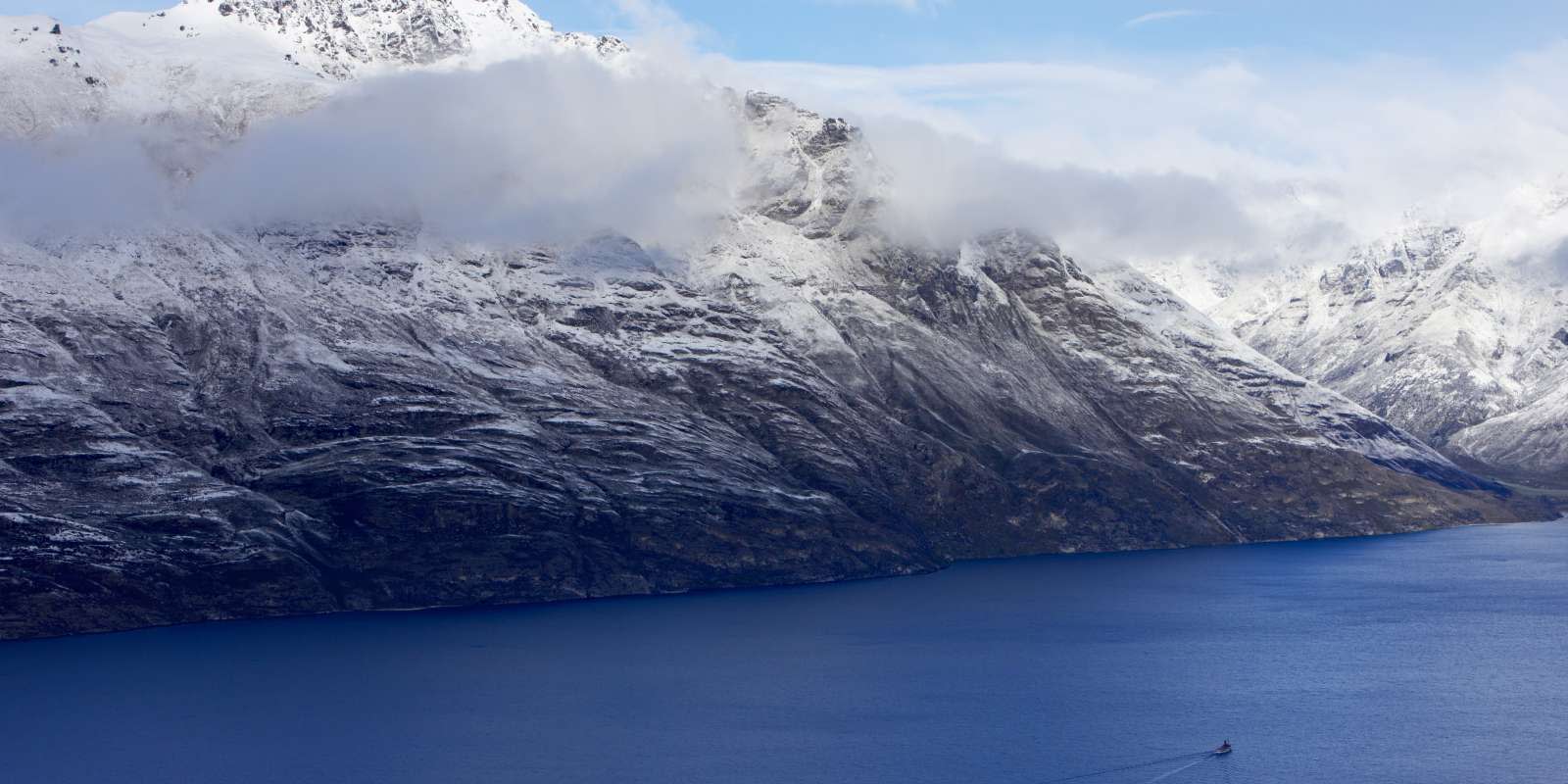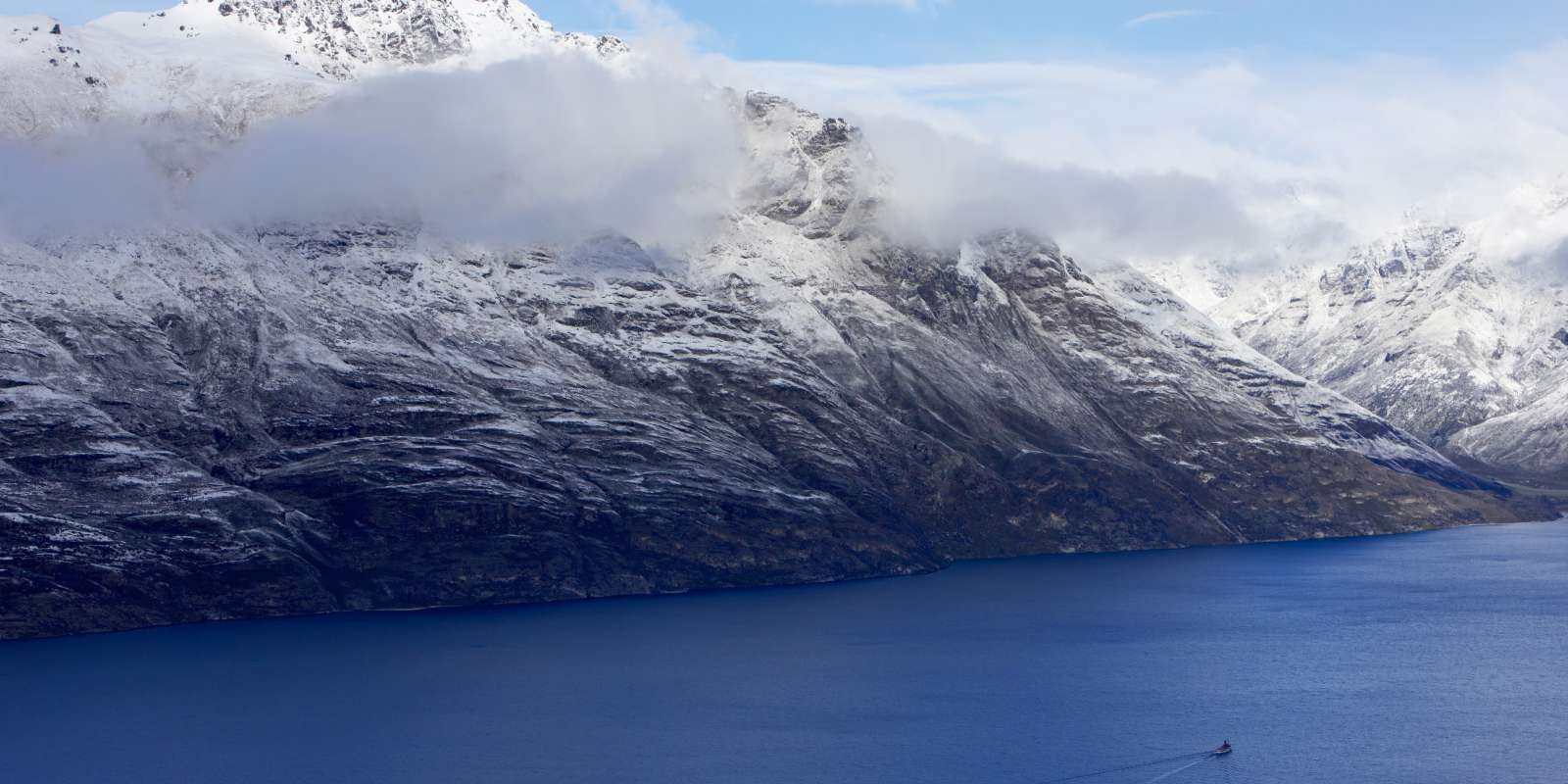 Prepare the correct gear
To earn your turns, you'll need a ski touring set up that allows you to access remote powder stashes. You'll need to have the correct ski wear, but also the correct safety equipment and avalanche gear.
Across the world ski touring methods vary, from showshoes to snowmobiles, but the most commonly used in Queenstown are Alpine Touring (AT) setups. AT setups consist of the following: skis (you'll probably want something at least 90mm under foot), AT bindings, and skins which attach to the bottom of the ski for the hike up.
According to New Zealand Mountain Safety Council, an avalanche kit including an avalanche beacon or transceiver, a probe, and a shovel, should be carried on you at all times. The gear isn't designed to keep you safe but it'll hopefully increase your chances of being found alive if you do get caught in an avalanche.  
Transceivers are small electronic devices that transit a radio signal, they should be worn by every person entering the backcountry. The New Zealand Avalanche (NZAA) is a fantastic online resource which provides you with details of why a transceiver, a probe, and a shovel, are lifesaving pieces of equipment in the event of an avalanche.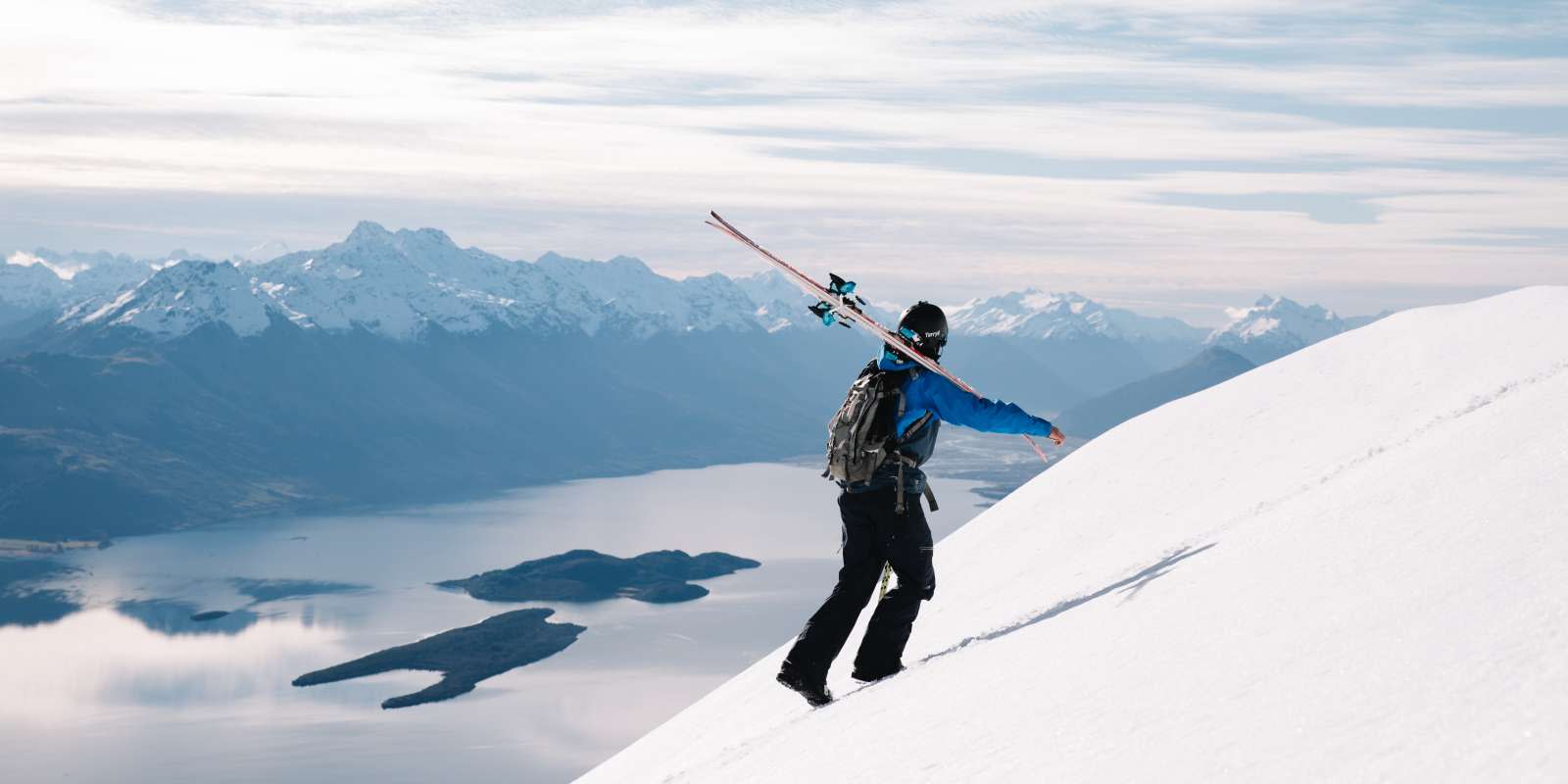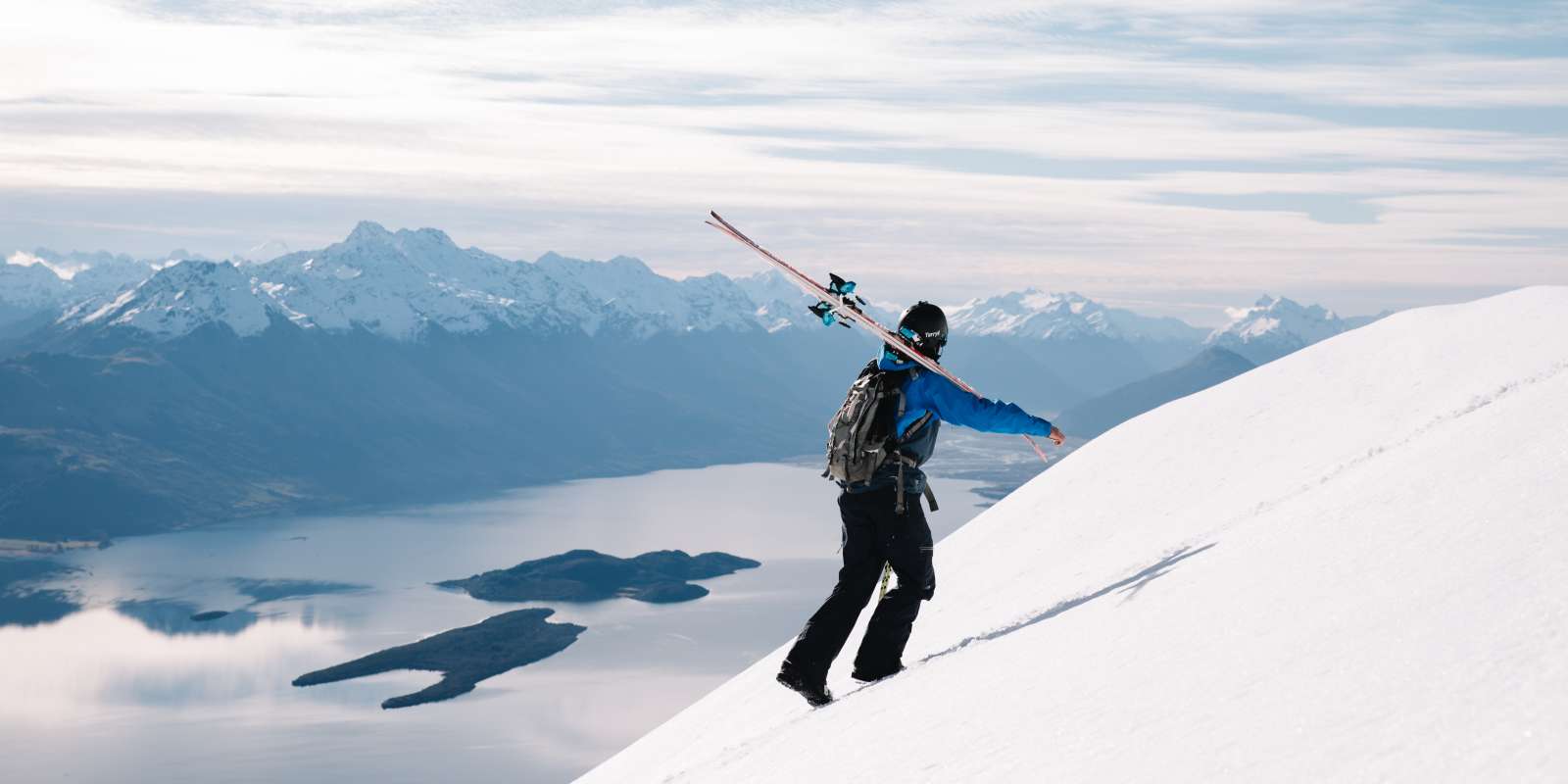 Have the training
Having the education and skills to make good route-finding decisions, assess snow conditions, and perform a rescue, are absolutely essential if you're new to the backcountry.
The NZAA has a free online course that will give you some of the basics including a guide to understanding avalanche forecasts, danger scales, danger types and some of the mitigations available to those heading into the backcountry. The course is not designed, however, to replace hands on training with an expert.
Locally, there a few different organisations offering backcountry touring, mountaineering and avalanche awareness courses including Independent Mountain Guides (Backcountry), Climbing Queenstown (Avalanche Awareness), and Queenstown Mountain Guides (Avalanche and Backcountry).
Additionally, hiring a guide is always a good idea. When you ski or ride with a guide you get the benefit of local knowledge and safety, local ski guides are often extremely knowledgeable and make the whole experience a lot more relaxing and fun.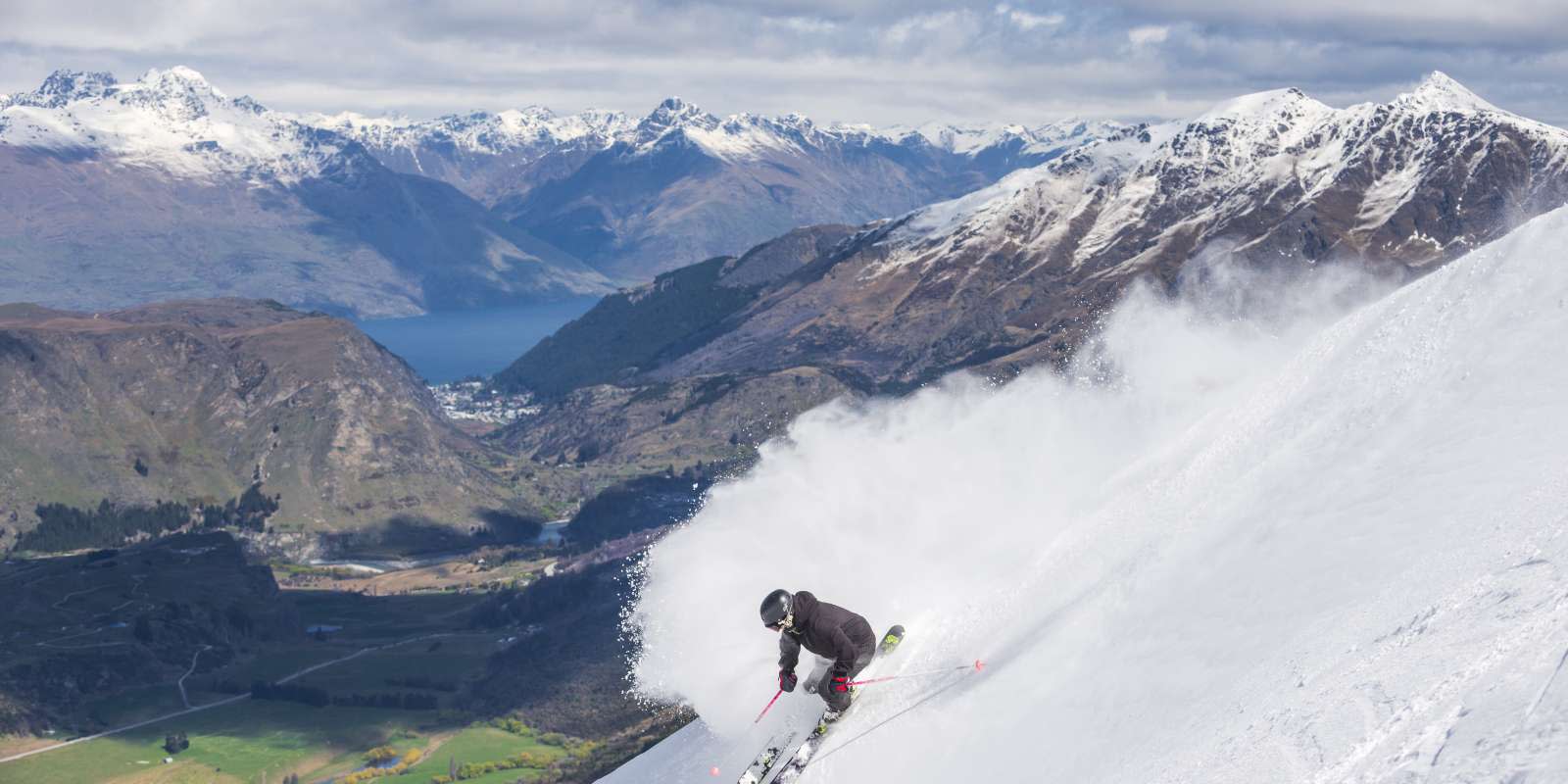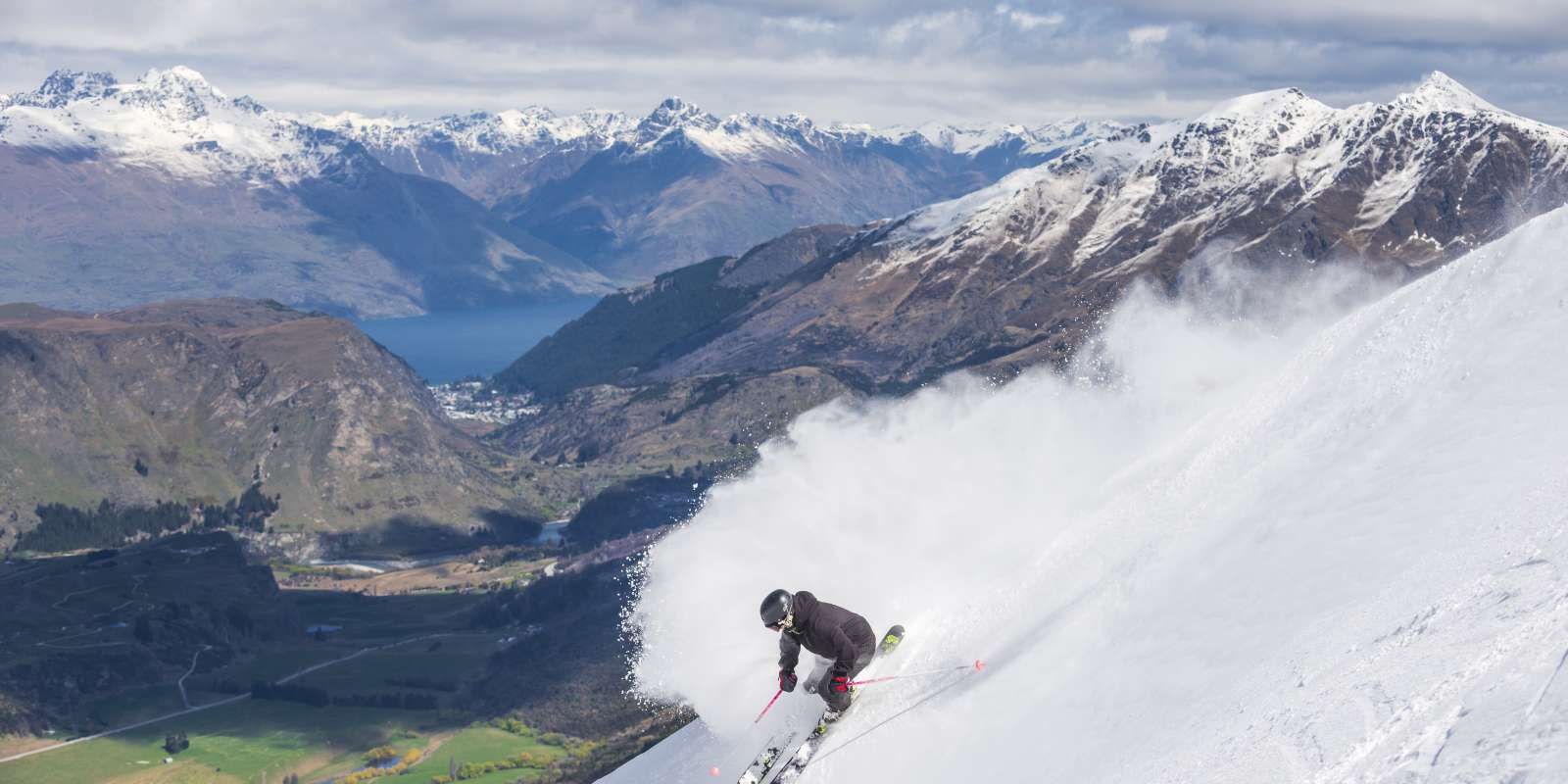 Have FUN
Lastly, remember to have fun! If you're properly prepared with the correct training and equipment, knowledge of the area you're touring in, some capable mates, and/or a knowledgeable guide, skiing the backcountry in Queenstown can be one of the most exhilarating experiences.
What better way to explore Queenstown than by taking in the view from above while you cut fresh tracks and shred some serious powder!