Trent Yeo never planned to build a sustainable tourism business in Queenstown. He didn't even plan to live here. But like so many, this (then) young visitor with a background in sustainable architecture and outdoor education, came to visit a friend on holiday, and never left. He simply abandoned his carefully thought-out business plan to take Ziptrek to the Blue Mountains of Australia.
"It was because of the drive, focus and coordination of Queenstown tourism and New Zealand's deep storytelling and history of doing great conservation work. And because I wanted to live in a place like this anyway," says Trent.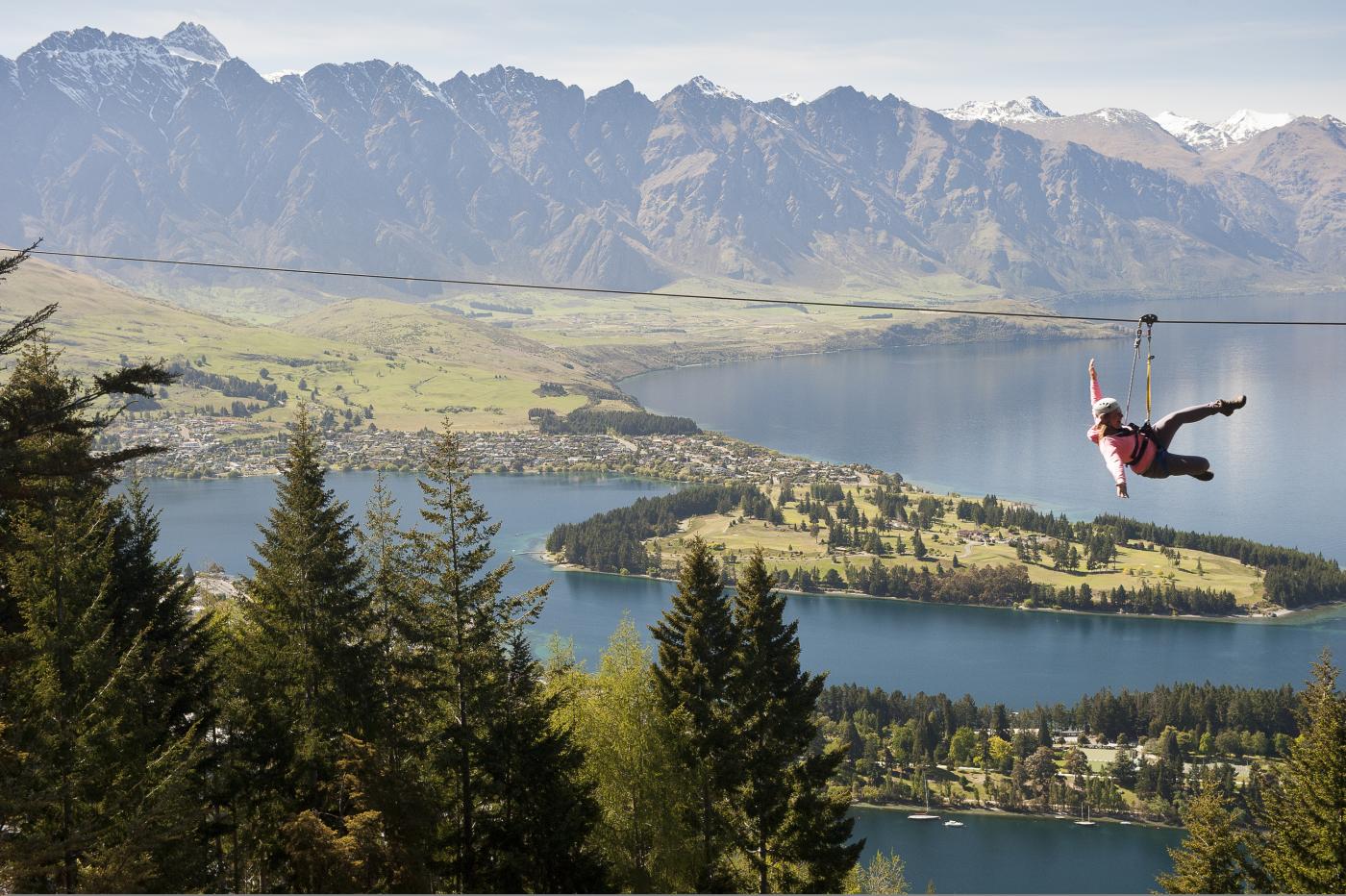 Ziptrek Ecotours zipline
That was fourteen years ago. Today, Ziptrek Ecotours, is a multi-award-winning company and Queenstown's first carbon-neutral tourism activity – certified by Ekos, a New Zealand carbon reduction programme.
He admits that for a small company like Ziptrek, which is low carbon by design - it was relatively straightforward.
"Understanding what good design was within the natural system was my key priority from the start. The model itself is basically designed to be in locations where you don't need much energy, and then to be mega-efficient. We didn't need to build in huge structures, we designed and built treehouses, out of timber, which sequesters carbon while it's in use. Our ziplines are gravity-powered and it wasn't by accident that we're in a position that already has electric transport (the gondola) up Bob's Peak to the start of the zipline," says Trent.
Even so, since Ziptrek started measuring its carbon footprint over four years ago, the company has cut its carbon emissions by 61% in FY20/21, compared to the year before. For an already energy-lean operation, it took simple things like only partnering and getting supplies from like-minded companies, right down to the company lawyer, Anderson Lloyd, which is a net carbon zero law firm. "Over a year the carbon footprint of our whole business is the equivalent to four people moving to the district. So it's miniscule." Although tiny, there is still some carbon offsetting required to get to zero – Ziptrek only purchases the premium Ekos New Zealand carbon credits that support the Kānuka Hill project.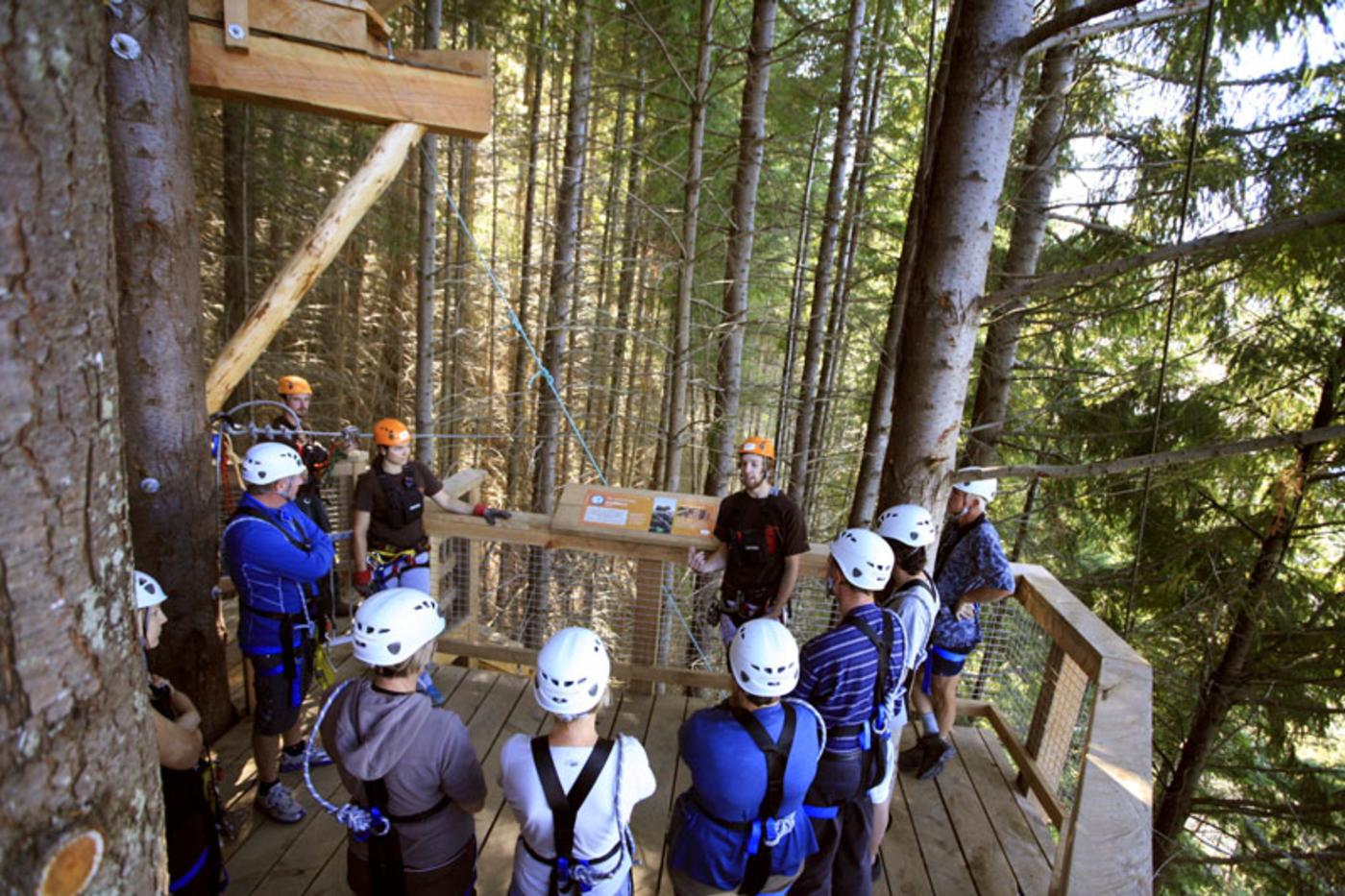 Ziptrek Ecotours group
Trent's next step is to upgrade his fleet of three vehicles to electric. "Instantly we'd drop our carbon by maybe 30%."
That will only happen once the recovery's over and the funds are there - the last three years have not been easy for a business that relies on visitors. But what's never changed since the business started, is the amount of effort put in to increase awareness and passion for the natural environment. It all starts with the Ziptrek team – who have to be fully committed to sustainability. "I challenge most people on their first day as I onboard: this means a lot to us, and we all have to care. You can't go to work for a sustainability company and care, then earn money and not care on the weekends – it just doesn't work like that."
Then there's the guests, who will leave their experience with a heightened understanding of the environment they have ziplined through. An exhilarating, fun ride through the forest with stunning views, becomes more memorable and meaningful given the context that goes with it. Different ziplines tell different stories. The Moa 4-line and Kea 6-line tours tell the sustainability story; the Kea tour even includes a walk through beautiful native beech forest and has the world's steepest tree to tree zipline ride; the Kereru tour tells the conservation story, it incorporates two ziplines and finishes with an adrenaline filled 21metre drop-off from a treehouse to the forest floor.
"We build these emotionally impactful things and it's just like classic interpretation theory right? What attitude have people felt whilst coming here that they would reflect on back home when somebody asks them. I hope that's one of deep care and respect for our places and our people."  
That respect for its places has seen Ziptrek plant over 6000 natives in its operational area, watered by the rainwater collected in its drums. To give the native species a chance to flourish, stoat and possum traps have been installed and are monitored, as part of ongoing work with the Whakatipu Wildlife Trust. All Ziptrek's operational requirements like cameras and electronic safety gates are run on solar energy - with occasional back-up when needed.
In the last couple of years, respect for people has seen Ziptrek support the Headlight Trust (helping people talk about mental health) and Sustainable Queenstown and KiwiHarvest to enable them to hold a food rescue dinner – their major fundraiser for the year.
All this, as well as getting the business to carbon zero for the last three years - might seem like Ziptrek Ecotours has it made, but it's never that simple.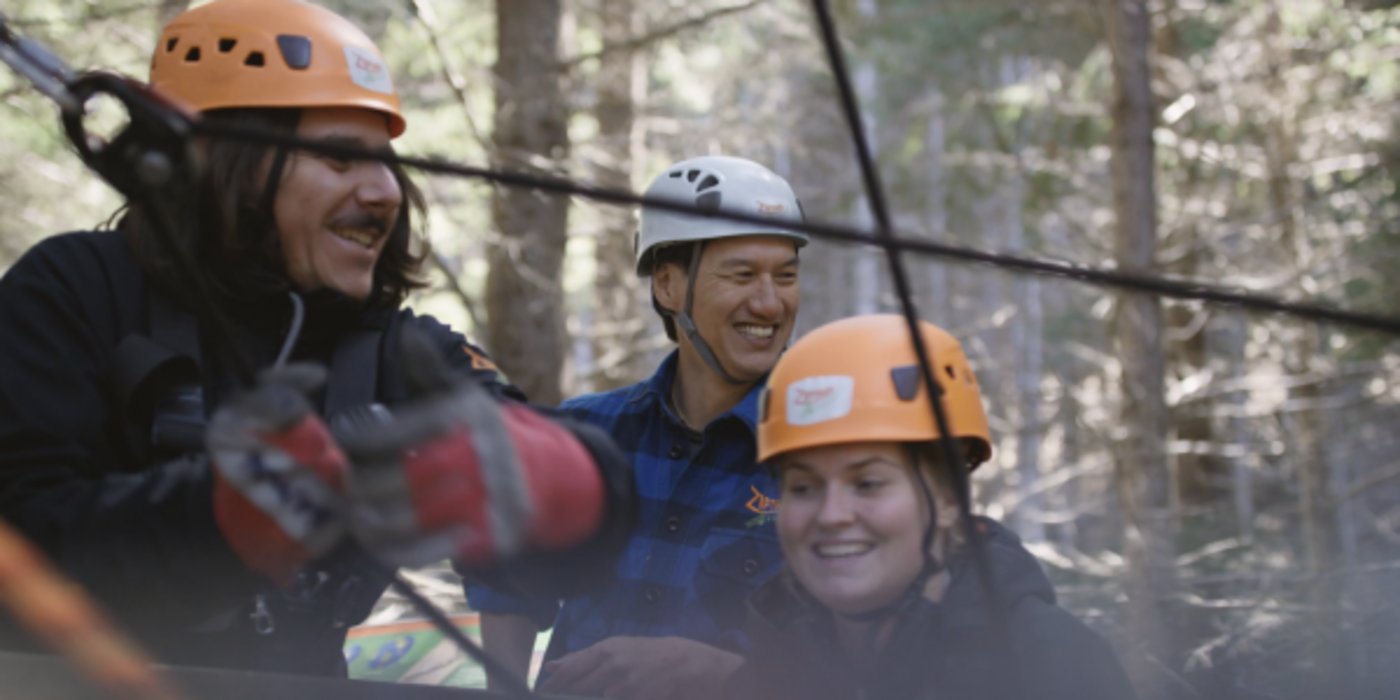 Ziptrek Ecotours owner; Trent Yeo (centre)
When Trent arrived in 2006, the hardy Douglas fir trees that he built sustainable architectural treehouses amongst, were considered icons of the alpine resort. Today, as non-native species, cultural acceptance has changed and they are considered at odds with the environment. So Ziptrek's support trees may eventually be at risk, but Trent is philosophical about the complexity of sustainability.
"I would personally test if the biological values are more or less than the impact of towers, rather than trees. But I am respectful. I just don't know - do biological values trump carbon values?"
It is the making of even more compelling sustainability stories from a business that prides itself in exploring them, giving its guests even more to think about, once the excitement and fun of the Zipline has become just a memory.
Read more about Ziptrek's commitment to sustainability here.