Rosie Dunphy never really noticed the lack of birdlife at her Gibbston vineyard until they started to fill the valley with their song. It's just one of the unexpected delights that resulted from Coal Pit Vineyard and Winery's conversion to organic viticulture and increased biodiversity of both cover crops and native plantings. Their 2023 harvest is their first year making BioGro Certified Organic wine from their single vineyard, a process that takes three years to complete.
"Last night, the tūī were all through the surrounding trees. We wake up in the morning now, and the birdlife is amazing. Looking at the vineyard is incredibly satisfying; I can see so much life growing. Our naturally fertile soil has great water-holding capacity, allowing it to nurture diverse and thoughtfully chosen cover crops year-round. This has been incredibly beneficial in building a harmonious ecosystem. For us, it's not just about organically farming the vineyard, but also about the bigger picture of restoring synchronicity to our site so that future generations can benefit from its beauty and bounty."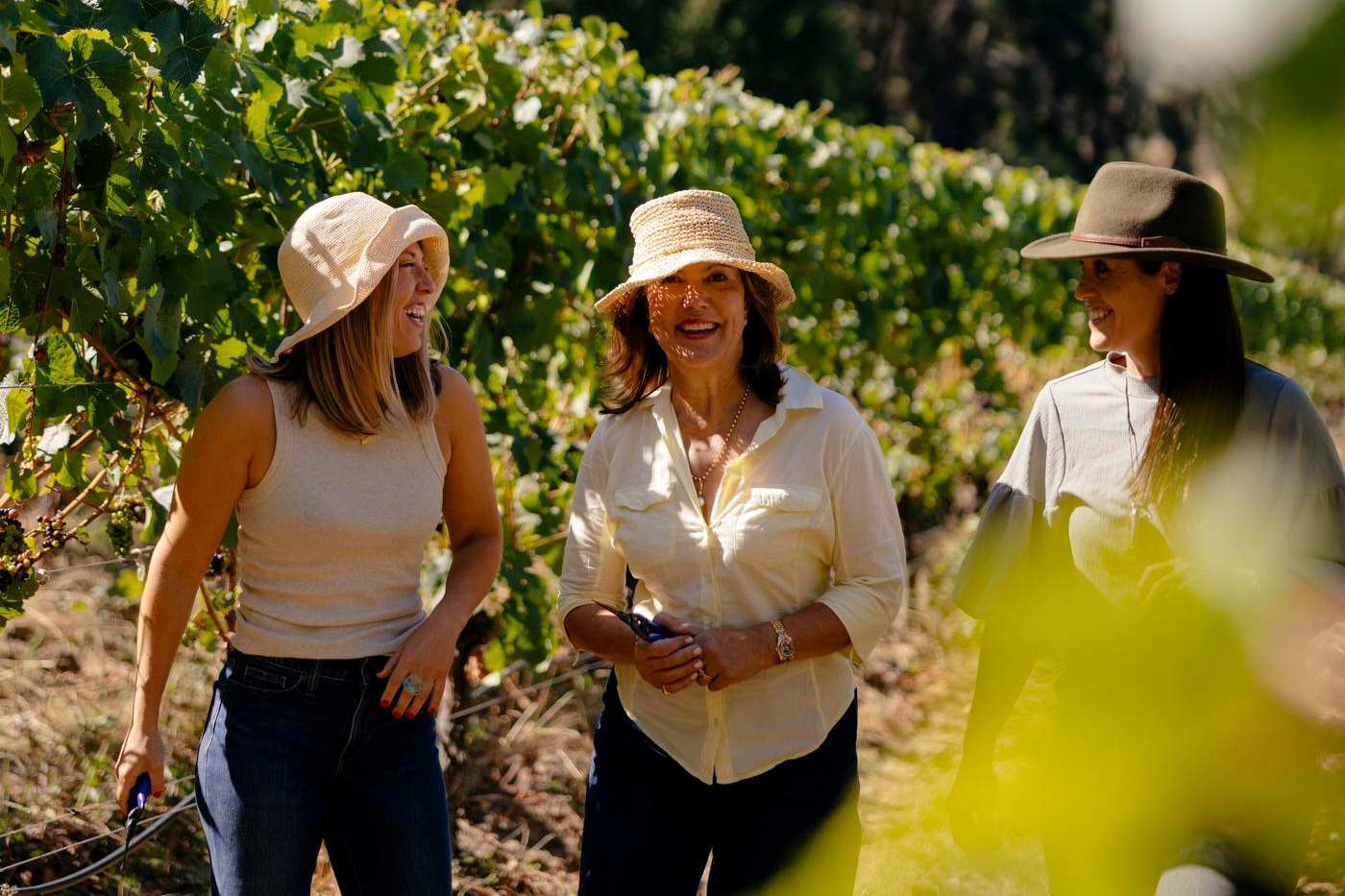 (Left to right) Anika Willner, Winemaker; Rosie Dunphy, Owner; and Kate Hunter, Sales and Marketing Manager. Image: Coal Pit Vineyard
Rosie's desire to own a vineyard stemmed from wanting to secure a piece of Central Otago whenua (land) for her growing family. She had studied viticulture and horticulture, and when she bought the vineyard in 2001, the soil bothered her. "It looked lifeless. There was no growth between the vines." Rosie knew something had to be done.
Rosie didn't plan to produce wine; she just wanted to grow high-quality fruit from her unique site. Over twenty years ago, when she first purchased the vineyard, organic farming wasn't a widely researched or implemented method in New Zealand, so she settled for growing grapes the conventional way until 2018. "The health of the soil and quality of the fruit have always been my main priorities at Coal Pit. But in 2006, I decided I wanted to produce my own wine, the 'Tiwha', which pays homage to my late father."
"Initially, we had the fruit made at a contract facility in Cromwell, but the logistics of transporting the fruit there were less than ideal. That's when I decided the best way to maintain quality was through autonomy, and the best way to achieve that was by building a winery on-site. In 2007, we had our first vintage on-site at our brand-new state-of-the-art facility. The increase in freshness and fruit purity we were able to retain by picking and processing within 30 minutes was palpable in the resulting wines from that year. We haven't looked back since."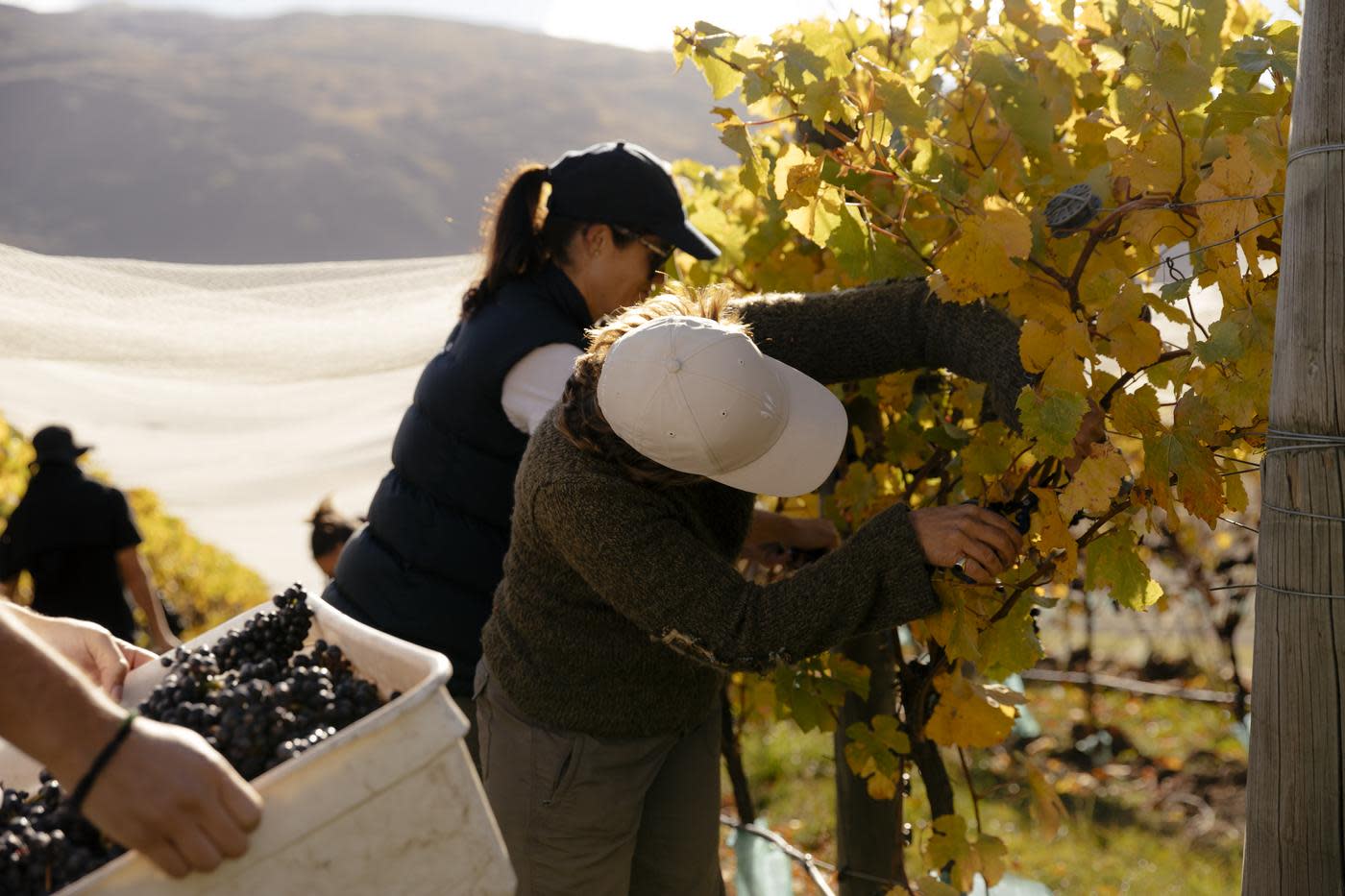 Harvesting organic grapes. Image: Coal Pit Vineyard
In 2018, Rosie took on a new winemaker, Anika Wilner, who had a like-minded ideology in regard to organic viticulture. After gaining experience in the pinot noir capitals of the world, Anika completed her postgraduate degree in Viticulture and Oenology at Lincoln University and joined the team at Coal Pit. Anika now resides on-site at Coal Pit and has developed a strong connection to the land, continuously striving to find new ways of caring for and sustaining it, for the future.
One of the positive outcomes of transitioning to organic viticulture has been better vine balance. This has resulted in earlier ripening, which is highly beneficial in one of the coldest sub-regions in New Zealand. This improvement in timing enhances the quality and integrity of the fruit harvested. There's an old saying that you can make good wine from average fruit, but you can only make great wine from great fruit. Now, with the organic vineyard's life force stronger than ever, they're able to produce even greater wines.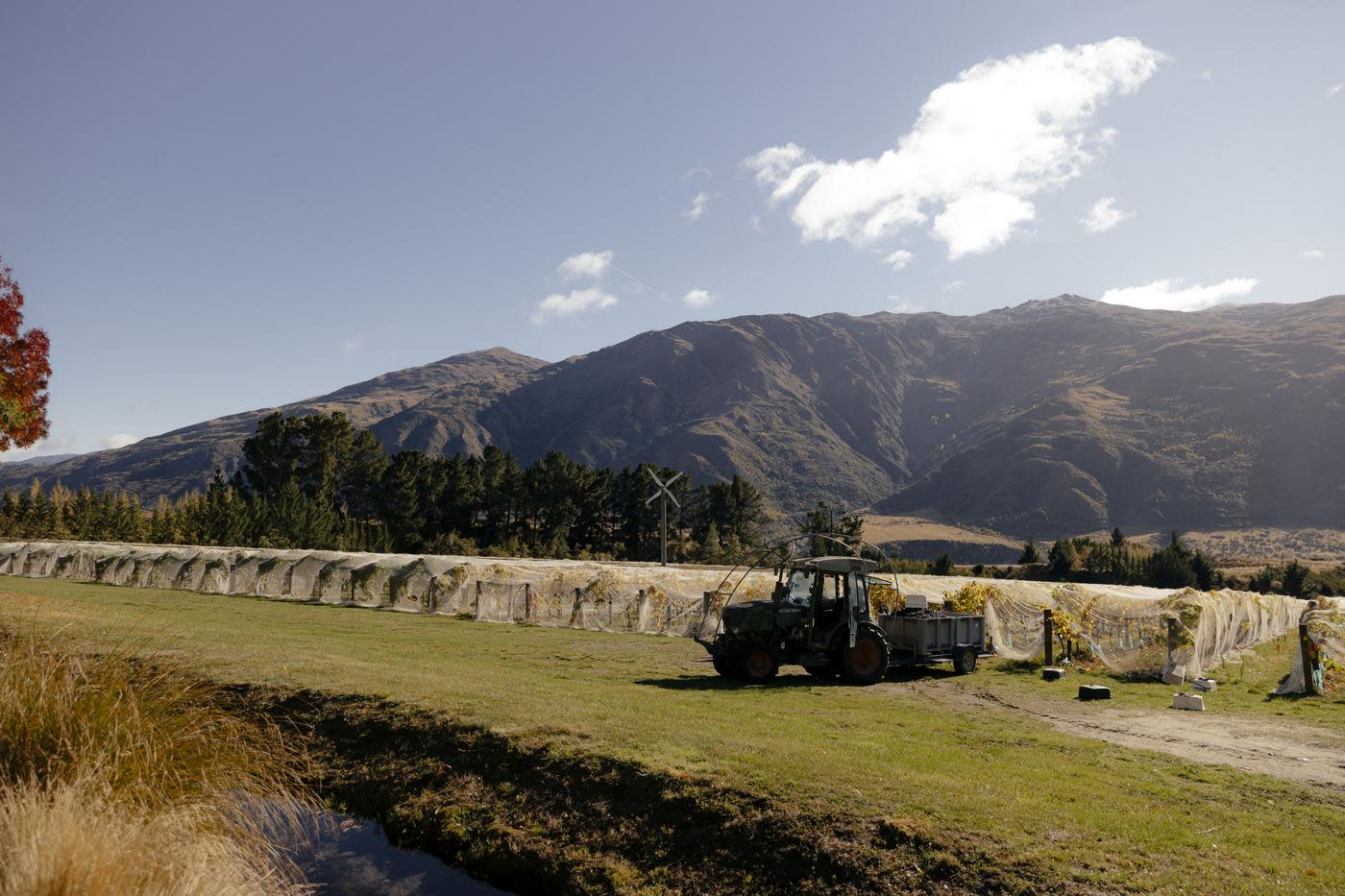 Coal Pit Wine's organic-certified single vineyard. Image: Coal Pit Vineyard
These days, they are continuously engaged in research and development, ranging from the vineyard and equipment to winemaking and conservation. This commitment is a crucial element in their ongoing quest to evolve and push their own boundaries. As Rosie puts it, "The moment you are complacent is the moment you start to fall behind."
2023 was their first certified organic vintage, and it's shaping up to be a beautiful year. Mid-winter, the wine has been put into barrels to age so there is a calmness about the winery. Although it's the coldest and quietest time of the year in the vineyard, there is still a vibrant sense of life at Coal Pit. The vineyard hums along with the presence of their staff and animals. Sheep roam through the vines, naturally composting their cover crops and turning them into the soil, while vineyard workers skilfully prune and tie the vines into shape for the following year.
The 2023 BioGro Certified Organic wines from Coal Pit won't be available for another few years, but Coal Pit already holds a proud record - winning gold trophies at the International Wine Challenge for their 2018 and 2019 'Tiwha' pinot noir. Additionally, both wines were honoured with the Winestate Magazine Interpak Trophy for 'Pinot Noir of the Year' in New Zealand and Australia in 2021 and 2022.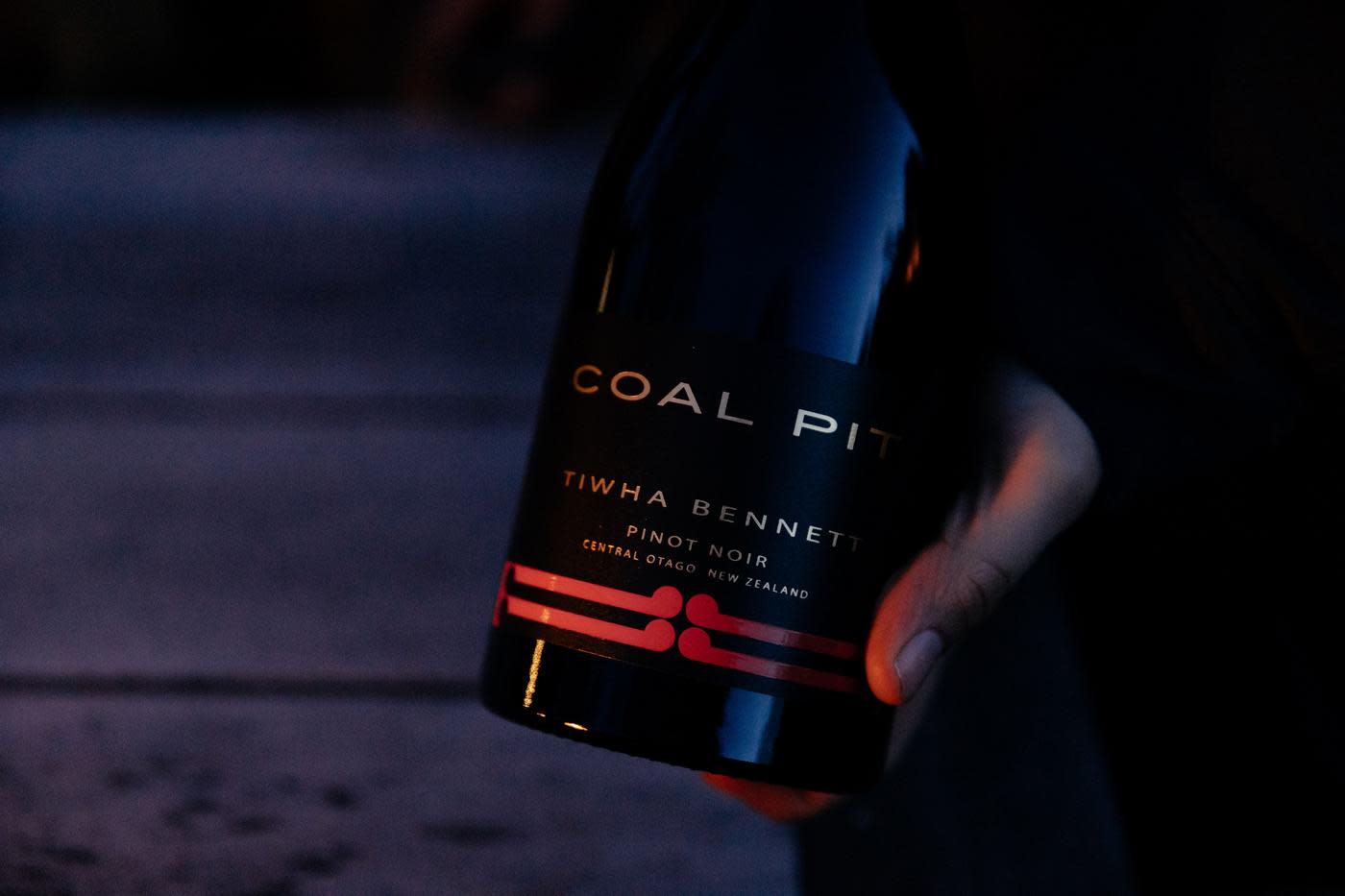 Award-winning Tiwha Bennet, pinot noir. Image: Coat Pit Vineyard
Back at the vineyard, the organic philosophy has gone well beyond its certification. Every aspect of production is now carefully scrutinised. The packaging has gone from brightly coloured red boxes to dye-free neutral boxes. Heavy glass wine bottles have been replaced with lighter, thinner glass. The number of business flights taken has been reduced - replaced by Zoom meetings.   
Last year, in collaboration with the Whakatipu Reforestation Trust, Coal Pit began planting a three-hectare block next to the vineyard with 400 native trees, intended to eventually be a native forest for future generations to enjoy, bringing even more birdsong - which makes Rosie happy. "My grandfather (Frederick Augustus Bennett) was the first Māori Bishop of Aotearoa New Zealand and a patron for the New Zealand Native Forest and Bird. I feel good honouring my heritage and family by trying to increase the birdlife here."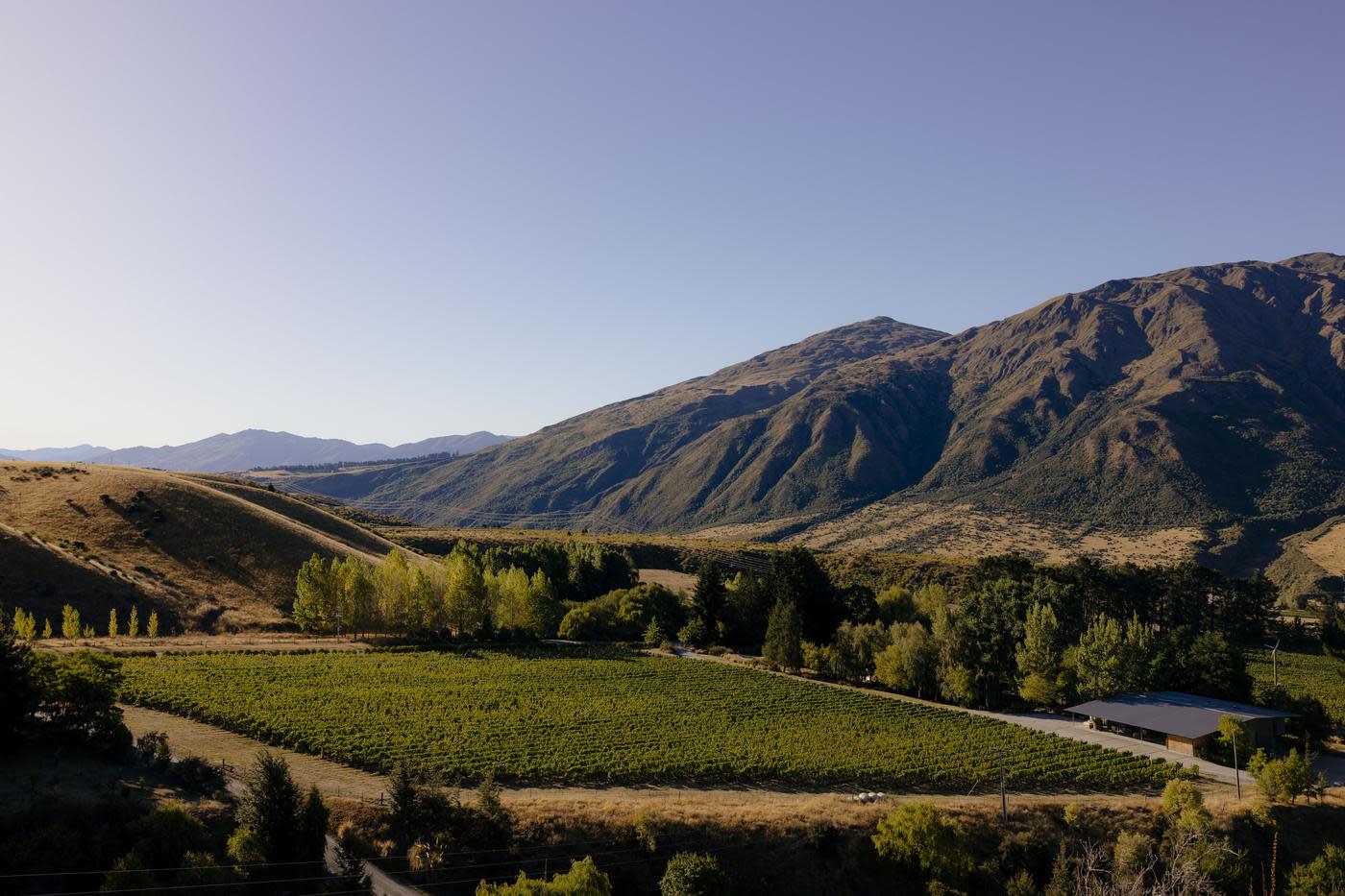 Coal Pit Winery, nestled in the heart of Gibbston Valley. Image: Coal Pit Vineyard
Rosie's son, Hugo, works alongside her as the General Manager of Coal Pit. With three other children and five grandchildren, family holds great importance at Coal Pit. "The family aspect is really important to me. Everything I do is for the future... I want them, in 2040, to say that the land was well looked after and cared for and that the vineyard has a long life ahead of them. We like to think of it as guardianship for generations."
Her plot of land, a testament to her family legacy, has already achieved more than Rosie had dared to dream twenty years ago.
Read more about Coal Pit Wine's journey, here.