A few of our local riders have shared their favourite Queenstown mountain bike trails with us, from mellow beginner tracks to rugged, technical advanced rides. The following trails take into consideration a number of variables, including energy levels, mood, fear factor and time. There is something here for everyone, so check out this guide and choose which one you'll shred next time you're in Queenstown.
Beginner
7 Mile - Cool Runnings
Grade 1 Green,
XC or trail bike
Ride year-round
A mellow and fun track XC or trail bike track that has swoopy and forgiving corners to learn how to corner on! A gentle climb to get there leaves you warm and ready to tackle the trail. After a few laps of Cool Runnings, you will be wanting to tackle the harder trails 7 Mile offers!
Expert tip: Bring the chilly bin and your swimming gear for some cold ones after.
Hammy's - Queenstown Bike Park.
Grade 2 Green
Skyline Gondola access September – May. Pedal access via road June-August
The easiest and arguably the most fun route down the Queenstown Bike Park. Beginner through to advanced, this is the longest and least amount of gradient in the bike park - yet it rolls as fast as you make it! Packed with fun bermed corners, fast (or as slow as you want) straights and a few tabletops, this is the ultimate confidence-boosting track at Queenstown Bike Park!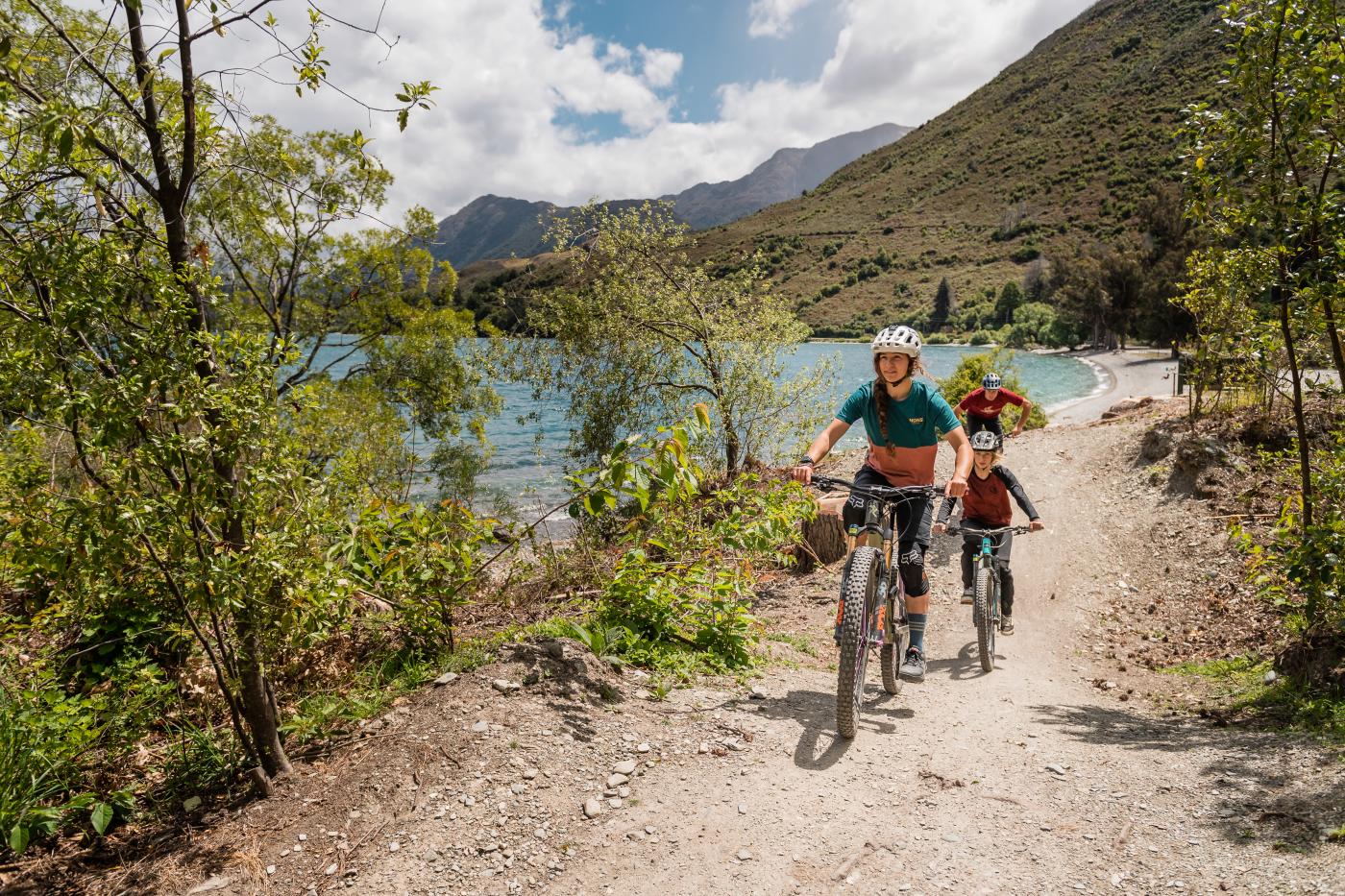 7 Mile Trail
Intermediate
Nearly McGnarly
Grade 3 Intermediate with Grade 4 advanced options
An absolute must ride in Queenstown. This is a classic 'after work lap', if you are short on time, or a bike park finisher. A gentle easy climb up, with 64 berms and 54 jumps, it's hard not to see why this flowy and progressive jump line is a must-ride trail in Queenstown! The best part of this trail is it is so well built any level of rider can happily roll down, through to full-time pinners cutting shapes! No need for excessive braking, which means it is always in immaculate condition.
Wynyard DH to Wynyard Express
Grade 4, Intermediate - Advanced
This legendary trail recently saw some love from the team at Elevate and is now another must-ride at the Wynyard Bike Park. You'll find natural tech with supreme flow, finished with some million-dollar berms at the end of the trail. It spits you out at the Fernhill roundabout - cruise on to Atlas Beer Cafe for some craft beer or organise shuttle companies can pick you up and take you to the top to do it all again!
Pack Track and Sack
Advanced XC, Enduro singletrack
Best time to Ride: Spring to Autumn
Recently revamped, Pack Track and Sack is a must add to your list - especially if you want to instantly immerse yourself in Central Otago back-country with the convenience of only being 10 minutes away from Queenstown. This purpose-built singletrack can be rough in some places and has a few steep exposed elements, however for the majority is smooth and flowy like its predecessor, Rude Rock.
Pre-organise a shuttle ride out, or enjoy the alpine settings with an approx 30-45 minute climb out to Coronet Peak Road at a gentle gradient.  
Hot Rod
Rated advanced, but similar to a blue intermediate - make it as hard or as fast as you want.
Long and flowy with big berms, this is Rude Rock's long-awaited little sister. A confidence-boosting trail for beginners through to pinners, Hot Rod offers it all. Team it up with Rude Rock, and you have 1,200m of vertical descent. Choice!
Coronet Peak and Slip Saddle
Ride the Coronet Peak XC trail to the top and descend all the way into Arrowtown. Enjoy the stunning views and river crossings. 
Top tip: Make sure you stop at the historic Fork and Tap for a pint and pizza.
Pack Track and Sack
Advanced
Coronet DH
Grade 5 advanced, Expert line
Arguably the best downhill line in New Zealand,  Coronet DH is world-famous for its fast, flowy and technical descent with plenty of features to test your mettle. The best part about this line is the faster you go - the harder it is, making it doable for most abilities.
Expert tip: Grab a sunset pass on Friday afternoons at a discounted rate and enjoy sunset laps, après drinks and all you can eat BBQ during summer!
Squid Run
Advanced, DH, Enduro, XC, single track
Add some pedal power to your laps at Queenstown Bike Park and head to Squid Run, approximately 15 minutes into  'Beeched As'. Hand-built by Queenstown Mountain Bike Club Wednesday Dig Crew over two summers and two winters, Squid Run has everything your mountain bike loving heart wants in a trail - tech, roots, flow, B lines, rocks and length.
Remarkable's DH
The old classic - rugged and natural with big rocks, hucks and flat corners. This line keeps you on your toes without being too steep. Great for shuttling as the more you do of this trail, the more you are bound to love it!
Salmon Run, Fernhill Loop - Ben Lomond
Appreciate the serenity at the McGazza Memorial Table, because as soon as you drop in, you are in for a wild ride! Tight, technical and rooty with some exposure thrown in - Salmon Run is a sure-fire way to test your skills, commitment and gnar levels.
Extra points: Ride in the wet or at night during the depths of winter!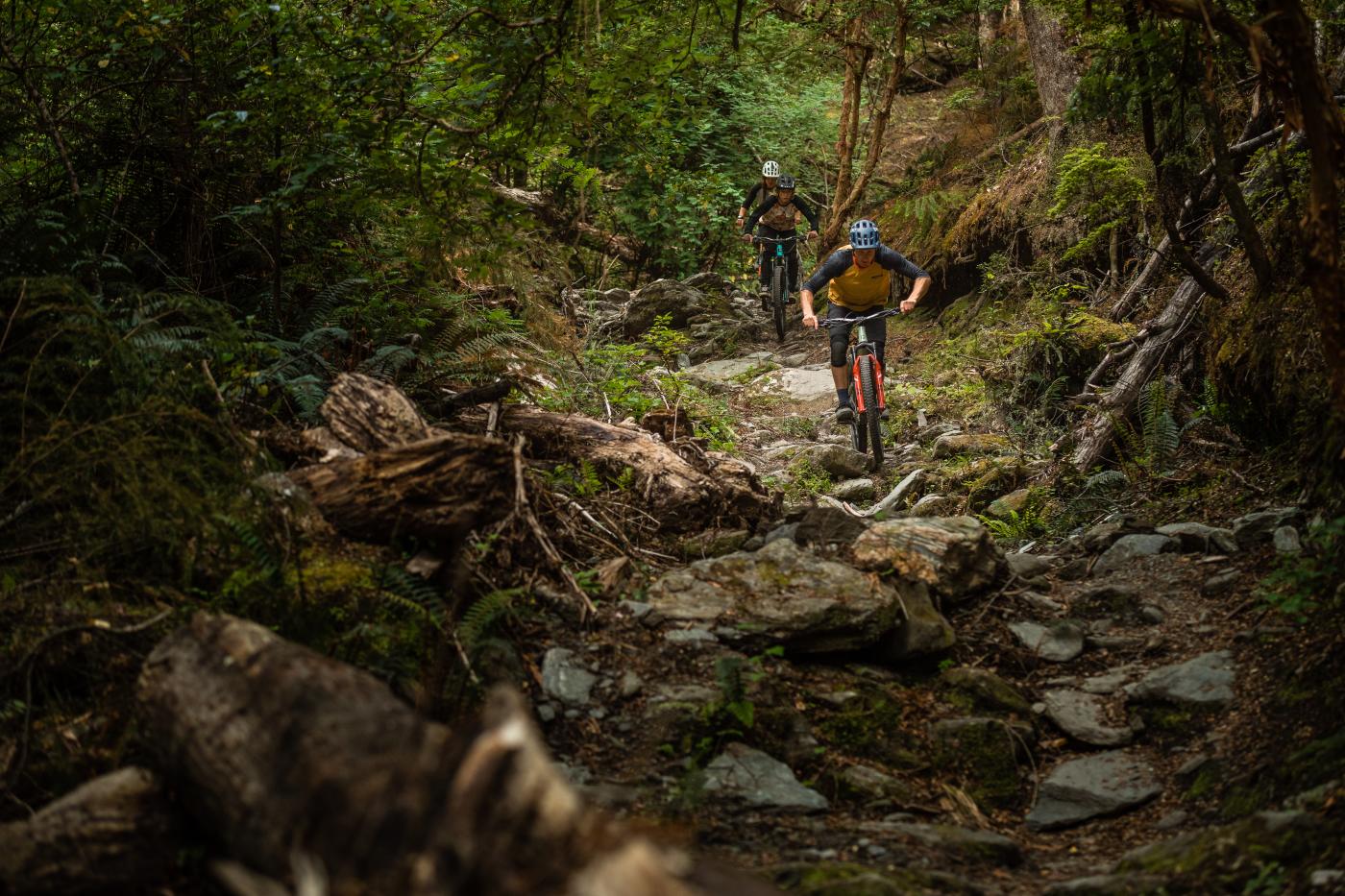 Salmon Run, Fernhill