Your business is only ever as good as your team, which is why attracting and retaining top talent is so important. And of course, the better the talent, the more opportunities they have so it is important to ensure your team culture and incentives are top shelf. 
Incentive trips are a great way to attract quality talent and improve performance. They make your company culture better because shared adventures build strong teams. And travel has more clout than a cash bonus because it creates lasting positive memories.  
Of course, it's not only your team who appreciate travel. Important clients, suppliers, and distributors all enjoy the reward of an all-expenses-paid trip. Which is why incentive trips are an investment in your company's future. And a Queenstown incentive trip is the best investment there is.
Motivational Queenstown experiences
Queenstown is a powerful incentive adventure because it has always sparked imaginations and inspired exploration. Motivate your exceptional performers to go further, be the person they've always wanted to be, and bring Queenstown's energy back to spur them on at work.
When you reward your team with a trip to Queenstown they come back with so much more than memories. Think self-confidence from daring to push their boundaries, inspiration from connecting with the magnificent scenery, or moments of self-discovery.
Our local incentive trip experts can tailor an experience to motivate your team. Whether you'd like to incorporate a strategy session, learning elements, give back to the local community, push your team out of their comfort zone, or simply inspire awe and wonder, Queenstown delivers moments that will have your team fired up and inspired, even when they're back at their desks.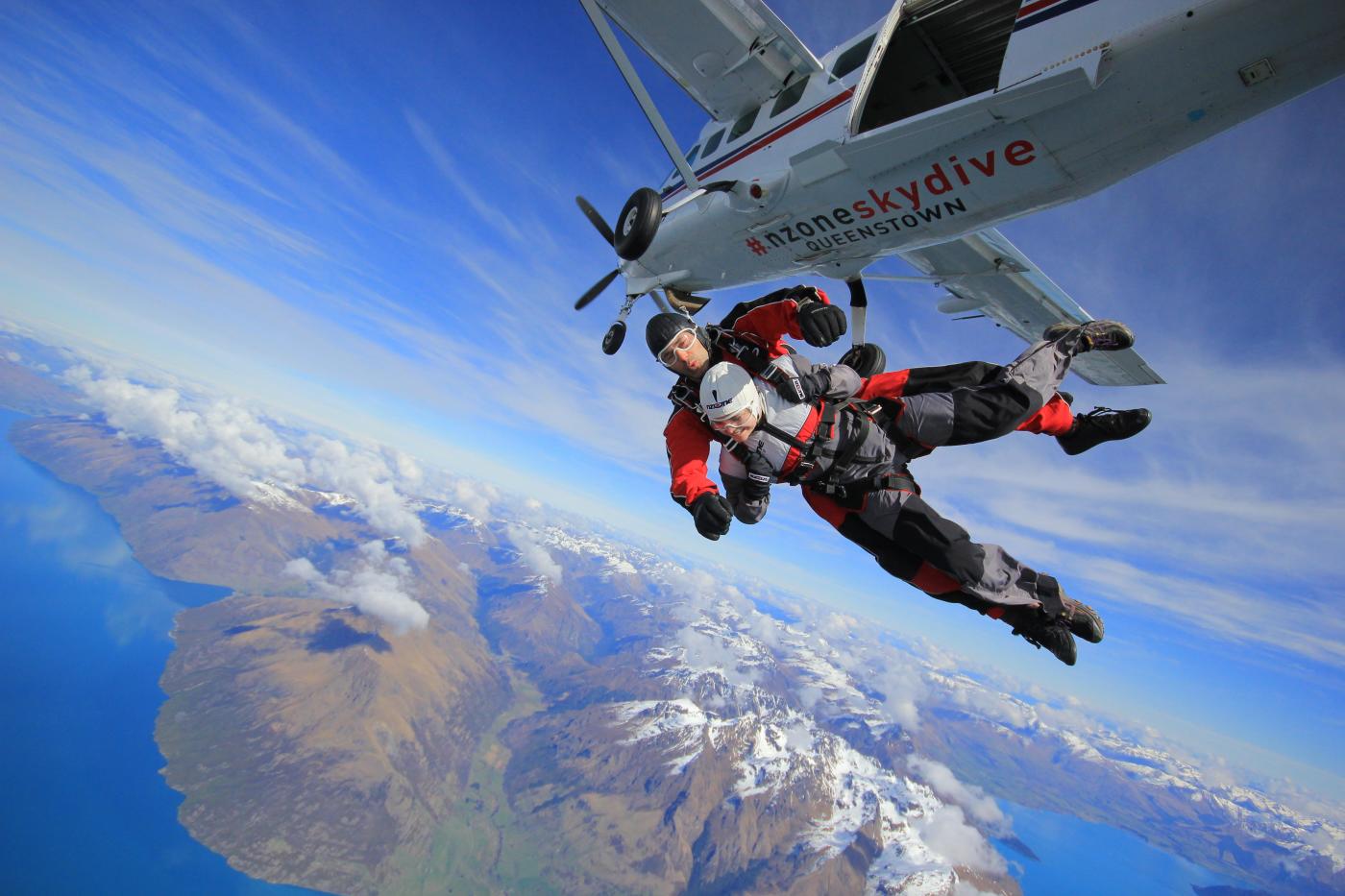 Tandem Skydive with NZONE Skydive 
Something for everyone
One of the world's top resort destinations, Queenstown has a vast array of activities. You could bring delegates here every year, and never do the same thing twice. The breadth of choice in Queenstown also means you can cater to all interests.
Challenge your team with New Zealand's highest bungy jump, the world's steepest zipline, or a sky dive over the Southern Alps. Or head out into the backcountry to tramp or climb with our expert guides.
Queenstown also offers gentler adventures. Immerse in nature with biking, jetboating or 4WD, play New Zealand's finest golf courses, or experience a breath-taking lake cruise, sightseeing flight or wine tour.
Our event experts can curate an itinerary that delivers something for everyone, from party people to introverts. And if your team bring their families, you can develop a programme of activities for partners as well.
The power of awe & wonder
From the minute your team arrives, breathe in the clear mountain air and see the peaks soaring around them, they know they're somewhere remarkable. The vast scale of the Queenstown landscape, with its majestic mountains, mighty glacier-fed rivers and ancient forests restores the soul.
We've all experienced moments of awe at natural beauty. Queenstown delivers those moments around every corner. That sense of wonder recharges people. Visitors talk about feeling a new sense of the vastness and beauty of our universe. Everyday concerns melt away in the mountains, and people gain fresh perspectives, open their horizons to new possibilities, and connect with each other in new ways.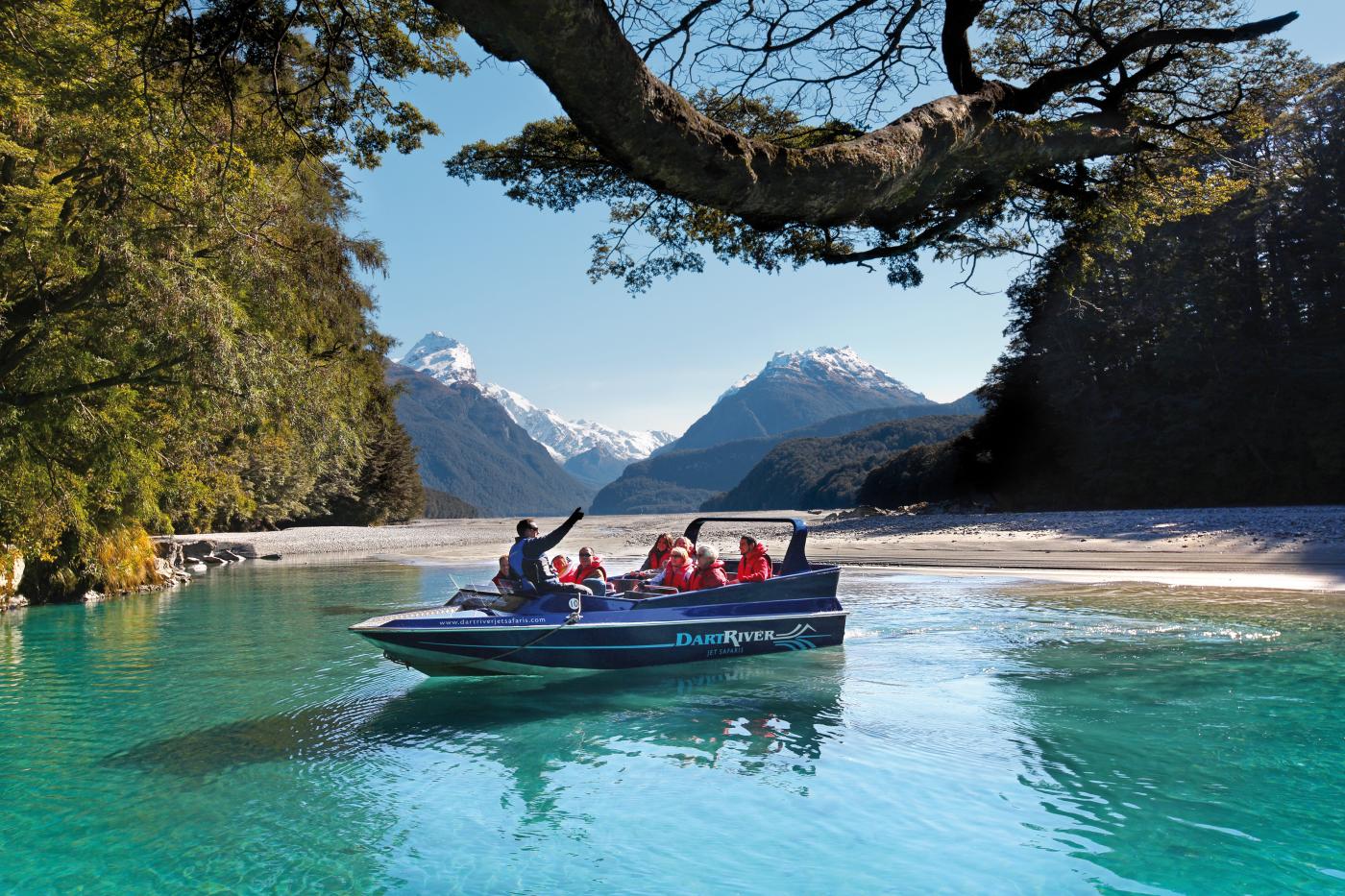 Dart River Adventures 
Exhilaration & relaxation
Home of adventure, from nerve shredding adrenaline challenges to exploring local scenery with a storytelling guide, Queenstown also offers the ultimate mix of adventure and relaxation. Here, your delegates can play hard, then relax completely with a dose of restorative luxury in a stunning setting.
Start off the day with a workout to realign bodies and boost energy ahead of all the adventures Queenstown has to offer. Then ease muscles after a day of exertion with a massage or a soak in hot pools in an idyllic natural setting. Queenstown's luxurious day spas are also the perfect place for your team to recharge and get their glow on before a big gala dinner.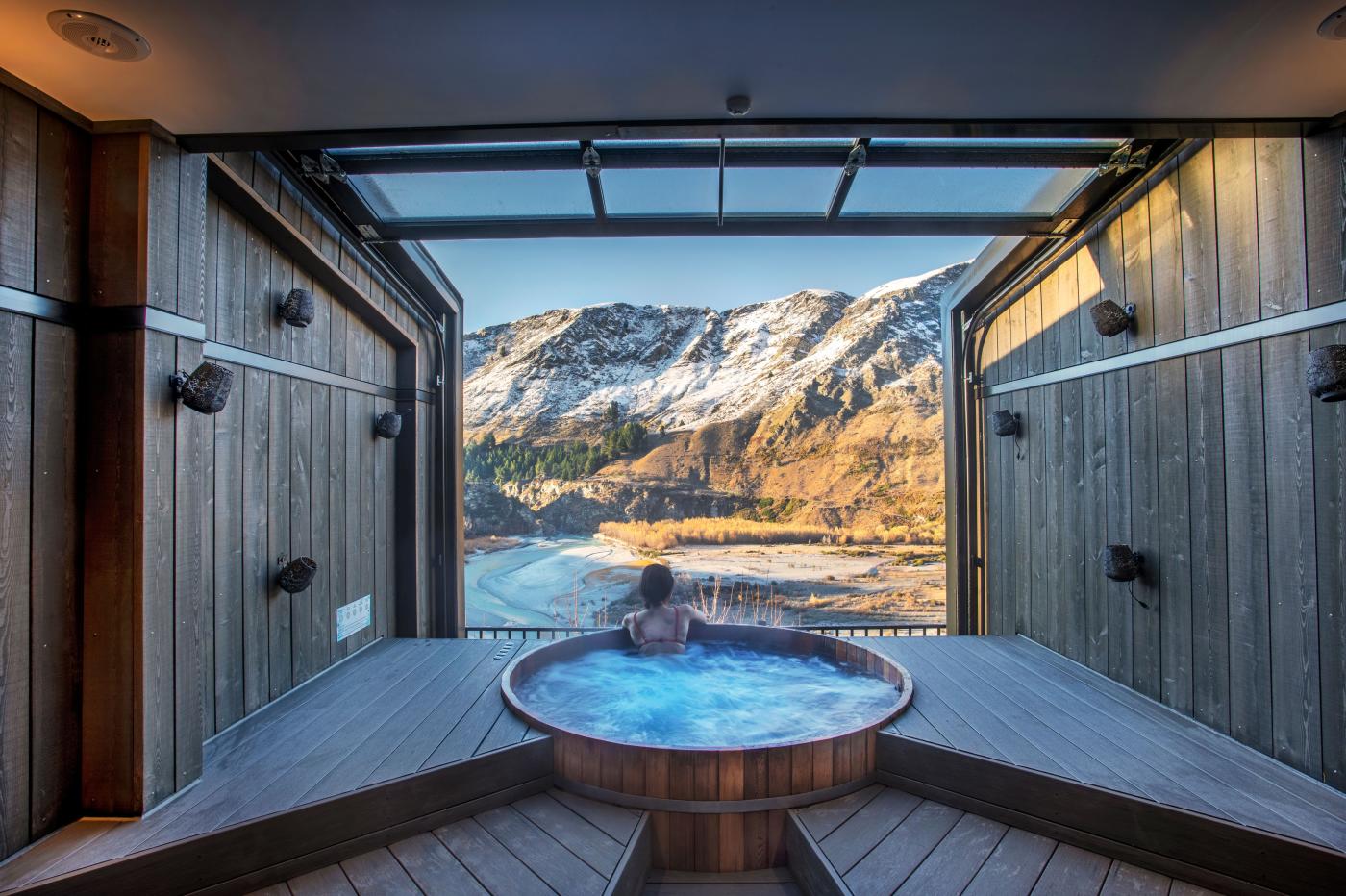 Daytime Onsen
A true taste of Central Otago
Delicious food and wine is an essential part of any great incentive trip. Queenstown's renowned for its food and wine scene and your delegates can choose from over 150 bars, restaurants, and cafés where talented local chefs serve up spectacular local produce as award-winning cuisine. Dine in Queenstown's most celebrated restaurants, host your team al fresco, or in one of our stunning venues.
Drive 25 minutes from Queenstown into Gibbston, the world's southernmost wine region, and indulge your delegates with an afternoon sampling Central Otago's intense pinot noirs and aromatic whites. Or take a tour of local craft breweries and explore Queenstown's burgeoning craft beer scene.

Gibbston Valley Winery
Stunning locations guaranteed to impress
Packed with unique venues in unforgettable locations, Queenstown makes hosting an incentive event with wow factor a breeze. Celebrate in style with a feast in the mountains, book a boardroom with panoramic views of Lake Whakatipu, take a cruise on a vintage steamer to a high-country station, or sip cocktails perched high on the cliffs above the dramatic Kawarau Gorge.
TSS Earnslaw on Lake Whakatipu
Book your Queenstown incentive adventure
Our local event experts are here to help you plan your incentive trip. They can help you arrange accommodation, events, and activities for all styles and budgets. Queenstown Convention Bureau also offers free, impartial advice, itinerary planning and quote sourcing services. Make your next incentive trip unforgettable. Choose Queenstown.