New Zealand's oldest touring route, the Southern Scenic Route was dreamed up in 1985 by Tuatapere locals. After much hard work and lobbying, the route officially opened in 1988, and has since firmly established itself not only as a must do New Zealand tourism experience, but as one of the world's great road trips.
The 610 km road trip begins from Queenstown or Dunedin and can be driven in both directions. From the buzzing excitement of Queenstown to the historic university town of Dunedin, explore the route at your own pace, finding hidden treasures down many side roads. Stunning landscapes, historic towns and a warm southern welcome await you.
The raw beauty and diverse scenery of the Southern Scenic Route ranges from the rugged coastline of the Catlins to the ancient forests and glaciers of Fiordland to the majestic lakes and alpine scenery of the Whakatipu Basin.
Highlights along the route include seeing albatross, penguins, fur seals, and Hooker sealions in their natural habitat, swimming with dolphins, bush walks, exploring waterfalls, caves, glaciers, and the southern part of the Te Waipounamu World Heritage Area.
Day 1: Queenstown to Te Anau
Distance: 171.2km
Driving time: 2hr 3min (non-stop)
Routes: State Highway 6 and State Highway 94
Things to do: Wineries, adrenaline activities, skiing, scenic cruises, scenic flights and tours, hiking, biking, golf, fishing
Places to stop: Queenstown, Kingston, Lumsden, Te Anau
Start (or end) your southern odyssey in Queenstown, the home of adventure. The dramatic alpine scenery, huge range of activities and attractions and cosmopolitan town centre, make Queenstown the jewel of the Southern Scenic Route.
As you head south, you'll pass through historic Kingston. This charming settlement on the shores of Lake Whakatipu was once an important stop connecting the Central Otago goldfields with the ports of Invercargill and Dunedin. Get a taste of that history with a ride on the Kingston Flyer, a vintage steam train. Then stretch your legs with a walk, enjoy a round of golf at the Kingston Golf Club, or simply relax at one of the picturesque picnic spots.
Head onwards to Te Anau past famous high country fishing rivers like the Mataura, Oreti, and Waikaia River. Lumsden has more relics of the steam train era before you arrive in Te Anau.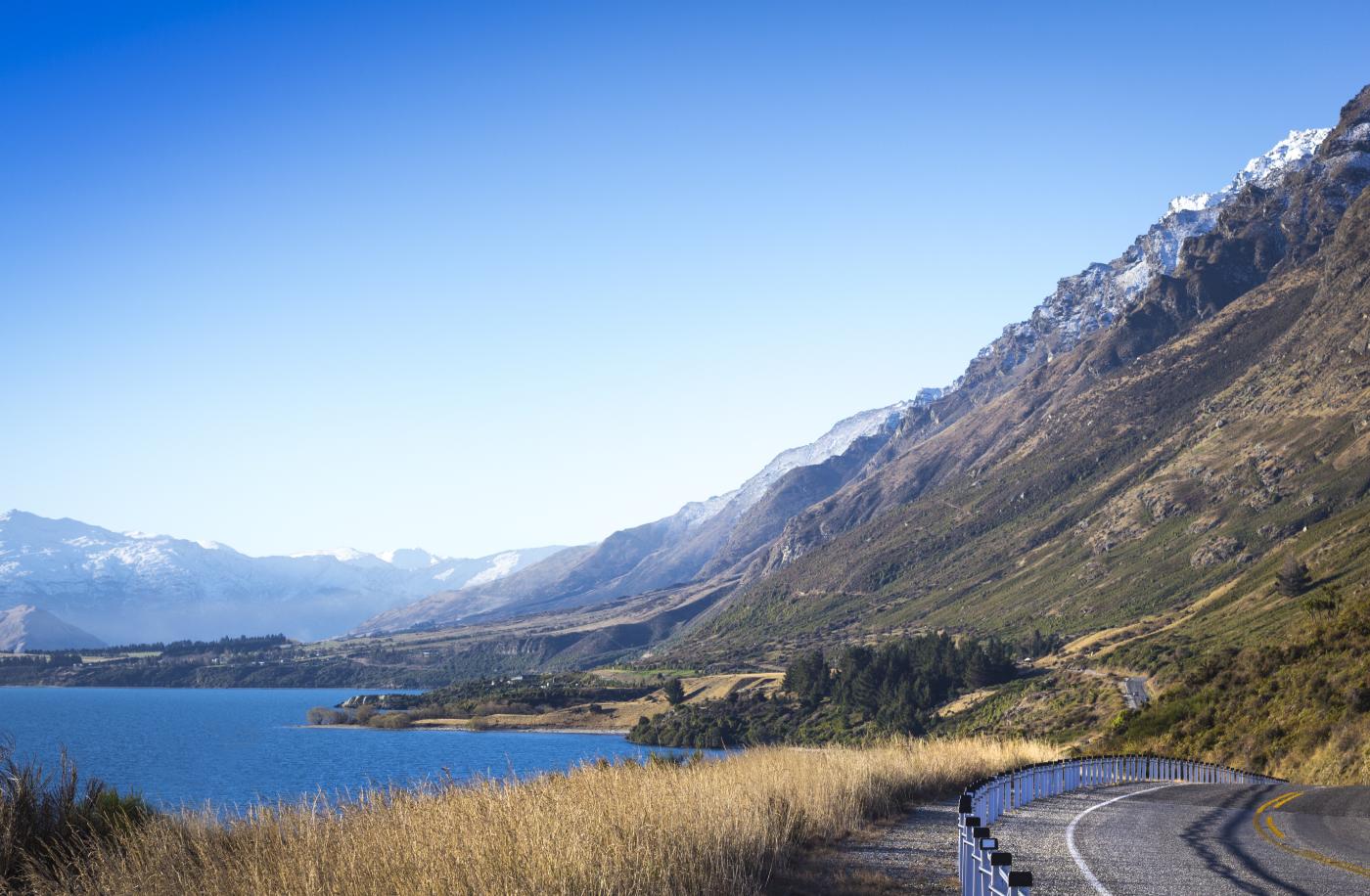 Devil's Staircase, Queenstown to Kingston
Day 2: Te Anau & Milford Sound
Distance: 118km
Driving time: 1hr 28min (non-stop)
Routes: State Highway 94
Things to do: Boat cruises, scenic flights, Great Walks, wildlife adventures
Places to stop: Te Anau, Milford Sound, Fiordland
Te Anau is the gateway to Milford Sound and Fiordland, the Kepler, Milford and Routeburn Tracks, as well as offering visitor attractions such as boat trips across Lake Te Anau to the glow worm caves, Takahē feeding at Te Anau Bird Sanctuary, and scenic flights.
Head into Milford Sound to explore the natural splendour of Fiordland National Park, which has World Heritage Status as one of the planet's great wilderness regions. Explore Milford Sound by kayak, on an overnight cruise, or a hike. A guided diving experience or a visit to the underwater observatory give another perspective on this national treasure.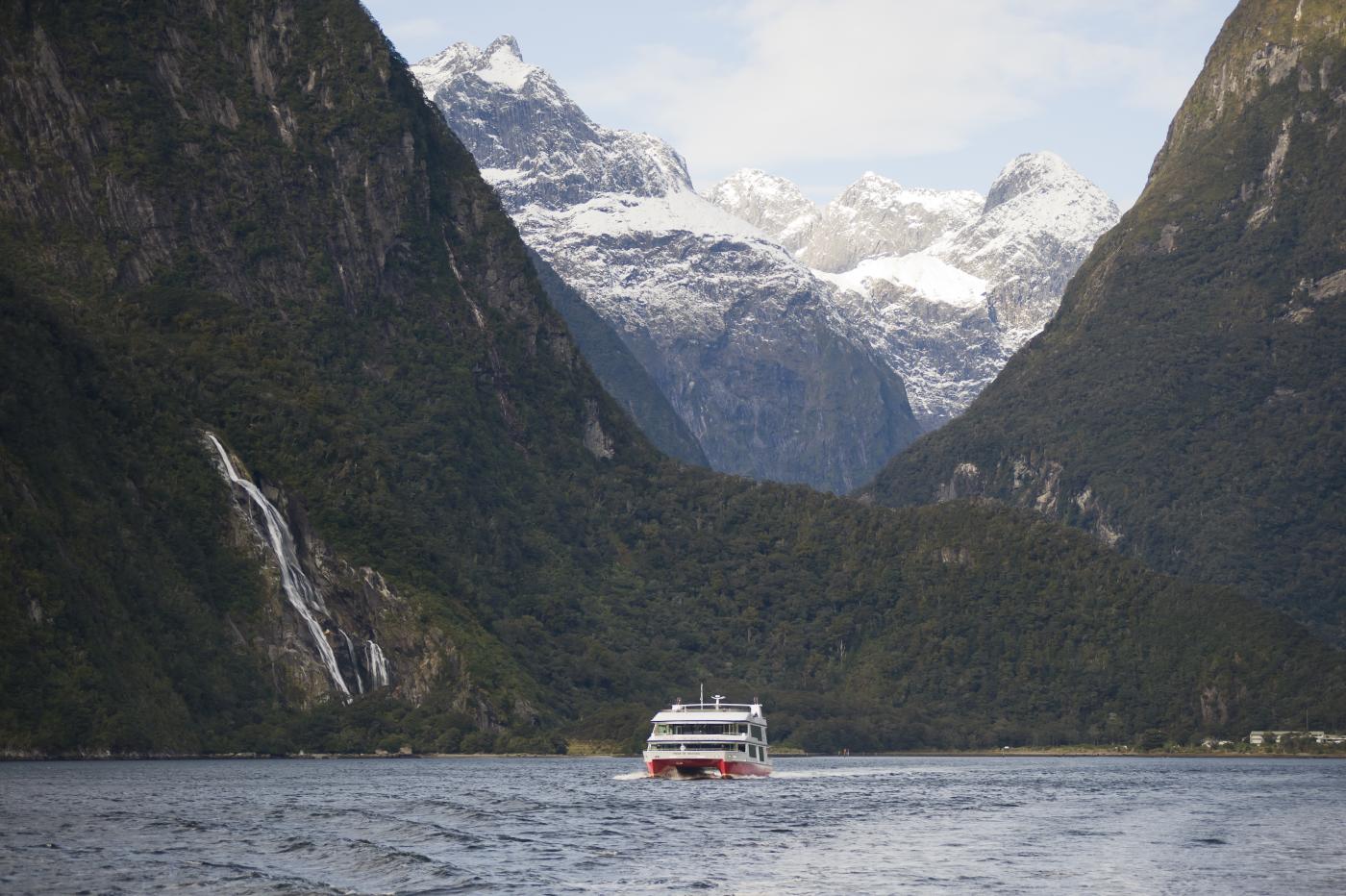 Southern Discoveries Milford Sound Cruise
Day 3: Te Anau to Invercargill
Distance: 154.5km
Driving time: 1hr 50min (non-stop)
Routes: State Highway 94 and State Highway 6
Things to do: Great Walks, jetboating, surfing, shopping, local history
Places to stop: Tuatapere, Lake Hauroko, Riverton, Invercargill
Welcome to Western Southland. Your first stop before you come to the coast is Tuatapere, home of the Humpridge Track, a spectacular walk from the ocean to the mountains via forest and old viaducts. You're also close to Lake Hauroko, famous for being the deepest lake in NZ and the Lady of the Lake, a Ngāti Moimoi chieftain buried in a cave on an island in the lake.
From there the route travels along the southern coast, past surf beaches like Colac Bay. You'll pass through the picturesque seaside town of Riverton, where cafes sit at the edge of wide beaches. The main street has galleries, boutiques and Te Hikoi Museum, where you can discover the region's Māori and European settler history before heading on to Invercargill.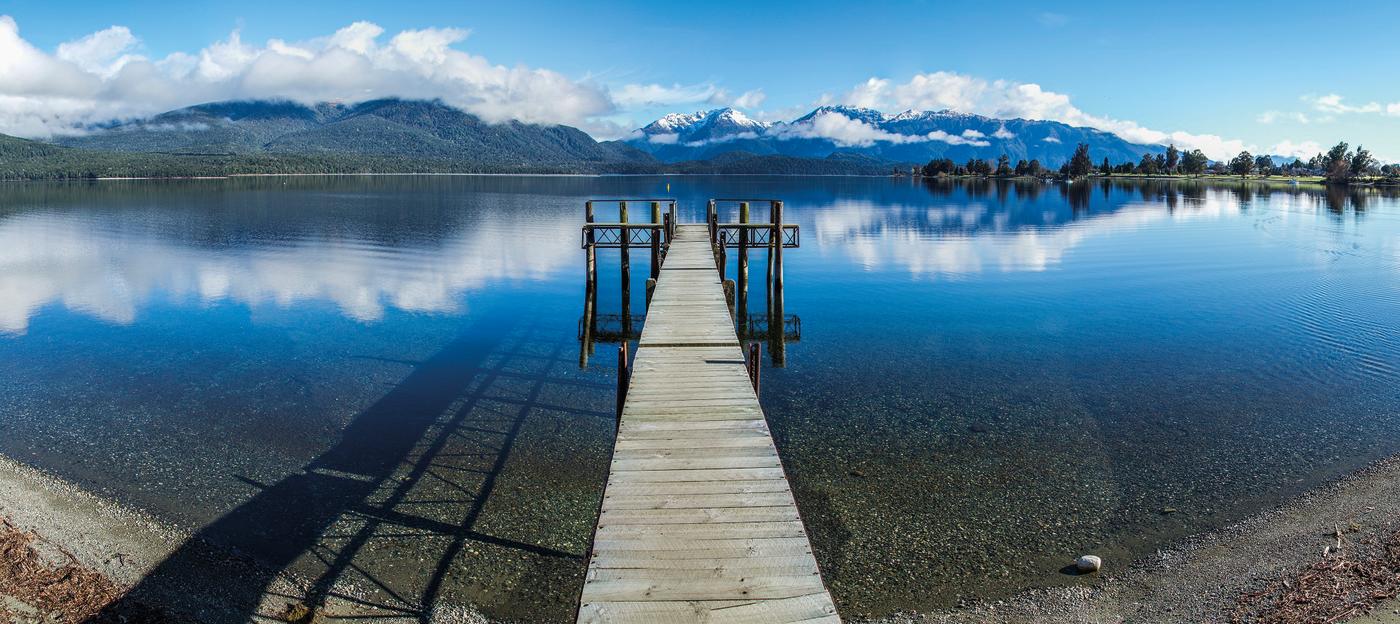 Lake Te Anau
Day 4: Invercargill to the Catlins
Distance: 81.4km
Driving time: 1hr 7min (non-stop)
Routes: State Highway 1
Things to do: Heritage, wildlife adventures, surfing, walking
Places to stop: Bluff, Queen's Park, Curio Bay, Waikawa, Nugget Point, Cathedral Caves
Invercargill is the hub of Southland and home of the tuatara, heritage buildings, international garden of significance Queen's Park, and Transport World, a treasure trove of southern icons, wearable art, and transport, where you can even have a go at driving a digger.
It's worth a short detour to Bluff at the start of State Highway 1 for seafood and the obligatory selfie in front of the Bluff signpost.
The plains of Southland roll into the Catlins' forests and peaceful beaches. Nostalgia mixes with nature as the road meanders through the podocarp forest which sweeps down to long white beaches. Explore the history of the area, old lighthouses and tiny townships with a milling past, as well as natural history including the 180 million year old petrified forest at Curio Bay, waterfalls, and wildlife including the world's rarest penguin, sea lions and dolphins.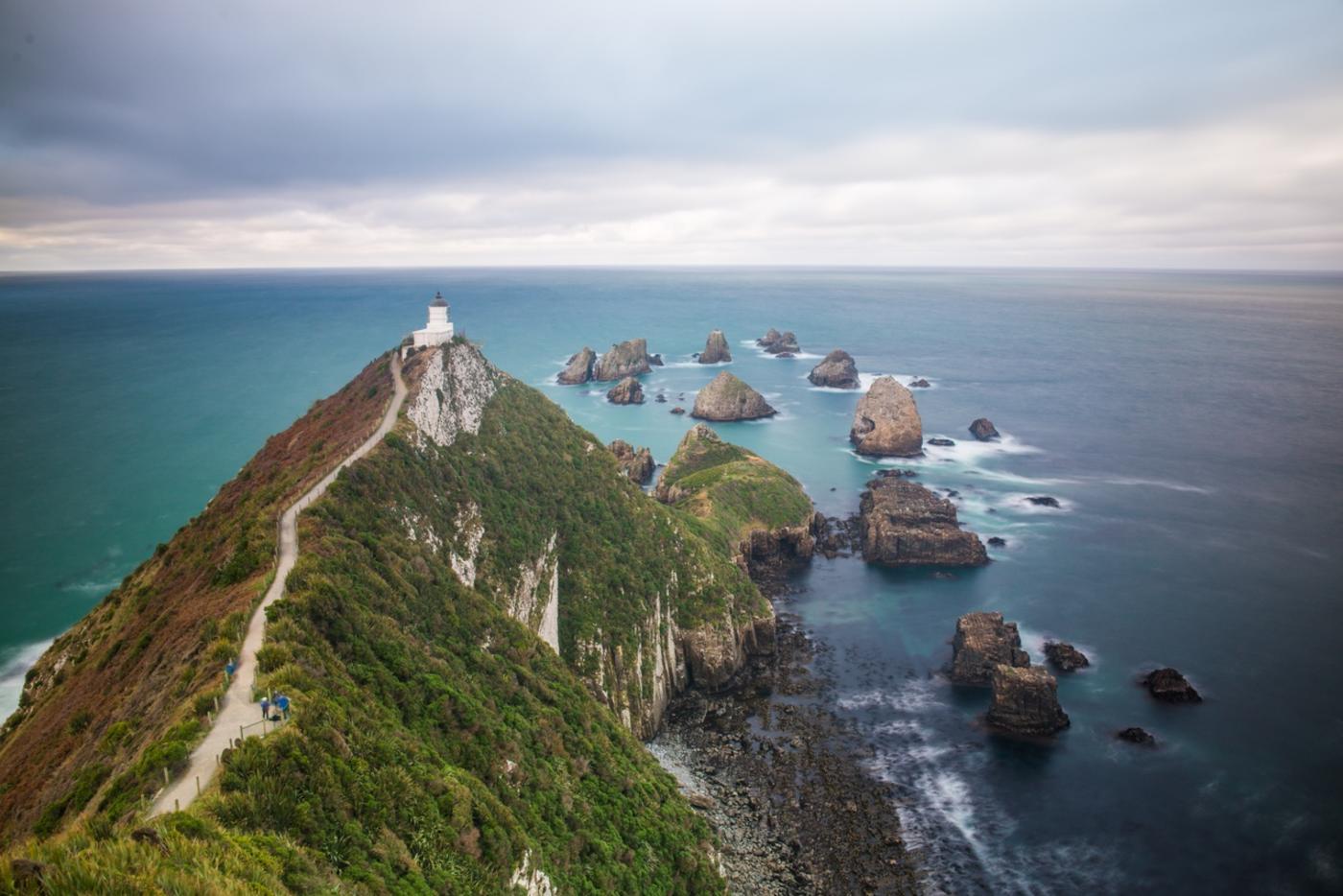 Nugget Point Lighthouse, The Catlins
Day 5: the Catlins to Dunedin
Distance: 154.4km
Driving time: 2hr 7min (non-stop)
Routes: State Highway 1
Things to do: History, galleries, shopping, dining, wildlife adventures
Places to stop: Balclutha, Mosgiel, Dunedin
Re-join the main highway to Balclutha, famous for fishing. Stop off at the South Otago Museum or take the Blair Athol Walkway through Naish Park. A short detour takes you to the Lost Gypsy gallery in Papatowai where a creator of automata makes wind-up wonders from junk.
As you near Dunedin you'll pass by the sleepy rural town of Mosgiel. Between Mosgiel and Dunedin lies the sea-carved sandstone cliffs, rock arches and caves of Tunnel Beach, with a secret tunnel leading to the beach so make sure to turn off to experience this wonder.
Dunedin is celebrated for its gothic architecture, with Larnach Castle the most famous example. Explore the galleries, street art, independent boutiques and cafes of this university city or explore the beautiful scenery of Dunedin and surrounding Otago region with Dunedin Railway Journeys, departing from the iconic Dunedin Railway Station.
Larnach Castle, Dunedin
Explore the Southern Scenic Route for yourself
The Southern Scenic Route was created to give visitors a chance to explore the south in their own time, to find hidden lakes and side roads, meet local characters and experience southern hospitality – discovering the real New Zealand along the way. Not only is it a great way for international visitors to explore a special part of New Zealand, it also gives Kiwis the perfect excuse to come and rediscover the beauty of the south. Explore the route for yourself.