Arrowtown Millennium Trail
There are few things more relaxing than walking alongside a sparkling, willow-lined river. This popular trail offers a wide track for the kids to stretch their legs and burn some energy. Plus, the quaint historic village of Arrowtown is the perfect place to stop and grab a coffee and an ice cream, while feeling like you've travelled back in time to the gold mining era. Visit in Autumn, and the red, yellow and golden hues will take your breath away.
Duration: An hour loop
Level: Easy
Getting there: Start at the big car park off Arrowtown's Ramshaw Lane, and head down the true right side of the river to Tobin's bridge. From here, either cross or stay on the same side of the river and continue to the next bridge, where you can turn around and head back upstream towards Arrowtown.
​​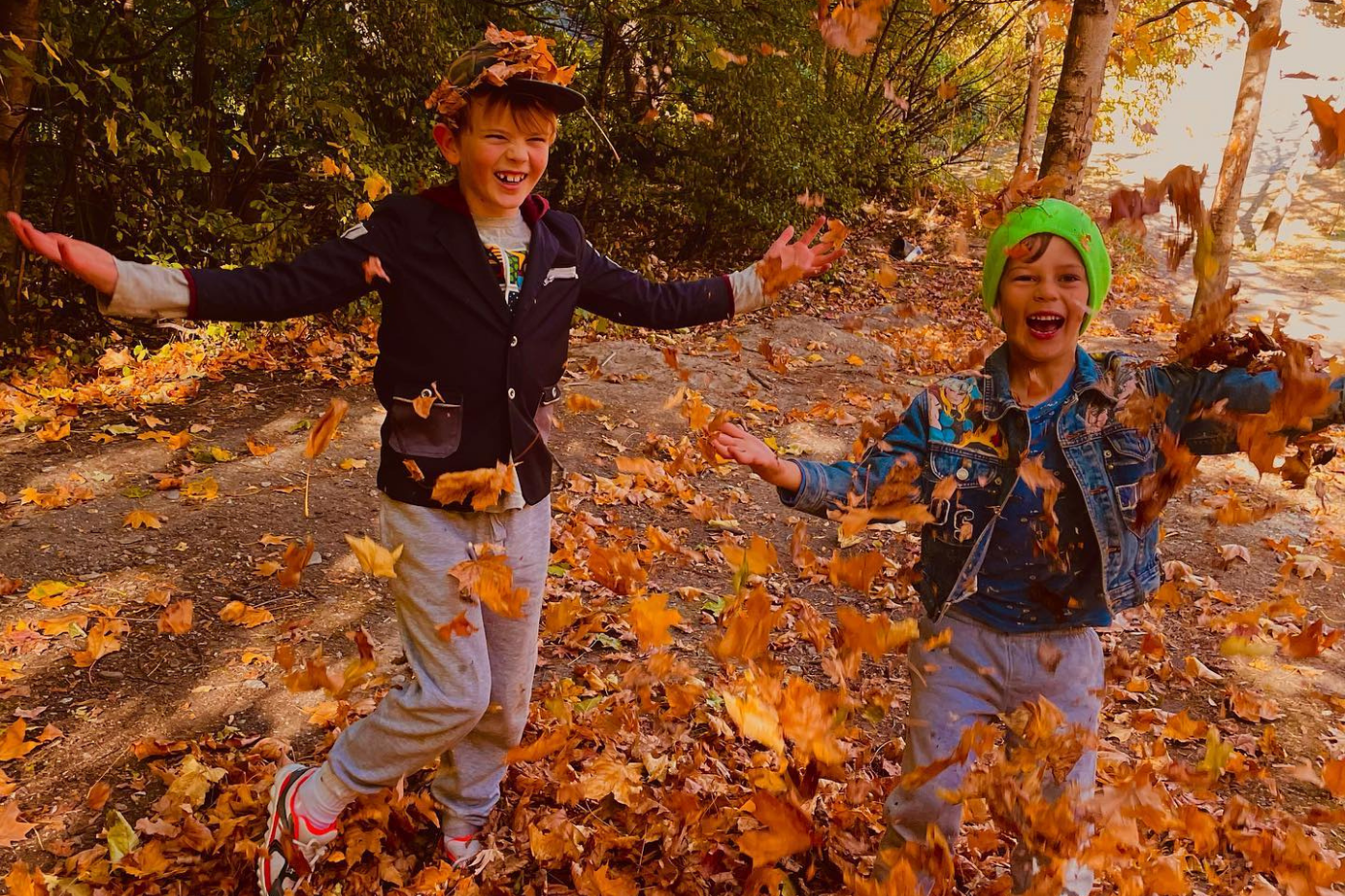 Arrowtown Millennium Trail. Credit @kiwi_excursionist
Queenstown Gardens
You'll forget you are in the town centre when you explore this small peninsula on the shoreline of Lake Whakatipu. Wander through the gorgeous selection of exotic and native plants at the Queenstown Gardens – or find your favourite spot and stop for a picnic lunch. For an extra challenge, try ice skating at the adjacent Queenstown Ice Arena, or continue to explore the town's waterfront by heading towards Steamer Wharf and St Omer Park. 
Duration: 30 minute loop
Level: Easy
Getting there: The track can be started at the end of Queenstown Bay Beach by The Bathhouse, or on Park Street.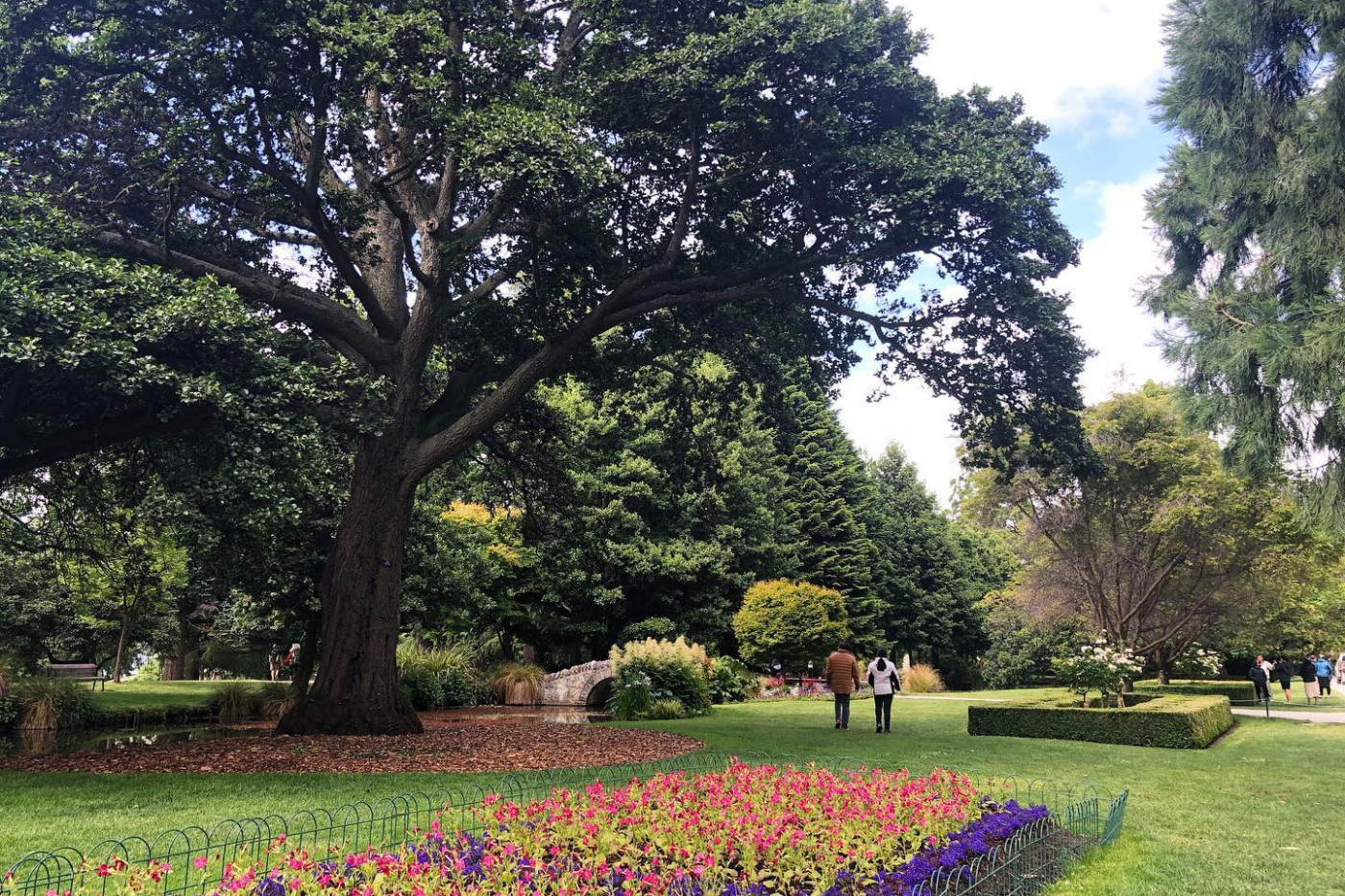 Queenstown Gardens. Credit @_n.ting_
Bob's Cove
On the road out to Glenorchy, you'll find a gorgeous track that winds through native bush before popping out on the shores of Lake Whakatipu. A secluded little bay with stunning views, Bob's Cove will make you feel like you've found your own little hideaway spot. It's a wonderful place for a picnic, rock skimming or even a swim if you're here in summer.
Duration: 20 minutes one way
Level: Easy
Getting here: The track starts at a car park on the Glenorchy–Queenstown Road, 14 km from Queenstown.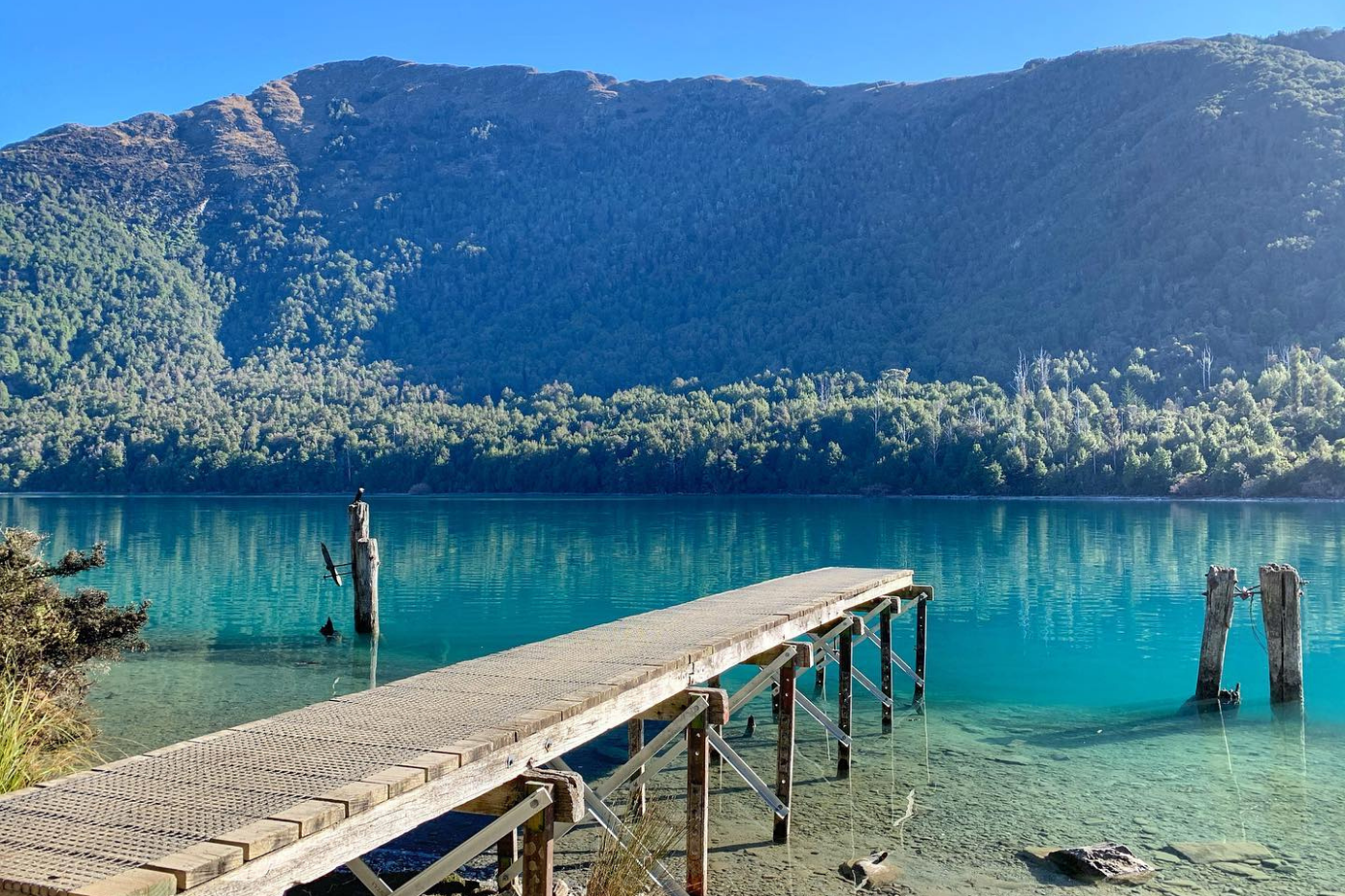 Bob's Cove. Credit @snapsbymartz
Te Kere Haka Track, Kingston
For a fresh perspective of the iconic Remarkables range, grab the kids and head south from Queenstown towards Kingston. The Te Kere Haka track offers a stroll through native bush along the less visited side of Lake Whakatipu, and unbeatable views of the Hector mountains. When you reach the second gate (after about 30 minutes), it's time to turn back! Watch out for mud if it's been wet.
Duration: One hour return
Level: Easy
Getting there: Kingston is about a 50 minute drive south from Queenstown. The Te Kere Haka reserve is well signposted, and the car park is just past the Kingston Flyer railway station.
Glenorchy Lagoon Walkway 
If there's a place that makes you feel like you've found the end of the world, it's Glenorchy. Nestled right at the feet of Mt Earnslaw and the surrounding ranges, it's absolutely spectacular, and the Lagoon Boardwalk lets you soak it all in. A perfect family walk, it crosses the wetlands around the Rees River and Lagoon Creek, and is home to black swans, paradise ducks and Canada Geese. It's dotted with picnic tables, so bring your snacks!
Duration: One hour loop
Level: Easy
Getting there: The track starts at the northern end of Glenorchy – follow the signs near Lake Wakatipu on Mull St.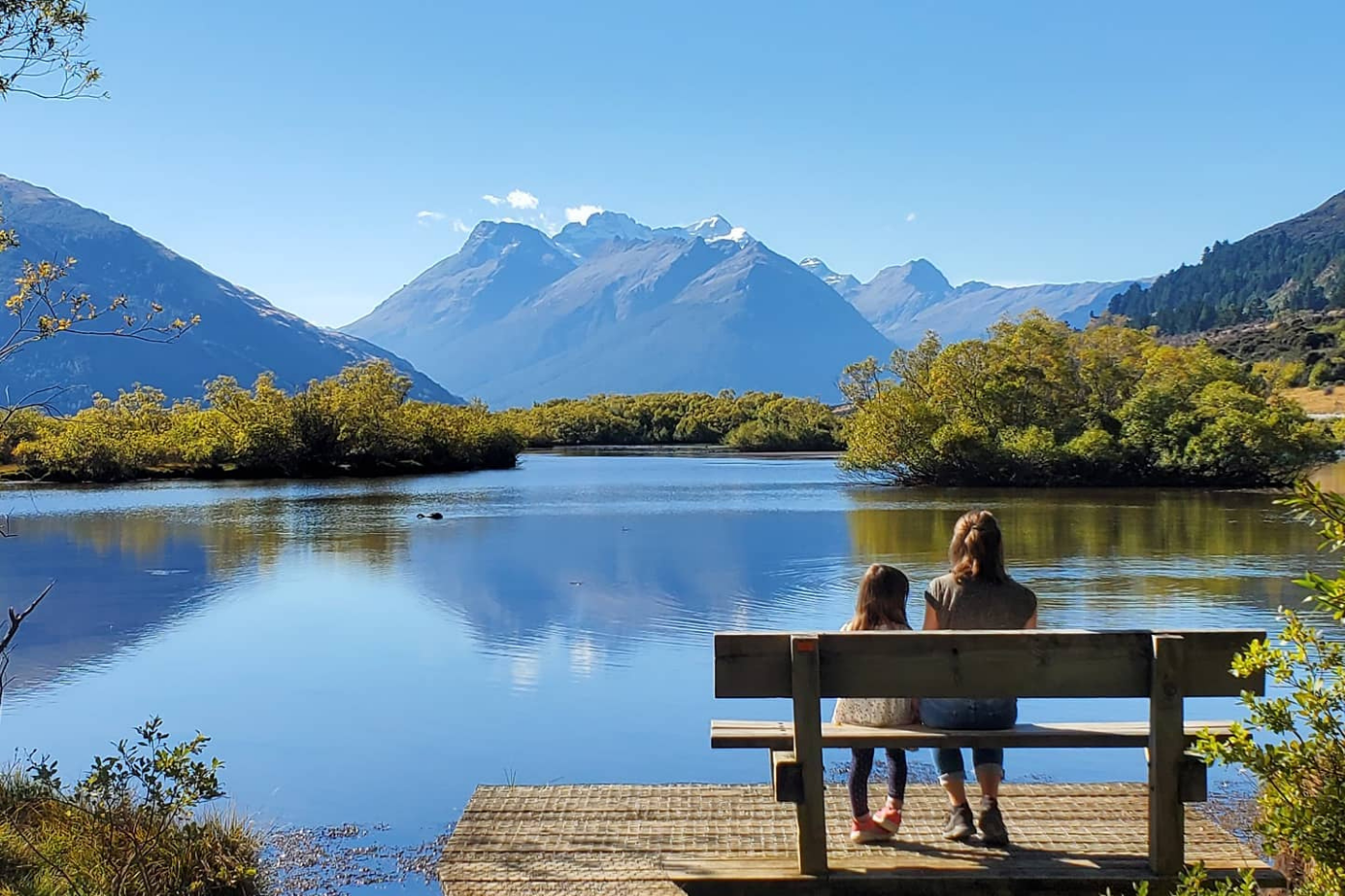 Glenorchy Lagoon Walkway. Credit @ashleighjwallace85
Frankton Arm Track
The Frankton track follows the shores of Lake Whakatipu all the way from Queenstown Gardens around to Kelvin Heights. It's long, but perfect to dip into for a small section with the kiddies. A great portion for a family walk is from Frankton Marina out to the historic Kawarau Falls Bridge and back - just in time for lunch or a treat at the Boat Shed Cafe. Enjoy stunning views of the Kawarau Fall Dam's turquoise waters from the old bridge, and stop to check out the playground on the way.
Duration: 1.5 - 2 hours return
Level: Easy
Getting there: Head out of Queenstown on Frankton Road and park by the Boat House Cafe at Frankton Marina. Head south until you reach the bridge, then turn back.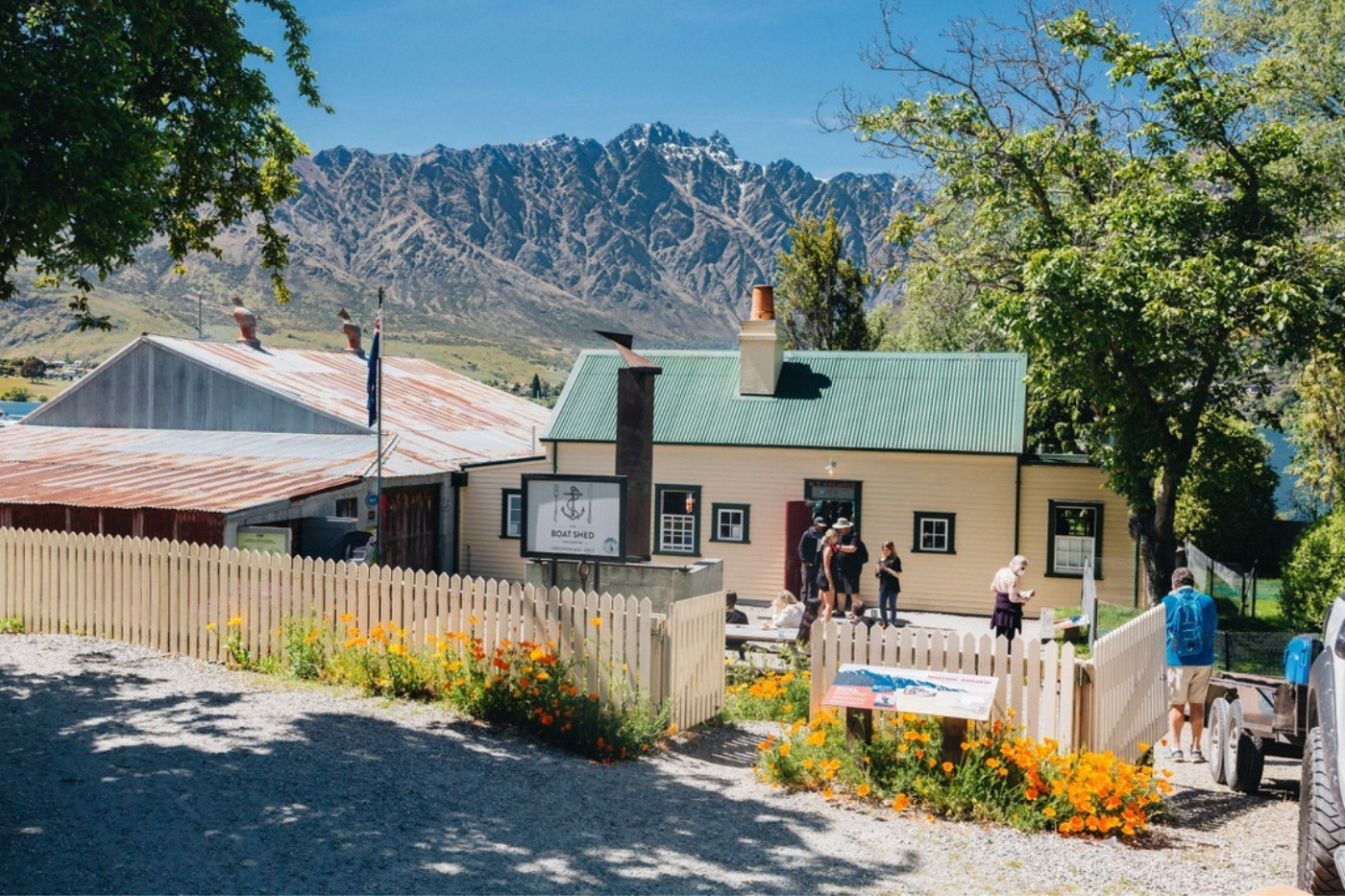 The Boatshed Cafe and Bistro. Credit @theboatshedqt
Enjoy some of the world's best post-walk rewards
After a day spent exploring, there's nothing better than a bowl of chippies and a hot chocolate — and a cold one for Mum and Dad. Queenstown has over 150 restaurants and bars, and from the views to the global cuisine, grabbing a bite is a whole other adventure.
Take a stroll or have a look at our list - there are countless options for cozy, kid-friendly spots to refuel and relax.